---
| | |
| --- | --- |
| Editorial Comments by Ken Sinclair | |

Jane and I just returned from BuilConn in Palm Springs which was a great event with lots of new people to meet who are helping us transform our industry. The GidWise expo was very well attended and the Cisco roundtable generated a lot of buzz that carried on the complete event. There was more focus on the business of converging environments than the actual technologies required to make them happen. We were very pleased to have Jack McGowan, our contributing editor, win this year's Buildy Visionary award.











Also we were very pleased to personally present Anto his AutomatedBuildings.com Newsmaker and Industry Shaker of the year award.
BiQ stands for Building Intelligence Quotient At BuilConn 2004 we gathered a number of industry experts in many areas of intelligent building technologies and developed an extensive list of technologies. Read Kirk's interview to get updated on the BiQ now.

Is our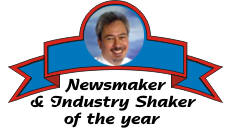 2006 issue. Be sure to read our Previews of this event to gain insight into the ground swell that is occurring in our industry. As Anto says " If you see a big wave coming, you can decide to run or jump on a surfboard; if you don't see it coming you'd be swimming for survival before long." It is by no accident that Anto has been chosen and acknowledged as Newsmaker and Industry Shaker of the year in this May 2006 BuilConn Issue. There has been a myriad of change in our industry this last year and Anto has been a big part of it. When you see him thank him and congratulate him on winning our first ever award. It has been quipped that we should change our name to Anto-matedBuildings. We just report the news and it seems that Anto is a large part of what is happening in our industry right now. We are also giving our contributing editor Jack McGowan Our vote for this year's BuilConn Buildy award.
Jack McGowan's work as "Mr Gridwise" helping to creating the first ever GridWise™ Expo Co-Located with BuilConn® is just another example of why we feel Jack should win the Buildy Vision award.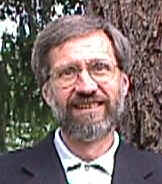 Tom Hartman's series of articles on Relational Control has been very well received and he provides the third and final in the series plus an interview in which we discuss this new concept.
Our interviews with Bob and Glen both use the word "ecosystem". Google searches return the following definitions which definitely present a bigger picture than we are used to thinking about. Change is everywhere!
ecosystem n. An ecological community together with its environment, functioning as a unit.
We can define ecological design as any form of design that minimizes environmentally destructive impacts by integrating itself with living processes. ...
We were very pleased to receive these interviews:
The ZigBee Alliance Bob Heile, Chairman ZigBee Alliance
The ZigBee Alliance is a global ecosystem of companies creating wireless solutions for use in home, commercial and industrial applications.
and M2M@BuilConn Glen Allmendinger, President & CEO Harbor Research, Inc.
A simple way to look at this in terms of a business model and economic returns is to ask whether my device is going to be part of an ecosystem at all, who will be in the value chain and how will they organize around my asset or vice versa?
Do not forget our 3 hour technical session in Victoria, BC May 11 come enjoy relaxing or biking and golf on the island.
All the above seems to cry for industry synergy driven by change, it will be an interesting but Merry Month of May.
We have been working on improving our web site by reorganizing how we handle the great number of news release we receive daily. We now provide a

News Feed ( Which Needs a RSS Feed Reader ) and have provided a New Our RSS news feed rendered into HTML
If you are like I was and do not know what RSS is RSS is a Web content syndication format. The name is an acronym for Really Simple Syndication. Read here for more details http://blogs.law.harvard.edu/tech/rss
We are slowly figuring it all out so bear with us as we install this new news service. Please share with us any suggestions you have to better use this approach and others to keep moving our web site forward to meet your needs. Our News Briefs are now handled as news feed items and archived for now in a similar format as before.
Tell our sponsors you saw their ad on the AutomatedBuildings.com web site and thank them for supporting your free access to evolving Automated Building Industry information. Click on their ads and view their valuable products and services. Please review all Our Sponsors.
Be sure to check our event calendar to see the number events we have in our future.
As I always say, it is a great time to be in the news business for our industry.
Send comments and suggestions to news@automatedbuildings.com
---


[Click Banner To Learn More]
[Home Page] [The Automator] [About] [Subscribe ] [Contact Us]