---

Demand Response (DR) is without doubt the golden opportunity for building systems integrators and contractors.

Anto Budiardjo
President & CEO,
Clasma Events Inc.
As we concluded the first ever National GridWeek in Washington DC last week, it was clear that a number of very significant opportunities are arising for building automation and control systems players.











In the short term, Demand Response (DR) is without doubt the golden opportunity for building systems integrators and contractors.
What is DR?
DR is the technique to reduce demand for energy (mainly electricity in this context), especially at times when the electric system is working near to or at the peak demand loads.
If demand for energy at these times can be managed, energy suppliers (utilities and independent system operators) will be able to reduce the amount of generation required to supply the demand, and thus curtail expensive generation to be started.
In the longer term, the ability for energy suppliers to contract the avoidance of energy at peak times will remove the need for building new power plants and transmission systems.
In this scenario, the utilities will effectively be looking at energy consumers as an alternative "power source". This is a tricky concept to grasp, but it is the reality of today's and tomorrow's energy landscape.
Let's debunk some myths about DR…
Myth #1: DR is a temporary thing, driven by panic of high oil/gas prices!
The oil shortage in the 70's and 80's did drive increased demand for DR and energy management, and when the crisises were over, life did get back to "normal" meaning that people cared little about the cost of energy in the US. This time, the situation is different, the need for energy management in buildings is no longer driven by high energy costs (though it is a contributor), but more so by the shortage of electric energy around the nation.
Speakers (many of them CEO's and top executives from utility companies) said it over and over again at GridWeek; the anticipated demand of energy in the next few years (and in some cases today) is outpacing the ability of utility companies to build power plants and transmission lines. Simply put, the country will be short of electricity!
As we all know, the problems will be faced mainly at peak times, and it is exactly here that DR comes into play. Utility companies and ISO's (Independent System Operators) who manage supply will be looking at creative ways to reduce peak demands, and will readily pay for such.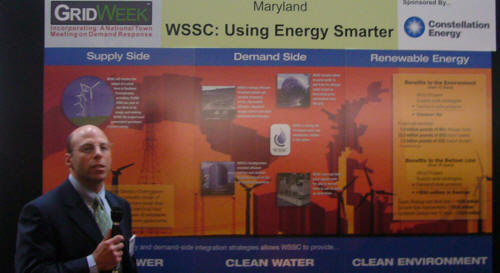 Myth #2: DR is out of reach for integrators and contractors!
In the past, it has been hard for smaller players to benefit from incentives being made available by electricity suppliers. Maybe this was because their problems were not as acute as they are now.
Today, and increasingly in the future, retail energy providers such as Constellation Energy and others are providing a form of aggregation service, working as a middleman between utilities and ISO's to facilitate peak avoidance.
What these players need are building system integrators and contractors who have the technology, expertise and contacts with energy consumers (pretty much any medium to large buildings).
Myth #3: Technology & standards are not available!
If we have learnt anything, by watching the evolution of the past five years, we have seen the evolving availability of technologies and standards that can today deliver all of the necessary pieces to make DR and the required real-time pricing all work seamlessly.
Technology and middleware vendors who have participated in all past BuilConn events have solutions whether by standards such as LonMark and BACnet or via an array of gateways from black boxes to sophisticated enterprise class solutions. It's all there, ready to be used to address this opportunity – today.
Myth #4: Regulations does not facilitate DR!
While there are some hurdles to yet overcome, EPAct 2005 (Energy Policy Act of 2005, signed into law August 2005) did provide key some language that significantly assists the implementation of DR.
More changes are being considered, many of them surrounding the facilitation of a Smart Grid. In fact Senator Maria Cantwell announced an introduction of a new bill at GridWeek in DC in April.
The reality is that much of the benefits of DR can be realized today, and many companies around the U.S. are doing so, and making good business in the process.
Myth #5: It's difficult to learn about DR!
There is a significant amount of information about DR, and the interaction of DR and building systems technologies available today. BuilConn, a leader for five years, is the home of building technologies, and since 2006, co-located with GridWise Expo, an event focused at leveraging the smart grid for applications such as DR.
At BuilConn in Chicago May 22-24, 2007, a significant amount of the three days of educational conference will be dedicated to energy and subjects such as DR. Content will include information on how to…
• Understand the DR landscape around the U.S.
• How to work with energy suppliers to identify energy avoidance incentives
• How convergence technologies can significantly help DR
So, what to do now?
If you are a building system integrator or contractor, DR is an effective way to leverage your skills with energy management, your relationship with owners and your understanding of the technology and solution landscape surrounding the implementation of control and automation systems.
There has never been a better time to learn about how your current assets can be leveraged than the next BuilConn event in Chicago May 22-24, 2007, this year being held together as part of ConnectivityWeek with GridWise Expo and ZigBee Expo, both critical subjects for the future of buildings.
For information about BuilConn and related events, see the links below:
---


[Click Banner To Learn More]
[Home Page] [The Automator] [About] [Subscribe ] [Contact Us]