---

Interoperability, Easy Commissioning, Flexibility, Reliability and Scalability for Wireless Lighting Controls


Jason Choong,
Chief Solution Architect and Vice President Product Management
Daintree Networks
The benefits of lighting controls in energy conservation are well documented. Avoiding over-lighting provides savings of up to 70% through reduced energy usage and its associated costs. Lighting controls can also enable participation in load shedding and utility demand-response programs, avoiding costly peak-energy charges and in some cases qualifying the building owner for financial incentives.















Lighting controls represent a significant opportunity for cost savings, especially in older buildings, which have a relatively low penetration of advanced controls. One of the key reasons for such low penetration is very high number of control points that advanced lighting controls need to manage (for example, a significantly larger number than in HVAC systems). Until recently, as the number of control points increased, so too did the complexity of lighting control systems. But now, the application of wireless networking technology and management concepts to the lighting control market is enabling unprecedented levels of control that can be delivered with simple installation, commissioning and management.
Implementing lighting controls in new construction can be straightforward, since these controls can be included in building design. But what about the existing stock of commercial buildings? A solution is needed that doesn't require extensive re-wiring in order to gain the cost savings benefits of lighting controls.
Wireless controls make that solution possible by providing the benefits of lighting controls without the added building retrofit costs. The controls can augment or replace existing lighting controls, plus provide simpler reconfiguration as required by changing patterns in building occupancy.
Given these factors, wireless lighting controls should gain traction quickly. But there are challenges that need to be addressed.
Imperfect Information and the Importance of Interoperability
As always, new technology and new ideas often struggle to get out to decision makers. There are many competing technologies and options: wired systems, wireless systems, low-voltage room-based systems, wired bus systems, room-based wireless systems, and energy harvesting solutions to name a few. Each facility manager or contractor talks to one set of vendors, who typically provide information about the benefits of their products, but not others.
To make things worse, every system is different. This is not surprising: the lighting controls industry has not had a reason to focus on interoperability in the past. The propensity to build proprietary systems is a natural one—engineers can build more quickly when they don't need to think about standards.
The net result has been confusion in the market. A sensor from one vendor's system will not work with a switch from a second vendor, and that switch may or may not work with a controller from a third vendor's system. In the end, this confusion limits adoption in a growing, underserved market that is desperate for effective advanced controls.
Interoperability is critical to resolve customer confusion and expand the market for all participants. Daintree is committed to rallying the lighting industry around interoperability in their development of a standards-based ecosystem that supports products from multiple vendors. This interoperable ecosystem will provide lighting control solutions for the widest possible set of customers and applications. Customers will benefit from a wider variety of lighting control solutions, and lighting companies will be able to address a larger share of the building retrofit market. Ecosystem partners will be able to deliver standard components to a larger market. Electric utilities will have greater success encouraging conservation, and expand the pool of buildings that can participate in load shedding and demand response programs. Governments will be able to achieve conservation and climate protection goals. All parties benefit from the scale economies and component cost savings that come with expanded production volumes.
It's a "virtuous circle" that has worked to great effect in other industries. It's time to bring these benefits to the lighting industry and its customers.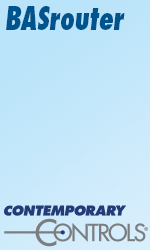 Wireless Offers Opportunities for Easier Commissioning
In addressable systems, such as DALI (Digital Addressable Lighting Interface) and many wireless systems, the relationship between sensor, switch, lights and controllers must be configured. This process can be complicated and error-prone and often requires the involvement of factory-trained representatives, which adds complexity and cost to the configuration process.
Wireless eliminates wiring costs, but what is not commonly realized is that it also offers new opportunities to improve the commissioning process. The absence of wires means that there are no fixed paths between control devices. Daintree's solution includes techniques to automate the programming process by leveraging wireless connectivity between devices. The net result is a system that automatically determines which sensors or switches should be controlling which lights.
The complexity and possibility for error arise in lighting control systems as a result of the number of fixtures, wall switches and sensors that need to be commissioned. By automating the commissioning of the majority of these devices, commissioning time is reduced and fewer errors are introduced. The net result is a reduction in retrofit costs.
Taking Baby Steps toward Energy Efficiency
Room-level lighting control systems are cheaper to purchase and easier to install; however, they are more limited in what control options they offer and typically don't provide any means for central monitoring or control. In addition, room-level control systems cannot easily participate in load shedding and demand response programs. At the other extreme, whole-building control systems can provide immense flexibility in delivering a range of controls, central management, and load shedding. The downside is that these systems are expensive and require significant upfront investment. Is there a middle-ground for facilities managers and building owners who want to take a more measured approach to increasing energy efficiency and reducing energy costs?
Wireless lighting control offers a way forward. Facilities managers and building owners can start at the room level, and expand as they get familiar with wireless lighting controls and confirm their energy efficiency benefits. They can start by installing a wireless wall switch and adding a battery-operated wireless occupancy sensor. More rooms can be added over time, and gradually migrated to full systems that involve multi-room central control and monitoring. The flexibility afforded by wireless lighting controls allows facility managers to deploy a lower-cost solution first that gets some energy savings today, with a simple migration plan towards greater energy efficiency over time.
Daintree's Wireless Lighting Control Solution (WLCS) provides this kind of flexibility in allowing facility managers to get in on the ground floor and gradually migrate up to more sophisticated controls.
Getting Comfortable with Wireless Reliability and Scalability
Those involved in specifying, designing, and purchasing lighting and lighting control systems may have questions about the reliability and scalability of wireless controls, especially in relation to wired options. But wireless technology has matured dramatically over recent years. All mainstream wireless technologies have protections in place to deal with temporary loss of connectivity. In some cases, technologies based on ZigBee® and the IEEE 802.15.4™ standards have multiple levels of protections at each layer of the protocol stack. And the standards bodies do a lot of work to ensure that interference from other technologies such as Wi-Fi can be mitigated.
However, implementing radio communications technologies built on these standards is just the start. WLCS incorporates an architecture specifically designed to ensure reliable wireless network management. The combination of interoperability, redundancy, recovery from failure and intelligent network management ensures a reliable flow of information through the wireless system.
One attribute of wireless control systems is their ability to easily scale upwards. But scalability that isn't managed can affect reliability. As the lighting control system expands, control signals from wireless devices increasingly interfere with each other. So designing the right kind of system architecture, where some intelligent device is assigned to manage the potential interference, is critical for delivering the reliability with right level of scalability. For Daintree's WLCS, that is the role of the Wireless Area Controller.
Integrating the Wireless Area Controller into the WLCS architecture allows us to build a lighting control system that delivers the level of reliability and availability expected by customers. By itself, that would be a huge "win" for customers. But the WLCS can go beyond a single Wireless Area Controller. It can be scaled up by having multiple areas managed from a single point. And even greater levels of management and control are possible: entire Daintree wireless control systems can be managed as one "virtual" system. So the WLCS delivers lighting control benefits at all levels, from an individual office or suite, to an entire floor, an entire building, and a collection of buildings.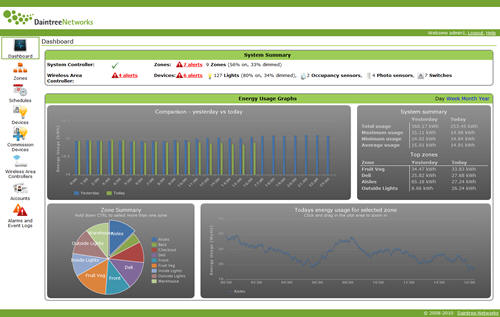 Catch the Wave
Lighting and lighting controls is undergoing a major transformation. Customers want to make their lighting systems more energy efficient for environmental and economic reasons. Regulatory bodies and utilities want to encourage energy efficiency. Lighting manufacturers want to integrate wireless capabilities into their products. All parties want to assure that wireless solutions can interoperate so that use of common components can drive down unit costs. The opportunity to bring energy efficiency to existing buildings through the application of wireless lighting controls is real and growing.
Now is the time to look at how wireless lighting controls can help you address this opportunity.

ZigBee is a registered trademark of the ZigBee Alliance.
802.15.4 is a trademark of the Institute of Electrical and Electronics Engineers (IEEE)
---
About the Author
Jason Choong, Chief Solution Architect and Vice President Product Management
Prior to joining Daintree, Jason held roles with Agilent Technologies, and prior to that, Hewlett Packard Company. He has considerable experience in technical marketing including roles as Product Marketing Manager, Regional Business Development Manager and as a Software Engineer in Hewlett Packard and Agilent Technologies. His extensive communications industry expertise includes IP, ATM and SONET technologies. Within Daintree, his responsibilities include product management and solutions engineering. Jason has been active in standards and industry bodies, and has chaired the Commissioning Tools Task Group within the ZigBee Alliance and spoken at conferences and industry events. He also holds and has submitted patents and patent applications on wireless systems and commissioning. Jason has Bachelors Degrees of Science and Engineering from The University of Western Australia, and a Masters of Engineering from The University of Melbourne.
---


[Click Banner To Learn More]
[Home Page] [The Automator] [About] [Subscribe ] [Contact Us]