---
Gareth Evans marketing assistant at leading manufacturer of portable gas detection and IAQ Monitoring instruments PPM Technology, discusses wireless technology for monitoring the indoor air environment; and its application in integrating with building automation systems for controlling 3rd party systems such as air conditioning, ventilation, heating and building alarms. Wireless technology has allowed a scientific approach to the systematic monitoring and management of IAQ, ensuring optimum indoor environment conditions, and the safety, comfort and well-being of building occupants.
Measurement and monitoring of hazardous gases is a critical issue in workplace safety. Conventionally worker safety has been concerned with acute levels of airborne pollutants, today there is also mounting concern about the affect of long-term exposure to low levels of pollutants.















Indoor Air Quality (IAQ) and conditions such as Sick Building Syndrome (SBS) are a major concern to businesses, building managers, tenants and employees because it can impact the health, comfort, well-being and productivity of the building occupants.

Common factors that can lead to an unhealthy Indoor Air Environment include:
• Poor Ventilation.
• Airborne Pollutants (Dust, Carpet Fibers, Fungal Spores)
• Chemical Pollutants (Light industrial chemical substances, cleaning substances)
• Ozone.
• High concentrations of Total Volatile Organic Compounds (TVOC's), Carbon Monoxide and Formaldehyde.
• Pollution from external sources (e.g. fumes)

Health effects from indoor air pollutants may be experienced soon after exposure, the immediate effects are usually short-term and treatable, including irritation of the eyes, nose and throat, headaches, dizziness and fatigue.

Long term exposure to low levels of pollutants could have an affect on an individuals health in the future years, these, according to the U.S. EPA/Office of Air and Radiation, can be severely debilitating or fatal illnesses including some respiratory diseases, heart disease, and cancer.

Typical indoor air quality investigation and examination consists of taking single point measurements of pollutant levels. This monitoring method is unreliable, as the pollutant levels is subject to hourly, daily and indeed seasonal fluctuations.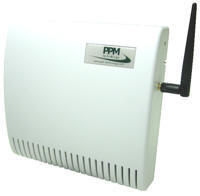 Building service professionals and designers alike have regarded these IAQ examination methods as being inadequate considering today's environmental challenges. Advances in technology have made it possible for a wireless system to continuously monitor the indoor environment allowing a scientific approach to the systematic monitoring and management of IAQ.

PPM Technology's Wireless IAQ Profile PPMonitor is one system that offers continuous monitoring of the Indoor Air Environment, communicating wirelessly with the manager PC and between each individual wireless unit.

The system can continuously detect and measure many of the factors that contribute to a building's Indoor Air Environment; including Temperature, Humidity and a number of toxic gases and compounds such as Carbon Dioxide, Carbon Monoxide, Nitrogen Dioxide, Sulphur Dioxide, Ozone, Ammonia, Formaldehyde and TVOC's. Real-time functions enable immediate audible and/or visible warnings of the presence of harmful gases in the air thus protecting employees and the public; buildings can be immediately evacuated giving minimal exposure to the building occupants.

Other advanced industrial hygiene functions can also be automatically calculated and could trigger alarm conditions. Two of which are Time Waited Average (TWA) and Short Term Exposure Limit (STEL). These levels are commonly legislated by governments and until recently there was no way of finding if these levels were breached.

The size of the networks can extended easily by simply adding repeater nodes or additional wireless units; each with unique sensor specifications if necessary. This ability to further expand the network allows for a greater level of monitoring across the whole building or complex, and hence a more detailed representation of indoor air quality in general.

Monitoring units are wirelessly connected to the Building Management System, BMS Software allows an entire wireless system to managed from a single PC, the BMS can set parameters for Temperature, Humidity and concentrations of hazardous gases which can then activate and control the air conditioning and ventilation systems, it can also turn on/off heating and as a last resort trigger building alarms.

Continuous monitoring of IAQ enables a profile of the Indoor Air Environment to be created, analysis of the recorded data through dedicated software allows for more efficient management of resources and energy.

Indoor Air Quality is a critical issue in ensuring the health, safety and well-being of employees; a wireless system can effectively manage the Indoor Environment; through control of 3rd party systems such as HVAC systems it can prevent unhealthy indoor air from being present, it can also give immediate warning if a dangerous level of toxic gas is detected, ensuring employees are only minimally exposed to the dangerous substance.
For illustrative images and a detailed description of the product - Product Brochure.
---


[Click Banner To Learn More]
[Home Page] [The Automator] [About] [Subscribe ] [Contact Us]