---
From Both Sides Now
Looking at Cloud Technology in BAS Applications

John Petze, C.E.M.

Partner

SkyFoundry

I've looked at clouds from both sides now, From up and down, and still somehow, It's cloud illusions I recall, I really don't know clouds at all. From Joni Mitchell a Canadian musician, songwriter's song "Both Sides Now".

It's probably worth starting with a definition – not mine but NIST's:

Cloud Computing: A model for enabling on-demand network access to a shared pool of configurable computing resources (e.g., networks, servers, storage, applications, and services) that can be rapidly provisioned and released with minimal management effort…. Computation, software, and storage services that do not require end-user knowledge of the physical location.

When I think of cloud computing I think of… computing as a utility… on demand computing… a pay as you go model for computing resources… and SaaS – software provided as a service, versus being installed on a computer on my desk or in my facility.

Computing resources and software applications delivered by the cloud are receiving a lot of attention, and for good reason. The cloud-based model provides a new and different approach for the delivery of software applications and offers a range of benefits including:

Get Up and Running Quickly -- removes barriers to entry to offer software as a service: Capital Expenditures (both the money and the time to get them approved and in place), IT support for the hardware and compute platform, cost and complexity associated with the installation of IT infrastructure, etc.
Scalability -- the ability to achieve scale that is difficult to build and own outright
Simpler, and more cost effective than buying and managing IT infrastructure in-house – unless that happens to be your core business. It also eliminates the need to push upgrades to individual users and help them through the upgrade process, and enables data backup to be provided as an automatic service
Flexible, elastic compute capacity – easily adjust computing resources to meet the growth of the customer base
Pay for what you actually use vs. paying for IT hardware and infrastructure you may not fully utilize

As we discuss the emergence of cloud-based solutions in the BAS industry, however, it is important that we take a lesson from the past and not fall victim to technology blindness. Like most new technologies, the cloud offers new ways to do things and new cost models that are very appealing for certain applications. Cloud computing is not a panacea for every challenge, every customer or every application, however.

It simply won't be all or nothing when it comes to the use of the cloud model. Web-based applications did not eliminate the need for fat client software, and no single standard protocol replaced all others. The situation with cloud computing and software delivery via a hosted SaaS model is similar.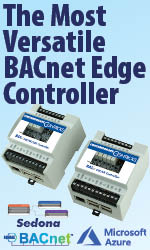 Some of the issues that affect the applicability of the cloud model include:

Security. Security models are still being developed for cloud-based services. There are valid security concerns to be considered.
Legal requirements relating to the location of data. Some organizations are affected by legislation or regulations that do not allow them to have their data off-site (or potentially outside of the country). Examples of regulations that affect the viability of cloud computing include: PCI compliance, HIPAA compliance, and SOX.
Customer profile – if the end customer is a sophisticated IT organization they may rightly feel that they can better manage the IT resources for the software applications they use.
Reliability and performance issues related to the need to access applications over the public Internet.
Cost of bandwidth – typically communications bandwidth is a variable cost, which can get very expensive very quickly. Typically with in-house applications, there is less need to plan, track and manage bandwidth.

So in our excitement to take advantage of the benefits of this new technology (of which there are many), I hope that we do not adopt a view that the only way to do things from now on is with cloud-based software. Rather, let's be sure to match the needs of the specific project to the software delivery approach that provides the best fit for the customer. Let's leave the "religion" behind this time. It's clear that we have a great tool in cloud computing – but everything out there is not a nail.

Want to join the discussion on this topic? Please join us for a lively discussion in the "Buildings Data in the Cloud" Track on Thursday May 26 at Connectivity Week in Santa Clara CA.

Track http://www.connectivityweek.com/2011/#track_546



---


[Click Banner To Learn More]
[Home Page] [The Automator] [About] [Subscribe ] [Contact Us]