---

EMAIL INTERVIEW – Brian Frank &
Ken Sinclair
Brian Frank, Founder of
SkyFoundry
Brian Frank is the founder of SkyFoundry and software architect of the SkySpark software platform. Previously, Brian was co-founder of Tridium and lead architect of the Niagara Framework. He is active in the development of open source initiatives for programming languages and protocols including: oBIX, Fantom, Sedona, and Project-Haystack.

---
We are now awash in large volumes of data, but we can't easily derive value from it. Project Haystack's mission is to define this common vocabulary so that we can derive value from all the data our building automation systems are collecting.


Sinclair: Brian, why did you start Project-Haystack?

Frank: Project Haystack evolved from our experiences applying analytics to building automation and energy data. Most modern building automation systems have made it fairly easy to collect vast quantities of data from our buildings including environmental conditions, equipment operation, and energy usage. However, the reality today is that this data only exists in a low-level, unorganized format, which is difficult to analyze to find patterns, issues and opportunities for improved performance. The result is that we are now awash in large volumes of data, but we can't easily derive value from it. To give an example, a building operator rarely cares about the raw sensor data – who has time to look through history logs of temperatures for every minute of the day? But if we could easily analyze all that sensor data, we can often find the issues that matter such as equipment and systems which aren't operating optimally or which need maintenance.

The first step to turning BAS data into actionable intelligence is to give the data "context" so that we know exactly how each piece of data fits into the overall system. For example, if an analytics routine needs to compare the discharge air temp of an AHU against the return air temp, how can we find this information? Today, often the only indication of what a point means is to decipher an arbitrary name the system integrator gave it during configuration such as "DA_TEMP". So one key aspect of Project Haystack is to establish a common vocabulary we can all use to give meaning to the information collected by the BAS.

But to really take analytics to the next step, we need to build more sophisticated models of our building and their environmental systems. For example, we might need to model the complete air distribution system so that software knows what AHUs feed which VAVs. Or we might need to know all the relationships between sub-meters and equipment in the electrical system. Modeling these relationships allows us to analyze operations at the systems level, building level, or even across an entire portfolio of buildings.

Project Haystack's mission is to define this common vocabulary so that we can begin to build these models of our buildings so that we can more efficiently derive value from all the data our building automation systems are collecting.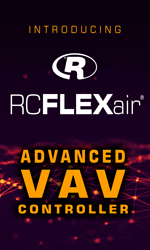 Sinclair: Who should participate?

Frank: Anyone who has a vested interest in making sense of building system and energy data should consider getting involved. We hope to have domain experts who create, install, or operate building systems like AHUs, boilers, and chillers who can lend their expertise. And we desire different perspectives, because different parts of the world and different climates often do things a little bit differently. Even if you aren't an expert, we'd still love to have you get involved as part of the community. In the end, for this to be successful the entire value chain needs to appreciate how important this process is to move the science of building management forward.

Sinclair: How can people contribute and what would be a typical contribution?

Frank: Project Haystack is run as an open source project, which makes it super easy for anyone to get involved. All our collaboration is done on the forum at
http://project-haystack.org/
. All you need to do to get involved is sign-up and start posting your ideas on the forum! A simple way to get your feet wet is to provide feedback on existing or new models under development. If you are ambitious and a domain expert in a given space such as chillers, data centers, or refrigeration feel free to start a discussion. Maybe you are an equipment manufacturer who would like see specific tag models for your products - we would love see that too.
Sinclair: What will the world look like when we have standard tagging models to describe building system data? (In other words what things will be possible.)

Frank: Today analyzing building system data requires significant effort because these contextual models must be built by hand. So the real opportunity for analytics to save building owners money and reduce their energy footprint is being stifled by labor costs. Once the industry starts to use Project Haystack models in products and on projects, we can transition from a manual process to an automated process. The value of creating a standard model building systems goes beyond analytics though. In the future a wide variety of software applications will be able to automatically find and interpret the data they need to provide value to the user – for example, automatic generation of equipment graphics and system views will be possible. This all leads to a future where a push of a button can turn data into true intelligence to understand and improve the operation of our buildings.

---


[Click Banner To Learn More]
[Home Page] [The Automator] [About] [Subscribe ] [Contact Us]