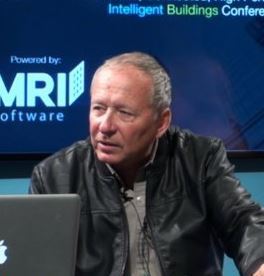 May "Our Open IoT Centric Future"
The times they are a changing with the transfer of ownership of our two largest Canadian independent control companies Delta Controls & DISTECH plus European LOYTEC Electronics GmbH and Australian Daintree Networks. That is a lot of global change happening in the last few months.

All the companies have strong presences and are leaders using open protocols while working towards IoT Centric solutions see the linked press releases.

The purchase of our advertiser Distech by Acuity Brands, a North American market leader and one of the world's leading providers of lighting solutions, and the purchase of networked building startup Daintree Networks by GE shows the powerful directional shift to the lighting industry with new financial clout.

The times they are a changing rapidly, I have seen the light, rendered in controllable color connected to Open and IoT is the direction of our future.
We just returned from the San Diego Light Fair and CABA Intelligent Buildings & Digital Home Forum, both events were great eye openers depicting our need to adapt to Our Open IoT Centric Future now.
I have written a quick review of the Light Fair event but you will be reading about the observed changes for months to come in our online magazine. Amazing control of the new source LED lighting is evolving rapidly, and equals and in some areas even exceeds what our open BACnet industry has achieved. The new ability of color control is sexy and provides a strong link to personal preferences and increased productivity and an amazing ability to display products and all our interfacing tasks.
The LEDs are capable of much more than just providing light and color. These devices allow low cost, low voltage integration moving sensing and powerful control to the device level at the edge, with low cost sensors for powerful day lighting control, dimming with color shift, occupancy sensing leading to occupancy Geo-Mapping. Low cost networking via Wi-Fi using either Zigbee or "6LoWPAN" an acronym of IPv6 over Low power Wireless Personal Area Networks.
Change is everywhere. The shift from chasing the $3 to chasing the $300 in the equation $3 per square foot for energy $30 for rental $300 for the people in the space was very obvious at both Light Fair and the CABA event. The smaller CABA event was powerful and I look forward to sharing with you in our June issue as presentations become available.

As always this new issue is a source of great articles, columns, reviews, new products, interviews and of course the steady stream of news depicting our rapidly evolution and journey to "Our Open IoT Centric Future".

Welcome our newest sponsor: klowdBUILDERTM Using klowdBUILDERTM HVAC submittal software will improve sales proposals, save engineering time, reduce costs, and drastically improve how you manage project history and revisions. This cloud-based software is a valuable workflow tool that supports any HVAC controls product. You simply set up your unique user profile and then your sales, engineering and operations staff can engineer and update projects in minutes. The subscription provides your projects in a searchable database for both installation and service, offers standard templates for various equipment and includes klowdBUILDERTM HVAC software updates. You can start a free 30-day trial at klowdbuilder.com. Contact sales@klowdbuilder.com for more information.

Welcome our new sponsor CUBE is a cloud-based platform designed for controls companies. We have combined highly needed features such as CRM, Project Management, Service Management and Purchasing with Controls Estimating and Engineering all under a single umbrella.

Tell all our sponsors you saw their ads on the AutomatedBuildings.com web site and thank them for supporting your free access to evolving Automated Building Industry information. Click on their ads and view their valuable products and services. Please review all Our Sponsors.

The news just keeps flowing thru our web site and RSS feeds daily, and of course the only way to truly find what you are looking for in the vast quantity of information on our site is with our site search engine http://www.automatedbuildings.com/search/sitesearch.htm

As always lots of new products, plus be sure to check our event calendar to see the number of events we have in our future.


---


[Click Banner To Learn More]
[Home Page] [The Automator] [About] [Subscribe ] [Contact Us]