---

EMAIL INTERVIEW – Russ Sharer and Ken Sinclair
Russ Sharer,
Vice President of Global Marketing and Business Development
Fulham Co., Inc.
---
Human Centric Lighting (HCL)
Mimicking sunlight indoors improves performance, attention and well-being.
Sinclair: There is so much talk about IoT – how do you define it for Building automation and what is standing in its way of wider deployment?

IoT is the interconnection of sensors and control systems that gather and act upon data to optimize the operation of a facility for its occupants and owners. It's been delayed because in the effort to interconnect "everything" into a network, the IoT, we have confused the possible with the probable. I like to say before we can get to IoT, we have to have IooT – the internet of one thing. Then IoTT – the internet of two things, and so on. Rather than focusing on connecting everything and worrying that decisions made today will block applications of the future, people should just move forward with simple interconnection focused on cost savings, usually energy or maintenance, and enhancing the well-being of occupants.

Sinclair: Lighting is not usually thought of as a key component of building automation systems. Why do you believe this is a false perception?

The easiest cost savings come from not spending money on services for empty rooms or finding how to better utilize or eliminate unused space. In order to do this, data must be gathered that shows usage patterns. The easiest way to do this is to use the existing occupancy sensors in most buildings that turn lights on and off. Without connecting lighting to the larger building automation, this data is lost, as are potential savings.

Sinclair: In the future, how do you see lighting becoming more critical?

The last 10-15 years have seen a huge increase in LEEDs approved buildings, but this measurement is focused on the building and its impact on the environment, not the building's impact on its occupants. Now there is a movement towards well buildings, when many variables – light, temperature, environmental components – will be considered. Research is proving a link between the quality and color temperature of a facilities light and its impact on human performance. This work, classified under Human Centric Lighting (HCL), shows mimicking sunlight indoors improves performance, attention and well-being. Think of it as the lighting equivalent to air conditioning. What impact would not having air conditioning in the summer or heat in the winter have on your employee performance?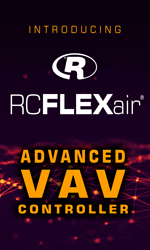 Sinclair: Why has it been so difficult to tie building systems such as lighting or air conditioning together?

In nearly every case, the issue is not technical but structural. The decision makers in buildings and the supplier of each of these systems are different, and usually never meet until far up an organization chart. As a result, linking the systems is an afterthought. If building owners pushed more building management people to think more broadly, more building systems would be integrated in a very short period of time.

Sinclair: What is the value of linking a couple of these?

A simple connection of lighting control and HVAC systems can result in a 25% energy savings on lighting, and 30% or more on HVAC. Given that those are the 2 largest users of electricity in a building, the savings can be very large.

What one thing could accelerate Building Automation deployment?

Get everyone in the room associated with building automation and ask how they can work together. Brainstorm. And ask how we save energy and improve the building for occupants.
---

[Click Banner To Learn More]
[Home Page] [The Automator] [About] [Subscribe ] [Contact Us]