---
Campus-wide Lighting Integration and So Much More


Fixture-connected multi-sensor devices control lighting and collect new environmental and people-centric data to drive HVAC, demand response, and space utilization decisions.

Steve M. Smith
Director of Business Development
Enlighted Inc.

John Greenwell
Founder and President
CEPORT, LLC

Menlo Business Park is building its reputation as one of the top office parks on the San Francisco Peninsula for young scientific companies. This centrally-located campus offers office, lab and warehouse space to small and medium-sized pharmaceutical companies and biotech firms.

In late 2011, owner Tarlton Properties initiated an integrated lighting and HVAC energy upgrade across about half of its 1 million square feet, 15-building property. It engaged Illinois-based SiteOn as integrator to implement the complete modernization project consisting of:
A lighting fixture upgrade including dimming controls and Enlighted smart sensing devices on each lighting fixture to measure power consumption, temperature, ambient light conditions and occupancy at each workspace and, in the aggregate, to provide a fine-grain- sensing network, with approximately 10X10 sqft resolution.

Programmable thermostats that can be controlled remotely over the Internet to adjust for special situations or tenant changes and improvements; to respond to signals from the electric utility during peak periods (demand response) or adjust to the coming time-varying electricity pricing.

A centralized building operating software application, BUILDINGWORX, from CEPORT.
SiteOn quickly realized that in addition to installing controls for lighting, new thermostats and packaged rooftop units, the project would need to incorporate existing automation systems in five of the buildings from various manufacturers, including Carrier, Johnson Controls and LON. SiteOn's proposal for a technology agnostic approach would provide Tarlton with a future-proof integration platform to accommodate changes down the road.

Key to this strategy was the sharing among control systems of the Enlighted environmental data. Each Enlighted device is mapped to a zone controlled by a given thermostat. In this way, micro-zonal temperature and occupancy information would enrich the HVAC data set. This level of granularity would not only equip the campus to save energy costs, it also would provide Tarlton with more data on occupancy patterns that it can leverage for better facilities management day-to-day as well as during Demand Response events.
As additional energy-saving steps were contemplated, Tarlton was concerned about potentially rising project costs and tenant disruption while retrofitting the buildings. An attractive feature of the Enlighted sensor devices was that they required no above-ceiling wiring; each microcontroller-equipped device can be connected to lighting ballasts in minutes by an electrical technician. Changing light profiles for new occupants, new uses and new traffic can be accomplished remotely in software. No laborious rewiring or redesign of special lighting zones required.

A centralized building operating software application, BUILDINGWORX, from CEPORT is used to manage all structures and integrate them with existing sub-systems. The software utilizes inputs from the Enlighted devices to track occupancy, as well as inputs from energy meters and the two-way programmable communicating thermostats in each of Menlo Business Park's buildings. Lighting, heating and cooling are automatically adjusted to optimal levels based upon occupancy and other parameters. In operation, the deployment exerts control through the following features:

The sensors on each lighting fixture inform the software algorithms that control light levels and area thermostats. The lighting can be turned up or down and thermostats adjusted based upon these measurements.

"Scene-specific" control that allows variable lighting use in office space vs. warehousing, labs, hallways, etc., resulting in less electrical usage and a more high-tech look to the property.

Programmable thermostats that can be adjusted remotely over the Internet to account for special situations or tenant changes and improvements; to respond to signals from the electric utility during peak periods (demand response) or adjust to time varying electricity pricing that is coming to California's commercial market.

A power line and radio frequency (RF) communications network that sends signals wirelessly or via the building's existing power lines, to converse with thermostats and nearby outlets in each facility.

Customized computer servers that communicate with lighting and HVAC systems and selected electrical plugs.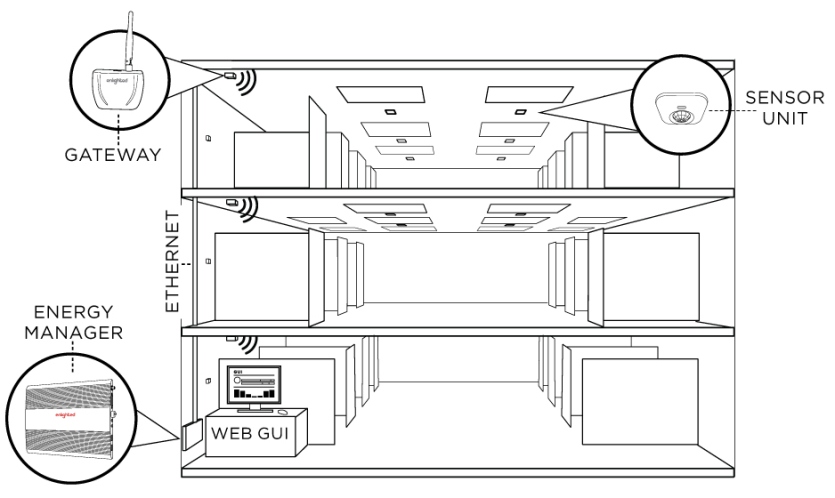 The integrator tuned its technology choices based on the retrofit nature of the project. SiteOn implemented a dual network approach using power line and RF wireless for HVAC controls, and an RF wireless network for lighting controls (via gateways that connect to the Ethernet), thereby eliminating the need to tear apart any walls or rewire the buildings. To accommodate existing tenants, the contractors and trade professionals arranged to perform 90 percent of the work after normal business hours.

Per-Fixture Data Informs Load-Shedding
"Should we get a message from our utility's grid management office that we need to make an energy reduction for a peak demand event, we can now respond with high precision. From a central dashboard, you can control a light over an individual workstation or a pair of lights in a private office. We can dim down most lights and adjust temperature setpoints, knowing exactly where tenants are occupying space," Tarlton explains.

The microzone thermal data captured by the Enlighted sensor network is helping the facilities team fine-tune HVAC setpoints as well. "Now we have better knowledge of temperature patterns across a zone," explains Dave Tarlton. "The thermostat may read 72 degrees at the interior wall, while at the windows it may be as high as 78 degrees."

The combined project of HVAC demand response controls and lighting efficiency upgrades received more than $500,000 in incentives. Menlo Business Park anticipates lighting energy savings between 50 and 70 percent annually through the use of Enlighted's lighting control system. They further anticipate additional savings from the automated demand response and integration of occupancy data with the HVAC systems. Over time, the team responsible for programming the BMS expects to find new ways to leverage the Enlighted information for better decision-support and even more savings.

Beyond the energy consumption and cost advantages of this type of project, business park owners can expect to benefit in other ways. When the project began, MBP had a 30% vacancy rate, which dropped to less than 5% by completion. No other commercial park in the area can show similar results over the same time period. Tarlton ascribes at least some of the occupancy increase to the property's new "green" and improved aesthetic appeal.

Summary
"After an extensive analysis of technologies available, the potential for a fast return on our investment was an incredibly compelling reason to take this approach," said Dave Tarlton. "Through this combined hardware and software platform, we are able to collectively address HVAC, demand response and lighting optimization and also get the best rebates available. We proved that it is possible to lower energy costs and enhance the work environment for occupants across an entire campus, with an easy-to-install, reasonable-cost solution."

Lab Deployment

---

About the Authors
Steve M. Smith, Director of Business Development, Enlighted Inc.
Steve Smith leads Enlighted's Utility Programs, among other business development initiatives. He supports major accounts in the rollout of Enlighted's smart sensor devices to corporate building portfolios. He brings expertise in advanced analytics and controls, building systems, and using environmental data to drive HVAC, demand response, and space utilization decisions.

John Greenwell, Founder and President, CEPORT, LLC

John Greenwell has 20+ years of leadership experience in the electrical construction industry, specializing in low voltage building controls. John has extensive experience in low voltage control systems, BAS, Lighting, Security, Energy Savings, Software Development. John is responsible for the overall product strategy and direction of the company. Prior to Ceport, John oversaw major controls projects for Continental Electrical Construction Company.

---


[Click Banner To Learn More]
[Home Page] [The Automator] [About] [Subscribe ] [Contact Us]