---
The Security Industry Restructures to Meet New Challenges

Manufacturers are now partnering with system integrators to develop solutions that work across different vertical markets that add value not just for improving security but to increase operating efficiencies.


Allan McHale,

Director,

Memoori
Summary
IMF projections for the rate of GDP growth across advanced countries in 2012 is 1.4% whilst the world market for physical security systems grew by 6% a multiple of approximately 4.3. Even allowing for much higher rates of growth in emerging and developed economies this is much more than a worthy performance particularly for a mature industry.

It also masks the fact that video surveillance achieved 11.8%, double the rate of aggregate growth for the industry and access control 7.2%. Variation in performance across subsectors is even wider with IP Video Surveillance topping the performance charts at around 30%. How this was made possible is one of the main themes in our 4th Edition of "The Physical Security Market 2012" - http://memoori.com/physical-security-2012

Why Structural Changes have Increased Demand
The main reason that it has been able to prosper during the worst trading conditions for decades is that the structure of the business has morphed not just to compensate but to meet and beat the challenge.

Our 2012 Annual Report shows that both the middle strata and small companies have both increased the size of the market and their share. The minnows are taking on the sharks and winning, both through the development of leading edge products and growth through acquisition and alliances.

But the main driver is that they are delivering products and systems that are transforming the security industry from a cost centre to a cash generator.

The business has also benefitted from IT & Communications and Defense companies continued foray into the security industry leveraging their expertise in digital technology and making serious inroads into homeland security and transport markets.

The second structural change that has contributed to getting more from seemingly less is that the routes to market have changed with system integrators now taking some 50% of all product sales Manufacturers are now partnering with system integrators to develop solutions that work across different vertical markets that add value not just for improving security but to increase operating efficiencies.
IP Networking products can offer much more than analogue when they are joined with other building services and the business enterprise and these additional benefits for the end user have definitely increased demand because they deliver a much improved ROI. There is no reason why the traditional distributor route cannot deliver the same service but most distributors have not seen the need to change and prefer to shift analogue boxes whilst their share of the market declines.

Market Growth by Sector & Region

The total value of world production of products at factory gate prices in 2012 was $20.57 billion. Of this Video Surveillance products at $10 billion increased their share to 49%, Access Control at $4.8 billion took a 23.5% share and Intruder Alarms at $5.77 billion had a 27.5% share.

The developed markets of North America and Europe are losing market share to Asia and particularly China which will be the largest single market before the end of this decade. Asia has increased its share to over 35% for all physical security systems, whilst growth has been much more modest in North America and Western Europe with an aggregate increase of 6 / 7% and 3.5% respectively over the last 3 years. This trend will continue well into the next decade.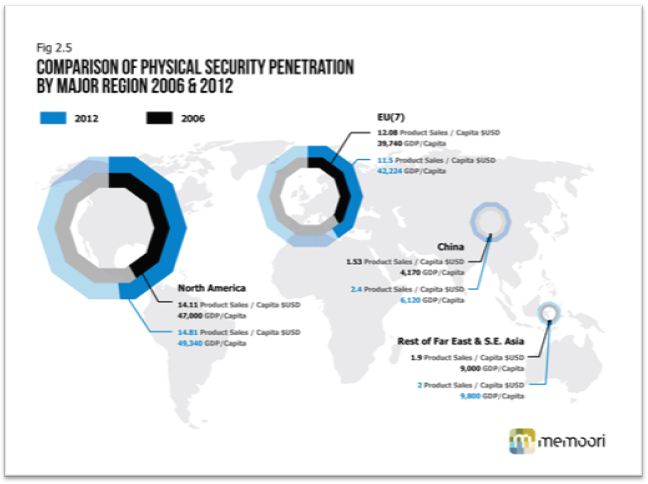 The measure of penetration of physical security products in any country is an important factor because it sets a benchmark for the latent potential that is available to exploit. There is an enormous latent demand waiting to be exploited in the emerging markets of the world, confirming that these are the markets that manufacturers should be developing now because they will grow at much higher rates than the developed markets of the western world. China for example currently has a penetration of one sixth of the USA but this stood at one tenth in 2011, showing that the market is growing rapidly by taking up this latent potential.
Fig 2.5 shows that the penetration of physical security products is highest in North America where GDP per capita is forecast at $49,340 and security sales per capita $14.81. In the EU(7) GDP per Capita is projected at $42,240 and security sales per capita at $11.5.

In China the GDP per capita in 2012 is projected at $6,120, and sales per capita was $2.4 showing that the potential for future growth is enormous. This market has forged ahead at the highest rates of growth recorded in our industry and its aggregate growth over the last five years has not slowed down. However despite the fact that its penetration has increased by almost 60% during this time its penetration is still only a fraction of that in North America so there is much latent potential still to be exploited.
In the rest of Asia (including India) the penetration chart shows that this area now has a lower level of penetration than China. There are a number of countries in this group that have large populations such as India, Indonesia, The Philippines and Vietnam and these countries have dragged down the penetration to $2.0 per capita. However Japan, Australia, South Korea and Singapore have much higher penetration of security on a parallel to western countries. Countries that have a long term potential to develop their latent potential include India, Thailand, Indonesia and the Philippines.
With such high penetrations in the western markets growth has to come from the opening up of new vertical markets, the migration from analogue to IP network systems and continual improvement in delivering a higher ROI.

Market Forecast to 2017
Our forecast for the next five years to 2017 is based on world market trading conditions remaining fairly static during the second half of this year and carrying on through the first half of 2013; thereafter gradually growing through the following four years.
We forecast a CAGR of 5% over the five year period. This could be considered rather optimistic, considering that at best the European market will remain static. But we had an unprecedented traumatic five year period from the end of 2007 and the physical security market managed to grow by a CAGR of 2% during that time.
The security industry is now in a much healthier state with a product portfolio that can deliver more attractive opportunities for their clients to improve security and at the same time profit from it. This together with the unstoppable growth of IP Video Network and Access Control coupled with management identification and verification will drive the market forward.

In addition further growth opportunities are opening up in relatively new vertical markets and the Smart Building sector where System Integrators from the Security Business are using PISM, PIAM and SAP platforms to deliver holistic systems incorporating monitoring building and energy performance in addition to security and safety. In the event that these drivers don't live up to expectations we can rely on the BRIC and other emerging markets to continue growing and the move to cloud based systems.

Further Research
Memoori's report "The Physical Security Business in 2012" combines clearly defined market sizing statistics with financial analysis of M&A and investment. It brings together all the factors that influence this industries future; including technology, finance and the capability to deliver products that meet the customers need to drive more ROI out of investment.

For more details visit the Website, http://memoori.com/physical-security-2012



---


[Click Banner To Learn More]
[Home Page] [The Automator] [About] [Subscribe ] [Contact Us]