---
EMAIL INTERVIEW – Realcomm Staff and Ken Sinclair
Published in Realcomm Advisory - 10.11.2012

---
Realcomm In The Trenches

In this week's Advisory, we sat down with Ken Sinclair, the Publisher and Owner of AutomatedBuildings.com, and asked him to share his thoughts on how technology and automation have impacted the commercial real estate industry.


RS: How has the industry changed since you first started reporting on automated buildings?
Sinclair: We started with our first issue in July 1999. The internet was new stuff to most and this was our first article; Your Building Address as a .com? With these words; "The concept of a large building as an internet identity with its own web address is now the latest step in presenting and managing your Automated Buildings. We have selected this article to be in our first launch issue because we think it sends us all a wakeup call as to how significant the internet is going to be in the future. Our site is aimed at the Automation of Buildings and integration with the internet will become just another step."
I am pleased the link to this building still works as it has been an example to all and it was a building I was involved with.
http://www.automatedbuildings.com/news/may99/articles/addresses/addresses.htm
Amazingly enough some buildings today have not even reached this goal. The adoption of what is possible has been amazingly slow. Evolving standards have helped adoption but the cloud, iphone and connected devices type thinking has had more success in the last few years, than the internet did in our first 14 years online.
It is frustrating for us that acceptance and adoption has been so slow. I fear for our industry, if it does not change its slow adoption of the rapidly evolving reality. My answer to the question is sadly - we have had great changes in technology and ability but very little change in (in "dust" ry). Only by a few early adopters have embraced what is available.
RS: What are the major trends you see in the industry?
Sinclair: Cloud Control of everything is putting pressure on the traditional building automation industry to get on with acceptance and integration of these concepts into their products. If you view the theme of our
last 12 issues
I think you will see that "Connection" has dominated as a topic with "Open" second and then "Cloud" as the binding of Connections that are Open. The effect of wireless will be huge on the industry changing the supply chain and those who install and integrate, but even its adoption has been slow. (By the way, our monthly theme is set by the average content of the articles we receive.)
RS: What's your prediction for which technologies and platforms will emerge as clear victors in the market?
Sinclair: Technologies and platforms that are not owned by major control or data companies will bubble to the top as the clear victors. Platforms that appear Connected, Open and Cloud-based will win. Products that approach platform independence will be preferred and will emerge as the winners. The building automation industry and Realcomm folks have just found the power of open and cloud and are not willing to sell out to major vendors again. It will be a tough fight. Even major industry platforms that have created the internet success such as Google, Amazon, Yahoo, etc are falling to corporate manipulation. This of course opens the door to new web service companies that appear open and cloud based. Note I talk about the appearance of open, if you have a community of a few million folks that are able to interact as a successful connection community in my mind no matter how not open you are the product will be successful as in the example of Apple. The true success of an application will be its ability to exist on several platforms and be easily moved from one to the other.

RS: What's the prognosis for the big data companies coming into the industry – like IBM?
Sinclair: Cisco has been in and out and back in again to our industry. Building Automation is different than big data. Most major data companies (and even major control companies) greatly underestimate the complexities of our existing building automation industry We now have JCI's Panoptix, IBM-Tririga's Smarter Buildings, Honeywell's Attune Advisory Services and several others vying for market share. Although they have great insight in big data and its security, plus how to finance it all, they lack the touch with the buildings. That touch generally comes from people with faces not big data. Their successes will be determined by their ability to create a powerful connection community that is able to combine touch, feel and big data. Generally the Dilbert style of management of big companies struggles with the needed touch and feel plus an understanding of the true value of a community.
They believe community does not have a bottom line and ultimately 'quarter baked thinking' from the top ("we must make a profit next quarter") leads to their demise. This keeps their cycle of change based on what they have not yet implemented and creates the nature of their business. This quarter baked thinking is the cancer of American business; most successful global companies have goals that involve years and decades. Short-term planning and the quarters within a year are no indication of total performance and lead to corporate manipulation to achieve quick goals.
_______________________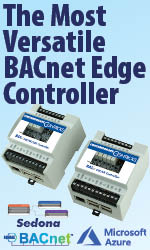 In addition to the above interview some additional thoughts from Ken:
Felt good to get some of that frustration out……..smile
http://www.realcomm.com/advisory/advisory.asp?AdvisoryID=552

This rant has been going on for a while. Actually digging through dinosaur dung it even amazes me how long we have done nothing new as an industry
http://www.automatedbuildings.com/news/feb06/reviews/ahrexpo2006.htm

Note Honeywell keeps Tridium's Niagara path from field to enterprise open, it mentions you Marc.

Plus this
Quarter baked thinking coupled with traditional marketing practices is eroding our markets.

Many of our control and automation companies seem pre-occupied with making a profit in the next quarter and are not focusing on the fact that we are in the middle of an era change. If they do not extend their planning window beyond the next quarter they will lose their market share and possibly their complete companies to new IT companies and/or off shore folk who have fully baked plans in place.
Looking to our existing market for help is of little use; they have only a slim idea of what is the potential available. We must lead our markets into the new era.
In my Virtual Value Visions for Building Automation in 2006 I wrote; "I love this quote from Henry Ford, the automotive pioneer: "If I had asked people what they wanted, they would have said faster horses." I believe there are those in the traditional building automation industry who are designing faster horses, rather than trying to get their minds around the fact we are moving into a new era."

It was ironical that while I was in Chicago at the Exposition, the Ford Motor Company announced massive cuts back. I am sure that their marketing plan was a careful survey of their existing Ford owners who when asked what do you want for the future? responded with "a better Ford". Ford believing this line of bull gave them what they said they wanted and built them a "Taurus" to be exact. It was a disaster and the rest is history. What did the market really want? Something that looked like a Lexis and performed like a Toyota Prius. Why did they not ask for it? The conventional market did not know that competitors would provide better value cars and the gas prices would double. I wonder if Henry would have made the same mistake? I think not.

Industry! We are moving into the information age, a new era of integrated everything, not just information but everything which will lead us to a new way of doing everything. We cannot move into this new era selling dusted off dinosaurs for control systems because we think we can squeak one more quarter out of them. The new IT stuff coming down the pipe is slick and works well. Off shore markets are leapfrogging us with fully baked plans that provide connection to the new era. We must concentrate on providing a complete plan and lose that quarter baked thinking to provide new era connections to all of the pieces.

---

[Click Banner To Learn More]
[Home Page] [The Automator] [About] [Subscribe ] [Contact Us]