---
Every month there is a blizzard of information contained in the emails and newsletters that cross my desk on their way to AutomatedBuildings.com. Some of this information is not in the form of any type of content we can publish but I feel I should share with you these snippets, blog bits, and url links that are about to fall off my desktop.
As part of our initiative to deliver standards-based wireless lighting control systems, Daintree is providing open source firmware to allow manufacturers of luminaires, ballasts, drivers and lighting controllers to rapidly bring their products to market. Using standards-based ZigBee, this open source firmware can be used to rapidly bring new products to market.
An interview with Paul Rabinovitz, a lighting expert that has worked in all facets of the industry and now is President of PMRi, an innovative consulting firm dedicated to helping clients grow through innovation, integration and implentation.
Lighting quality is a critical consideration in effective lighting design, and often should take priority over energy savings and the economies of cost. But what is lighting quality? It goes beyond energy and cost and light levels to include brightness, light distribution, color, aesthetics, daylight, ease of use for controls, and other issues.
Bill Gates on Windows 8, Windows Phone 8, and Microsoft Surface

Our Linkedin Group: AutomatedBuildings.com Online Magazine Forum Great Discussion: Do indoor environments affect employee performance? What is your experience?

BIMStorm® Oklahoma City (OKC) will bring together students from disciplines such as architecture, construction science, planning, and engineering to join in a partnership with the City of Oklahoma City and industry participants for the virtual BIM event. Students will develop design alternatives that can be tested and analyzed in BIM to verify feasibility and constructability. The industry partners will provide valuable insight to students about real world solutions. The dynamics of students, city officials, and industry partners all working toward one goal has implications for each group with information sharing, problem solving, and solution testing. The virtual team context offers OU students a differentiator and experience uncommon to the majority of students of the built environment.
The 34 displays combine to produce abstract, artistic images and when in passive mode they are made to look like the marble that surrounds them. All photos courtesy The Alexandria Center for Life Science, Niles Creative Group.
IMS Research has now released its preliminary forecast data from for the upcoming report Connectivity Opportunities in the Smart Home – World – 2012 Edition.

Just when you thought the future of systems integration was voice recognition, near-field communication, or gesture control. Turns out that facial expression recognition technology is the REAL future. If you're wondering why we would ever possibly need such a development, think distance learning where teachers could provide better learning experiences by monitoring the fleeting expressions of their far-flung students as they struggle to understand their lessons. —Jeremy Glowacki
The Continental Automated Buildings Association (CABA) has launched a collaborative research study entitled "Intelligent Buildings and the Bid Specification Process," of which BACnet International is a sponsor.
Machina Research's latest report on the M2M market, the Intelligent Buildings sector represents a significant opportunity for M2M players. The report suggests that the market will grow at a CAGR of 17 per cent between 2011 and 2020, from $52 billion in 2011 to $214 billion in 2020. Security is by some margin the largest application group generating 60 per cent of total revenue by 2020. The fastest growing application group in terms of revenue is the Building Automation group, which is forecast to grow at a CAGR of 50 per cent over the forecast period to reach $63 billion in 2020.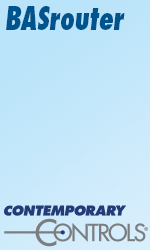 By Bill Lydon, Editor Based on presentations at the first OPC Technology Summit October 16-18, 2012 in Orlando, Florida, it is clear that OPC UA is transformational and changing the architecture of industrial automation systems. The Summit featured various speakers including end-users, industry experts, and suppliers. Tom Burke, President and Executive Director of the OPC Foundation, outlined the major application domains for OPC technology as industrial automation, building automation, embedded devices, energy management (Smart Grid), manufacturing enterprise management, M2M (Machine to Machine), and cloud-based computing
Andrew Liszewski - What looks like a mad scientist's oversized scheme to conquer the city of Winnipeg is actually a half million dollar sculpture created by artist Bill Pechet. Standing 35 feet tall, the Emptyful artpiece towers over the city's Millennium Library Plaza looking like a constantly brewing science experiment thanks to a coloured fountain and misters creating a cloud
By Bill Lydon, Editor Is it time for DCS suppliers to use open industrial Ethernet protocol standards for their backbone networks? There are a wide range of open architecture networks, but traditional DCS suppliers have and use their own closed networks. Certainly users have an option when replacing systems to use new hybrid systems that have open architecture industrial Ethernet network protocols but this has tradeoffs.
Will we see a bloodbath in building controls ? blog.kwiqly.com So we have been playing about a bit with Raspberry Pi and Arduino Mainly for convenience, but also because they are cool and we are geeks and for example RPi is offering a ARM GNU/Linux box for $25

---


[Click Banner To Learn More]
[Home Page] [The Automator] [About] [Subscribe ] [Contact Us]