---
with Open Systems Building Automation

Paul D.J. Mason, C.E.O.
BWP plc
This is the seventh of 9 articles where we are introducing the cost benefit for interoperability and that gained from the procurement technique achievable with open systems and choice.
September's article Buying Open Systems
August's article Open Systems Standards
July's article LonMark International and the LonMark System
June's article More Intelligent Building and save money, VBHQ part 2
May's article Intelligent Intelligent Building, VBHQ Part 1
April's introductory article Cost Comparison Model Open vs Proprietary
…….a round up of the benefits
Benefits for the Client
No lock-in to any particular supplier, both capital costs and operational costs.

Choices are greater across all disciplines in building automation; many opportunities to provide facilities for future use and at different times within the programme for decision making.

Standardisation, ISO will follow and OASIS in the world wide web world for XML schema


<![if !vml]><![endif]>


LonMark International, LonMark Certification for Inter-Operability and LonMark Self-Certification tool has the potential for being the largest controls network organisation in the world, easily a 1,500 member potential not-for-profit organisation arranged over the whole world.

Good infrastructure is a relatively low cost, high value item that becomes a facility in place ready for decisions that can be made in the future; good infrastructure design is IP ready.












Benefits for the Designer / Specifier
1. One fundamental design suits all.
2. Modular and Scaleable design is inherent.
3. Infrastructure is most important, the infrastructure must provide for equal access with standard connectors and using standard cables e.g. Cat 5 or on the back of a modular wiring system. These cables and connectors are from any number of suppliers and are ideally installed in a structured wiring style. The required function includes being able to be connected without any extra hardware, simply a standard plug and cable connection.
4. A commodity is something that works standalone and is complete with everything necessary to carry out its function. Commodity products or package plant, i.e. lighting control units or air handling unit complete packages are the great benefit of this system design and should be developed for everyone's benefit. Components, commodities and equipment can all be simply plugged onto the cable systems at any time at inception or in future for choice and best cost.
5. The Head End can be selected to a variety of specifications including none at all; this process leads more and more to convergence.
<![if !vml]>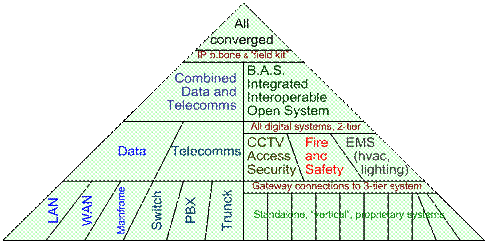 <![endif]>
Benefits for the Construction Professional Team
All the control units, ACU, LCU, Integrated heads, VSD, BMS are available off the shelf with their Product Warranty

The System Warranty is minimised to just the application software.

Cost certainty and comparisons are easily administered.
In construction the costs are on a like for like basis, the product warranties are simple and the system warranties are more clearly defined. Budget checking is also simple to achieve. The sub-systems can be a variety of commodity products bought in a number trade packages and free issued or bought as appropriate; the sub-systems could each be same manufacturer products or different manufacturers – makes no difference. The system is easier to understand and to budget once the work is done to understand the new way of doing things.

Cable costs are easy to manage, to specify and control. Group purchase of all cables does make economic sense.

The Head End can be specified separately to any level required now or future and can be bought through a number of sources.
Benefits for the Main Contractor
Cost certainty and competitive tendering are easily administered. Buying package plant "ready to work" has got to be the best option.

Easy to price and identify the offer and easy to understand the package and each element.

Cable supply and install can be identified and procured at most cost effective price.

Standards, choice and reduced risk from Open Systems facilities must be better than an end to end specification that has many interdependent interfaces.

Appointment of Systems Integrator can be based on number of nodes to integrate onto the network. Elemental cost per sub-net is available as are engineering costs per node on the sub-net; there is the ability for different products available per sub-net or per node. Partial completion by sub-net is also possible.
Benefits for the M&E sub-contractor
Cost certainty and competitive tendering are easily administered, direct comparison of system components is possible

Easy to understand and price, reduced risks, setting to work simple.

Standard design methodology allows repetition and speed.

Infrastructure as a known element and location can be connected to with ease and thereby the equipment costs and any associated risks are reduced.

Management of the system sub-net by sub-net is easily possible - Isolation of a sub-net is easily possible for fault diagnosis.
Standardisation is particularly good for manufacturers and provides greater certainty throughout the whole specification, installation and maintenance process. Factory quality and factory centralised buying leads to the reduction of overall costs throughout the process and the improvement quality for the owners or developers.

Standards in place reduces research and development risk, manufacturers can avoid expensive continuous new development of complex system. Standards and package plant opportunities in the OEM market are both beneficial. Standard neutral supervisory software can easily link to standard data types.

Open Systems products offered compete on price, delivery, service and quality and degree of openness. Open systems enable manufacturers to supply components just as though they were commodities.

All products should be designed for straightforward connection onto open access infrastructure and with standard connectors.

Opportunity for equipment manufacturers to add value to their products by having standard microprocessor controls arranged to suit the application and completely with no need to consider the overall control system in the building.
Benefits for the Facilities Manager
No lock-in with any replacement hardware or software to ensure reasonable costs.

Genuine competition from many service providers for moves and changes.

The Head End system is standard office web browser, all systems should comply with this maxim.

This infrastructure is ideal to manage the systems in the life of the building; it is not necessary to have the whole system in place to allow flexibility and choice of supply of products, contractors and methods of procurement – now and in the future.

Isolation of a sub-net is easily possible for fault diagnosis - Isolation of sub-net for a fit-out or extension of services is easily possible; useful "partition" facilitates the life of the building; opportunities exist in that elements can be bought and developed in isolation.
Next month
Come back for advice on buying Open Systems, procurement of such a choice of solutions and products and not complicated is a "trick".
The programme we have for you continues to run as follows:
1. April "Intro"
2. May "VBHQ part 1", or go to www.LonMark.org follow the VBHQ motif
3. June "VBHQ part 2", or go to www.LonMark.org follow the VBHQ motif
4. July "LonMark International" and the "LonMark System" , or go to www.LonMark.org follow the VBHQ motif
5. August "Open Systems Standards", or go to www.LonMark.org follow the VBHQ motif
6. September "Procurement Advice" or go to www.LonMark.org follow the VBHQ motif
7. October "Everyone Wins" or go to www.LonMark.org follow the VBHQ motif
8. November "Consultants Design Notes and Openness is Safer"
9. December "Case Study Notes for Consultants"
---
About the Author
Paul D.J. Mason B.Eng (Hons), C.E.O. at BWP plc who are based in London and the East Anglia region United Kingdom. BWP have an affiliate office, DWP, in Paris, France. BWP is a niche high quality building services consulting engineering design service company and specialist in "green" engineering. BWP currently employ 27 people. Paul (45) has a career encompassing Marine Engineering Royal Navy, the Property Services Agency of the UK Department of Environment, University as a mature student, and since 1989, with 2 private sector building services design companies "CJP" and since 1997 "BWP". Since 1999 BWP primarily specify the LonMark System.
BWP are members of LonUsers UK, Associate members of LonMark International, the Intelligent Building Group, the British Council of Offices, Building Services Research and Information Association, Chartered Institute of Building Services Engineers and the Association of Consulting Engineers. Paul is an invited Contributing Editor through 2004 with www.automatedbuildings.com.
---


[Click Banner To Learn More]
[Home Page] [The Automator] [About] [Subscribe ] [Contact Us]