---
OPC and PROFINET technologies combine
for efficient light control

HVAC systems, sprinkle systems, doorway controls, could all be linked together using PROFINET, and then controlled via a protocol like OPC from any PC on the network.


Manny Mandrusiak
Vice President of OPC Marketing,
OPC Foundation
Travelling across North America conducting Training Classes for the PTO brings me in contact with a great many individuals looking for application stories about how to combine technologies to build more robust systems. With the emergence of the Smart Grid, and a renewed commitment to improving the environment, energy management has been a hot topic in every vertical these days. Companies across the industry are looking for new innovative ways to save costs by running operations leaner.















Issue 69 of the PROFINEWS published a fantastic application story about a Belgian wholesaler who implemented a combined PROFINET / OPC solution to provide efficient lighting controls in their new office building. Energy efficiency is paramount in all new buildings and structures as industry strives for a greener planet.
PROFINET is still fairly new to being used in projects within the world of Building Automation. It has been described as the "all-encompassing Industrial Ethernet" due to its high bandwidth and ability to be used for virtually any function required in automation. It has the ability to be used in discrete, process, motion control, peer-to-peer integration, safety, and vertical integration. Since PROFINET is industrial Ethernet and uses standard IEEE 802.3 Ethernet, it has the ability to work over wireless internet.
In the PROFINEWS application story, PROFINET was utilized as the backbone of a modular motion controlled lighting system. This system contained five decentralized I/O stations connected via PROFINET and an Ethernet switch which was connected via PROFINET. Various touch screens linked to the Ethernet network exchanged data with the PLC via OPC. Using OPC's connectivity the lighting can be controlled using any PC on the network as an HMI.
Once converted to OPC, the data could be exported into a variety of OPC based software packages for
: trending and analysis, storage in a historian, or simply exported as an Excel file. Energy usage and savings can be tracked quickly and accurately.
This is a prime example of how the world of Building Automation is effectively utilizing existing technologies from the Process and Discrete verticals to effectively architect money and energy saving solutions. PROFINET provides a completely scalable architecture that can be expanded quickly and economically as a building's need grow. Being industrial Ethernet, other systems could be added to the PROFINET network. HVAC systems, sprinkler systems, doorway controls, could all be linked together using PROFINET, and then controlled via a protocol like OPC from any PC on the network. High speed scalable data transfer and robust environmental control has never been easier.
That is really the point of technological advances is it not? To make life's processes easier, and in today's environmentally conscious culture, more energy efficient.
Readers wishing to view the full application story can find it in Issue 69 of the PROFINEWS.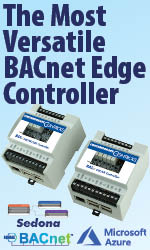 Those looking for more information on PROFINET can look to attend one of the PTO's one-day training events. There are two upcoming PROFINET events in the US: one in Minneapolis and one in Seattle. These are full one-day training classes that are designed to provide an excellent introduction to the power and scope of Industrial Ethernet technology.
For more information about the PTO and PROFINET technology please refer to the PTO website at www.us.profibus.com
Looking for in-depth OPC training? There is an OPC Unified Architecture Developer's Workshop being held in New Orleans on Oct 27-29. OPC Unified Architecture is the next evolution in OPC technology. It provides secure, reliable interoperability for exchanging data and information from the plant floor right up to the enterprise. More information about the OPC Unified Architecture Developers' Workshop can be found at: http://www.opcfoundation.org/Default.aspx/DevWorkshop09/DevWorkshop.asp?MID=DevWorkshop2009
For more detailed information about the OPC Foundation please refer to the OPC Foundation website at www.opcfoundation.org
Resources:
PI-PROFIBUS & PROFINET International Newsletter. PROFINEWS Issue 69 http://www.profibus.com/news-press/newsletter/
---


[Click Banner To Learn More]
[Home Page] [The Automator] [About] [Subscribe ] [Contact Us]