---
Understanding Specifications
Parts is parts, so they say
Part 2 of 3


Steven R. Calabrese
Control Engineering Corp.
As we left off from last month, we were discussing control systems specifications, where to find them, how they are written, and so on. This month we delve into the second part of the written specification: PART 2 – PRODUCTS. This part seems to vary substantially among written specifications, so I simply put forth my best efforts, to try and come up with a decent, all-encompassing yet straightforward format and descriptions of each segment.















ACCEPTABLE MANUFACTURERS

This segment lists out the approved control systems. It is often included not here, but in the previous part (GENERAL).

NETWORK COMMUNICATIONS

This segment defines the network requirements, from cabling to protocol. Many specs talk in great detail about protocol, especially in this day and age, when BACnet and LonWorks are the buzzwords of the industry. The important thing is to understand what is meant by these terms, and how they fit into any given application.

Other network attributes that are often specified are baud rate, network levels, and possible number of controllers on the network.

Baud rate is the communication speed that the network is capable of operating at, and can be specified as anywhere from 19.2K bps (bits per second), to over 100K bps.

"Network levels" most often relate to the controllers that reside on the network. Primary controllers, such as plant and equipment level configurable controllers, will reside on a "peer-to-peer" network, in which information can be passed directly between any controller on this network. This network level is also referred to as the primary tier network, the tier 1 network, the level 1 network, or the primary network. Secondary controllers, such as unitary or application specific controllers, will (sometimes) reside on a "polling" network. Controllers on this network cannot directly share information. Information can be polled from controllers that sit on this network, by a primary controller that resides on the peer-to-peer network, and likewise information can be broadcast from the primary controller back to secondary controllers on the polling network. This network level is also referred to as the secondary tier network, the tier 2 network, the level 2 network, or the secondary network.

The possible number of controllers that can reside on any network may be specified. Most manufacturers have this pretty well covered, though. A particular manufacturer may require that, after so-and-so number of controllers, a repeater has to be installed on the network, in order to add any more controllers.

This segment may talk about an "enterprise level" or "network" controller. Depending upon the manufacturer, there may be such a device that supervises network communication. Some (lower end?) manufacturers do not have nor require such a device.

Lastly, there may be mention of integration or interface with third party equipment. If a piece of packaged equipment is furnished with microprocessor-based controls, the spec might call for the equipment controller to talk to the control network (and vice versa), via common protocol or via a gateway. This way the control system can exercise some supervisory control over the piece of equipment, and in turn can monitor some operating parameters without the need for additional sensing devices to be installed at the piece of equipment.

CONFIGURABLE CONTROLLERS

This segment lists the general requirements for "primary controllers". Specifications for these controllers typically state that they must be fully programmable, with the programs residing in non-volatile static memory, capable of stand-alone operation, with a real-time hardware clock and battery backup to keep the clock running in the event of loss of power to the controller. Other requirements may be for LED status for outputs, H-O-A switches for the binary outputs, potentiometer overrides for the analog outputs, and RS232 ports for connecting devices such as portable laptops. The spec may include point counts, i.e., minimum number of inputs and outputs (both binary and analog), and also may define the analog point types. The spec will define the environmental operating requirements (ambient operating temperature and humidity ranges). Finally, this segment may include the requirement for "spare capacity", which is the number of unused or spare input and output points per controller (for possible future use). Spare capacity can be specified as anywhere from 5 to 20 percent.

APPLICATION SPECIFIC CONTROLLERS

This segment lists the general requirements for "secondary controllers". Specifications for these controllers typically state that they must have non-volatile static memory, and be capable of stand-alone operation. They need not be fully programmable, but customizable to fit a given unitary application (fan coil unit, VAV or fan powered box, packaged rooftop unit, etc). These are controllers that are manufactured as dedicated to control a specific piece of equipment, with the algorithms resident within the controller. Environmental operating requirements will be listed, as well as the requirement for a jack for controller access via a portable operator interface (laptop or handheld service tool). This segment may ask for controller interface to be able to be performed remotely at the (space) sensor wired to the controller, in addition to at the controller itself.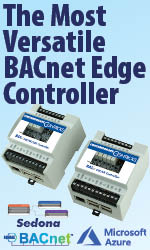 OPERATOR INTERFACE

This segment defines the requirements for the main (and secondary) interface(s) to the control system network. For a networked control system, this will typically be a personal computer running the appropriate software, and is often referred to as the operator workstation. The spec will list the hardware required for the particular project, and will include most or all of the following: PC, monitor, keyboard, mouse, printers, and modem. The workstation is "non-dedicated", meaning that it can be used for other basic applications, and does not have to be strictly dedicated to the networked control system. With web-based systems, the computer doesn't even need to be running any special software, as a standard web browser would serve to access the graphics and monitor the system. In this case the spec would spend time outlining the basic requirements for the web server, which may be either a computer running a server platform, or a manufacturer's control module configured to serve up web pages.

Other interfaces include portable laptop computers, local displays, and handheld service tools. A laptop can function identical to the main front end (workstation), but can be used to access controllers directly, and thus can function as a service tool for the end-user.

OPERATING SYSTEM SOFTWARE FEATURES

This segment specifies some of the requirements for the front end software package, typically calling out for a navigation graphics package, with building floor plans and jump buttons to each zone, and to each major piece of equipment and system. The spec may also make reference of the type of programming method (line programming, menu driven, or graphical programming). The trend among major manufacturers is graphical programming and web-based front end graphics. Other requirements, such as password protection, alarm and trend logging, reports, and automatic dial-outs of alarms, are also commonly specified.
PROGRAM FEATURES

This segment (if included) lists out some standard HVAC-specific programs that the system is to be capable of implementing. Some of these are listed below:

• Scheduling
• Night setback
• Morning Warmup
• Timed override
• Reset
• Enthalpy changeover
• Demand limiting
• Optimal start/stop

Keep in mind that often these are listed without any regard to the particular project. A project may be such that there is no application for "reset control", yet it is listed in the specification for the project. Furthermore, most manufacturers offer these types of programs as standard, and if not, the programming methods today are powerful enough to implement any of these from scratch. If you are reading a specification for the purposes of acquiring a project, then you need not be too concerned with these items. If you are reading the specification for the purposes of designing a project, then these may apply. If a Sequence of Operation and/or a Points List is included in the spec, then refer to those items for application of any of these programs.

SENSORS AND TRANSMITTERS

For this and the remaining segments, rather than spending a bunch of time reprinting the typical contents of this portion of the spec, I will simply list out some of the components normally included. I do however, encourage you to pick up a spec for yourself and review these segments, understand how they're structured, and note what's included.

• Space Sensors
• Outside Air Sensors
• Duct Sensors
• Averaging Sensors
• Immersion Sensors
• CO & CO2 Transmitters
• Humidity Transmitters
• Pressure Transmitters
• Air & Water Flow Sensing Devices
Tip of the Month:
As for operator workstations, it is customary for the consulting engineer to include specifications on the equipment, however because the technology with this stuff moves so quickly, it is also common to find a clause included, a "disclaimer" per se, that dictates the final procurement of said equipment. Such a clause might direct the contractor to "wait to the end of the project" before even thinking about purchasing the equipment. On large projects that span months to years, this makes perfect sense, as the engineer's original spec for the equipment could very well be obsolete by the time the job is ready for it. So do yourself a favor…don't buy that stuff until the very last minute, lest ye find yourself with outdated, not to mention perhaps more expensive, computers and peripherals!
SWITCHES AND TWO-STATE CONTROLLERS

• Line Voltage Thermostats
• Humidistats
• Occupancy Sensing Switches
• Current Sensing Switches
• Differential Pressure Switches
• Air Pressure Switches
• Clogged Filter Switches
• Water Pressure Switches
• Water Flow Switches
• Water Level Detectors

SAFETIES AND LIMITS

• Freezestats
• High Limit Static Pressure Switches
• High Limit Duct Humidistats
• Smoke Detectors
• Refrigerant Leak Detectors
• Stand-alone CO detectors

END DEVICES

• Control Dampers
• Damper Actuators
• Control Valve Bodies
• Valve Actuators
• Zone Damper & Zone Valve Actuators

MISCELLANEOUS DEVICES

• Control Enclosures
• Relays and Contactors
• Control Transformers & Power Supplies
• Transducers

---


[Click Banner To Learn More]
[Home Page] [The Automator] [About] [Subscribe ] [Contact Us]