---

EMAIL INTERVIEW - Kari Baden and Ken Sinclair
Kari Baden, Managing Director, Dimension Data Advanced Infrastructure
Kari attained a construction management degree from Southbank University, and developed his career working for a number of construction companies, building a solid understanding of the construction industry. Over the past 20 years he has worked in the telecommunications and networking industry developing a unique blend of knowledge and experience in business, construction and technology. Moving to Dimension Data group in 1997 Kari worked in various management roles. His passion and drive was not unnoticed and in 2006 he was rewarded with the Managing Director role at Dimension Data Advanced Infrastructure (DDAI), where he has developed the company within the embryonic 'integrated buildings' sector, driving revenues to plus £30million in just 3 years.

---
Integrated Building Architecture (IBA)

A whitepaper on integrated building architecture and the potential to add business value to all phases of the building lifecycle and construction value chain.
Abstract
Over the past 30 years the amount of technology deployed in a building to control and manage the environment, security and deliver services has increased many folds. In the early years proprietary standards meant that silos were created, making integration and interoperability expensive. As standards have evolved the barriers to integration have tumbled and the ability to deliver more cost effective business services has become possible. Architectures provide the latest and last step in the evolution by providing an open blueprint based on best of breed suppliers into a converged network. The adoption of an integrated building architecture provides benefits throughout the building lifecycle to all the users and stakeholders.

Sinclair: Why have you decided to create and publish this whitepaper now?
Baden: Over recent years we have been asked more and more by our clients to lead the co-ordination and integration of the control systems (HVAC, Security and IT) within buildings. During this time we have seen the shift from stand alone silo systems, to systems with bespoke integration, to open protocol integration. We have taken the opportunity as these systems have emerged from proprietary analogue systems to open protocol IP enabled systems to extended our professional services to include IP security systems, building management systems and AV systems. This enables us (DDAI) to provide a totally integrated building management system across a common network. This paper has been written to show what we have found during this evolution and to give its readers an understanding of where the industry currently is and what is possible.
Sinclair: The concept of an Intelligent building has been around for many years, clearly you believe there is a shift towards intelligent buildings in the market – why do you think this is?

Baden: Legislation changes, building regs, global warming, CSR, energy costs and technology advancements are all factors in this shift. What people think are technological pipe dreams are becoming a reality and even the norm. We feel this is partly due to a use of open protocols and convergence which has made the amalgamation of building systems, business system and IT systems a reality (cost effectiveness). There is also (through white papers like ours) a better understanding (from outside of the industry) of the levels of this convergence and what is really achievable. We are also finding that clients want to get the most out of their building at day one and for the life of the building. Building operators are realising that there is a lot of useful information available within their building systems that would allow their buildings to be more effectively managed and operated by making informed decisions on the buildings current state. Intelligent buildings are also providing (through these open protocols and convergence) a collection of best of breed products that are fully interchangeable, which prevents (or at least reduces) the owner from being locked in to any one manufacturer.
Sinclair: How would you summarise the key features and benefits of an Integrated building?
Baden: The key features and benefits of an integrated building are that it is effective, efficient, sustainable, secure, adaptable and provides an improved return on investment. The integrated building solution provides quantifiable cost reductions over the operational life span of the building. These cost reductions are achieved through improved building business processes and operations such as utility management, energy management and billing, systems analytics, management dashboards and portals, improved cause and effects and better security. This approach provides a building which has been built on 'best of breed' products, enabling the sharing of data across a common network and is able to provide valuable information to give a better understanding and visibility of the building status and its operation. It also gives the flexibility to interchange products and provide the most cost effect method for upgrades and system changes.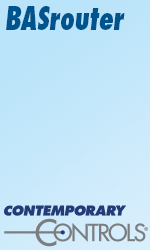 Sinclair: Traditionally the construction industry will procure sub contractor packages on an individual basis, why do you anticipate this will change?

Baden: The construction industry is constantly evolving and main contractors are always looking to make improvements to sub contract package procurement. The traditional (silo packages) approach has worked well for the construction industry over the years but more recently we have started to see changes across the industry. Two different approaches seem to be coming to the forefront. We are seeing more main contractors employ specialist sub contract packages (BMS, CCTV, Access control, ICT etc) direct rather than through the M&E contractor. This gives them greater control over programme and also reduces cost due to margin stack. The other approach is supply chain rationalisation which is used to drive down cost, programme and risk. This methodology reduces the cost by removing duplication out of multiple packages. Prelims, supervision, equipment and storage are areas where savings can be typically made. Increased control, reduced time and reduced risk are also achieved through greater co-ordination from one supplier. We are seeing typical cost benefits of 10% being achieved by these methods.


Sinclair: Why do you feel it is IT companies who are driving integration and convergence?

Baden: Property developers, end users and building operators are not just concerned about the integration of building services but about the convergence of everything within a building during its construction and also its operational phases. There seems to be more of a shift from closed proprietary protocols on each system to open protocols across multiple vendors and packages, giving the freedom of choice and best of breed selection on products and also integration of information into enterprise systems. Today open protocol boundaries are now being pushed further, not just to provide interoperability between control systems but to provide total enterprise information compatibility which is why web services is being utilised more and more. This is where strict adherence to IT standards is critical to the success of convergence between building system, business systems and IT systems. We have been leading the IT field since 1983 and saw the natural progression into this new converged world as things become more IT centric.



NOTE: To request a copy of the White Paper PDF please email Stuart Edmondson (Europe)


---

[Click Banner To Learn More]
[Home Page] [The Automator] [About] [Subscribe ] [Contact Us]