---
EMAIL INTERVIEW – Graham Martin, Cindy Woudenberg, Louis Hamer and Ken Sinclair
Graham Martin, Chairman of EnOcean Alliance
Cindy Woudenberg, Director of Marketing for Capital Review Group, and Chair of the North America Marketing Work Group of EnOcean Alliance
Louis Hamer, Vice President, Product Strategy for SCL Elements/CAN2GO Inc., and Chair of the EnOcean Alliance Marketing Committee
---
EnOcean Alliance and the Connection Community

The EnOcean Alliance has matured to a leading player in the industry. Going forward, the objective of the Alliance is to promote its solution-offering to system integrators, property owners and managers who are looking for cost effective ways to control and monitor their buildings.

Sinclair: Recently, the EnOcean Alliance welcomed its 300th member. What are the reasons for this rapid growth in only four years since the Alliance was founded?
Martin: There is a global increasing awareness and necessity of the need to save energy in buildings, which account for 40% of our total energy use. Wireless switch and sensor technology provides the ideal answer to retrofits of existing buildings and new builds alike. The fact that the EnOcean Alliance is the only wireless technology capable of batteryless operation and is therefore completely maintenance-free, combined with the large eco-system of over 1,000 interoperable products has made us the number one choice for building automation and smart homes.

Sinclair: What are the newest developments with EnOcean energy harvesting wireless technology for building automation?

Martin: Traditionally we have been very popular in commercial buildings, for energy efficiency and flexibility. Today we also see a huge interest in the smart home market, driven by telecommunications, utility and service companies reaching out to their large customer bases with energy efficient, comfortable, ambient-assisted living solutions, some based around the surge for smart metering or the smart grid. The EnOcean technology being batteryless and maintenance-free makes it highly attractive for such service-oriented solutions.
Sinclair: Where do you see the main drivers for the building automation market now and in future? Do you see regional differences?

Martin: Many regions around the world are now forced to move faster towards energy efficient buildings, which are supported by many government initiatives and legislation. For example, Germany and Japan have both decided to eliminate nuclear power, meaning an accelerated path to energy efficient buildings and renewable energies. The European Community has also issued directives to decrease energy usage in buildings in stages, ending at 80% reduction by 2050. Also in North America there are various governmental and utility programs to accelerate the growth of energy efficient buildings. Last but not least, energy prices continue to rise and will possibly again double in the next 10 years.

Sinclair: The EnOcean Alliance has recently appointed New Marketing Leadership. How important is Marketing for the EnOcean Alliance?
Martin: Absolutely essential. In addition to our technical working group who constantly improve the technology and ensure product interoperability, the marketing working group is our other key function. It is important to inform and educate the community about the energy saving possibilities of this maintenance-free, energy harvesting wireless technology and the tax incentives one can achieve while doing this. Louis and Cindy are the ideal, very experienced candidates to lead this group.
Sinclair: What are your tasks and objectives as Chair of the North America Marketing Work Group of EnOcean Alliance?
Woudenberg: My tasks and objectives are to work with the Business Development Director of North America and EnOcean Alliance members as well as with the Board of Directors to assist with promotional efforts of the Alliance. A part of my new role is also to support EnOcean Alliance programs by attending and participating in North American Trade Shows and work with the Marketing Committee to help set goals for the Alliance for marketing efforts to building professionals and to manufacturers. This also includes assistance with developing campaigns to increase brand awareness, with increasing membership and new member engagement, and to enhance relationships with existing members and support in setting benchmarks and action plans for future marketing efforts in the US.
Sinclair: What is the core competence of Capital Review Group?

Woudenberg: Capital Review Group is multi-disciplined energy and incentives solutions leader who make it their business to stay current on green tax incentives, energy tax deductions, IRS compliance regulations and energy strategies including renewables. We offer 179d analysis and financial recommendations for energy-related federal tax incentives, as well as providing the required third-party certification to claim those deductions. Since 2004, CRG has been a leading partner for contractors, engineering firms, and architects in co-creating strategies to improve clients' return on investment through energy efficient design and tax incentives.

Sinclair: How can building owners profit from energy efficient measures in building automation? What do they have to consider?
Woudenberg: An energy efficient property/facility saves both long-term dollars and provides immediate impact by providing reliable performance, better working conditions, and lowering operating costs. In addition to savings from energy efficiency, building owners may be able to take advantage of targeted rebates and tax strategies that may significantly increase operating cash flow and generate a substantial ROI. These strategies may well fund the energy efficiency projects through rebates and a considerably lowered tax burden.

One such tax strategy available is §179D of the Energy Policy Act of 2005. §179D provides guidelines for building owners who may be eligible for tax deductions for implementing energy efficiency components in commercial buildings. §179D includes full and partial tax deductions for investments in energy efficient commercial buildings that are designed to increase the efficiency of energy-consuming functions. The deduction available is up to $.60 per square foot for lighting, HVAC and building envelope, creating potential for $1.80 per square foot if all three components qualify. These deductions are applicable to buildings that were either built or retrofitted after Dec. 31, 2005, and must be certified by a qualified third party.
The opportunities for rebate programs and tax savings are available with the right knowledge and planning. Putting these effective financial, tax and energy strategies to work makes smart business sense for building owners and can make the difference in today's challenging economy.
Sinclair: Which role do solutions using energy harvesting wireless technology play in this context?
Woudenberg: Energy harvesting wireless technology plays well within the context of energy efficiency for buildings and may result in Federal tax incentives and potential prescriptive rebates from the owner's utility company. With Federal §179D deductions, other tax strategies, rebates and future energy cost savings, making qualifying improvements to buildings offers taxpayers powerful strategies to fund energy projects or increase cash flow.

Sinclair: What are your tasks and objectives as Chair of the EnOcean Alliance Marketing Committee?
Hamer: In close collaboration with other EnOcean Alliance members, I will define the priorities to promote EnOcean technologies to the market. With such a broad membership base, the EnOcean Alliance has matured to a leading player in the industry. Going forward, the objective of the Alliance is to promote its solution-offering to system integrators, property owners and managers who are looking for cost effective ways to control and monitor their buildings.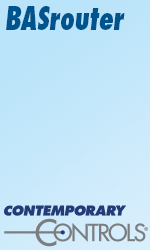 Sinclair: When did CAN2GO become member of the EnOcean Alliance? Where do you see the greatest benefits of your membership?
Hamer: CAN2GO has been a member of the Alliance since 2010. The greatest benefit has definitively been to network and establish partnerships with other Alliance members. Since CAN2GO is one of the rare members to provide a solution to integrate EnOcean sensors and actuators into IP Networks and BACnet systems, we have established many partnerships over the last three years.
Sinclair: What are CAN2GO's latest product developments in building automation?

Hamer: CAN2GO has a complete line of fully programmable controllers for wired and wireless HVAC, lighting and metering, which integrate EnOcean and a multiple of other protocols seamlessly. We have recently launched wireless damper/valve actuators and terminal equipment controllers with local memory for failsafe and custom control sequences. CAN2GO controllers come with their own license-free web building energy management system, which allows remote management and monitoring of building systems. Our products can also be used within larger BACnet systems.
Sinclair: Can you describe a current building project of CAN2GO using energy harvesting wireless technology, in a few sentences?

Hamer: The Albert at Bay Hotel, ranked #3 for family friendly hotels in Ottawa, has 197 large suites. It was recently fully retrofitted to improve guest comfort and energy consumption. The concrete structure made wiring difficult in several instances, so EnOcean-based motion and temperature sensors were used in conjunction with Modbus, ZigBee and other wired automation products. Everything is managed and integrated to BACnet by CAN2GO UN2 controllers. This is a good example of fully integrated wired and wireless automation that use the best of all technologies to deliver the goods.
---

About the Interviewed

Graham Martin, Chairman, EnOcean Alliance
Graham Martin is a veteran of the electronics industry with more than 25 years' experience in analog and RF solutions. Before joining EnOcean, he held various engineering and marketing posts in the USA and Europe. Most recently he was responsible for business development at wireless sensor networks specialist Chipcon. At the same time he was president of Figure8Wireless and vice chairman of ZigBee Alliance. Graham Martin studied in the USA and Britain, and graduated in physics at Edinburgh University, Scotland.



Cindy Woudenberg, Director of Marketing for Capital Review Group
Cindy Woudenberg has over 25 years of experience in public relations, marketing and business development. She has owned a successful marketing firm, is Search Engine Optimization Certified, is a Certified Social Media Associate, and is currently a candidate for a Certified Sustainable Building Advisor designation.



Louis Hamer, Vice President, Product Strategy for SCL Elements/CAN2GO Inc.
Louis Hamer is a registered engineer and accredited LEED professional who brings over ten years of experience in wireless products for telecommunications, security, and facility automation, as well as considerable marketing expertise. He has worked with a wide variety of businesses and organizations on energy audits and implementation of efficiency measures. Mr. Hamer is a frequent contributor to local and international conferences and publications on the subjects of energy efficiency, wireless technologies and network reliability and security.


---

[Click Banner To Learn More]
[Home Page] [The Automator] [About] [Subscribe ] [Contact Us]