---
State of the Union- Intelligent Buildings





Today's building automation and operational technology offers a strong foundation for the future and is essential for conducting business.



We have seen a tremendous amount of advancement in our buildings environment over the last several years. Technologies and solutions have matured to enable facility optimization through the convergence of information technology, operational technology and building automation. The adaption of building system integration and intelligent building technologies continues to expand beyond the commercial office building, spreading across to hospitals, hotels, retail, schools, and universities and manufacturing. Also the convergence of next-generation solutions such as edge device-to-enterprise or IoT, the Cloud and data analytics have opened up new advancements in how we manage and operate facilities.

There's been a shift in the value equation happening; we are moving beyond efficiency to a more holistic view encompassing the overall performance of buildings and their equipment systems as assets that are being utilized for increasing value. This is driving increased collaboration across business functions and the entire building ecosystem. And it's not just the economic factors that are being captured with simple ROI calculations; it's a combination of the economics, and the rising expectations of building owners and operating management who increasingly live in a technology environment that is more advanced than their building systems.
The industry also continues to shift in how facilities are managed and operated- driven not just by the technology, but by the business side. We are beginning to operate our buildings in timely, new ways including what I refer to as CBO-- Conditioned Based Operations- where buildings are driven by actual facility usage, system performance, business intelligence, and operational maximization. As a result, there is a new metric emerging; maximizing building equipment and system lifetime value. Lifetime value is a critical metric for any business. Those that are able to measure and maximize the lifetime value of their customers and their assets have a distinct competitive advantage over those who do not.

When it comes to data, collecting it on scale use to be an issue; today it is not. The data journey will continue and accelerate. There's still a ways to go from where we currently are to deliver on the total vision of a data-enabled building enterprise and using data as actionable information. Data is shifting from big to continuous data that is actionable and smart. Big data doesn't solve business problems. People do with data that is smart, relevant and actionable.
If there's ever been a role that's changing quickly, it is the role of IT as it relates to building management systems and facility operations. Several influences are driving this including the continuation of convergence; transformation of our technology and systems to full-blown enterprise systems; the network as the conduit that allows information to flow within the enterprise and the outside world; the importance of building management and control both operationally and strategically to an organization; cyber security and finally, the wall separating facility and IT is starting to come down.

Cyber threats and vulnerabilities will persist to make headlines and be a major issue. Cyber threats against the building environment are increasingly sophisticated. There's no issue that has become more important and that's less understood than cyber security in buildings and facilities.

Transformation will continue driving intelligent buildings. The architecture of building automation is continuing to flatten as more devices directly connect to IP networks resulting in more direct and streamlined connectivity between systems and decision-making. Real-time decision making at the network edge will become the norm not the exception.
At the edge of the network, devices are becoming more intelligent and gateways are enabling the efficient transmission of data by connecting legacy and new infrastructure to each other and to the Cloud. IoT is enabling us to move from connected devices to connected intelligence; it is allowing us to redistribute and process data independently at the edge at the device level and in the Cloud.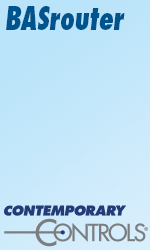 Devices that connect directly to the enterprise are accelerating. These new devices are smarter, more powerful, offer higher levels of functionality with enhanced embedded systems software. The trend is toward connecting more and more devices that provide information within each device. Additional value will take shape when the devices are extended by layering applications that leverage the activities, services, and interrelationships—not only of the devices but of all people, systems, and connected devices in the network.

Today's building automation and operational technology offers a strong foundation for the future and is essential for conducting business. The next generation of intelligent building systems is being designed with the new value propositions, new operational applications and analytics in mind. Building management systems are becoming operating platforms that support a wide variety of applications. We will continue to see the streamlining of integration with enterprise applications, increases in synergies available from using data from all business units, and continued migration from proprietary systems to open environments.
---
About Lynxspring
Lynxspring is changing way devices and systems communicate and collaborate across enterprises. Our technologies, solutions and services are enabling building owners, operators and facility managers to go further to manage and operate their facilities and equipment smarter, safer, securely, more efficiently, and at peak performance levels.
The company's JENEsys Building Operating System is an open, unified, building operating system that combines connectivity, integration and interoperability, supervision and control, energy management, visualization and actionable information (data & analytics) into a single, integrated architecture within a cyber-secured environment. The JENEsys Platform is scalable and allows organizations to continually build off the same network deployment and add additional applications as desired.
www.lynxspring.com
---
About the Author
Marc Petock is Vice President, Marketing at Lynxspring and Connexx Energy where he leads corporate and product marketing strategy and execution, brand management, public relations and communications to support both companies strategic and growth initiatives. Marc is a contributing author, noted speaker and recognized industry leader having earned Realcomm's "Top 35 People to Watch" for the last seven years in a row, Who's Who in M2M, a Digital Impact Award and several other industry accolades. Marc also serves on the board of directors of Connexx Energy and Project Haystack and is an advisor to Realcomm.


---


[Click Banner To Learn More]
[Home Page] [The Automator] [About] [Subscribe ] [Contact Us]