---

EMAIL INTERVIEW – Julio Rodriguez and Ken Sinclair
Julio Rodriguez is the National Sales Manager for Parts and Repair Services at International Systems of America, LLC. His main responsibilities are to grow sales and create new partnerships in the Fire Alarm, Energy Management, and Security Industry through Social Media Marketing, and connecting directly with industry colleagues.
---

Our Repair Lab

There are some manufacturers that are not thrilled that ISA is continuing to support and repair systems that they have discontinued production and support years ago.


Sinclair: What makes International Systems of America (ISA) so unique in the industry?

Rodriguez: ISA is a Fire Alarm and HVAC Controls distributor and circuit board repair lab based in Louisville, KY. On the fire alarm side, we carry new and reconditioned parts for SimplexGrinnell, Siemens, Edwards EST, and Notifier, just to name a few. On the HVAC Controls side, we support many models of Johnson Controls, Siemens, Honeywell, and Andover Controls. We are also the Authorized Warranty Repair Facility for Schneider Electric's Barber Colman and RobertShaw lines. Our repair lab not only repairs circuit boards down to a component level, but it also uses live test systems to verify the functionality of the repaired unit. The repair lab also has an amazing turn-around time of five business days or less. You can see a line card for all of the units we currently work on here.

Sinclair: How does this affect the UL listing for the devices you repair and recondition?

Rodriguez: That is a great question, Ken. ISA is an ISO 9001:2008 certified company and our registering agent is UL. Our repair process requires that we replace like components with like components. This way we are not altering the design, form, or function of the circuit boards we repair, thereby maintaining the original UL listing for the device.
Sinclair: What do the OEM's think about you repairing their old parts?
Rodriguez: There are some manufacturers that are not thrilled that ISA is continuing to support and repair systems that they have discontinued production and support years ago. However, the reality is that there are thousands of building automation and fire alarm systems still in operation that were installed 25 years ago, and their owners do not have the budget to replace the entire system. By giving systems integrators access to legacy system parts, they can truly partner with their clients and support the aging systems until the end-user is ready to upgrade. There are even opposite opinions within some organizations. A few years ago ISA had a booth at an industry tradeshow where we displayed several models of the systems we repair. One of the manufacturers was also at this show and a few of their executives were not very happy about what we were doing with their parts. A few minutes later, a group of service technicians from the same company saw our display and thanked us over and over for the great help that we provide with service parts for some of their older systems that they maintain. So there are strong opinions on both sides.
Sinclair: With all of ISA's legacy system knowledge and repair capabilities, why hasn't everyone in the Controls industry heard of you?
Rodriguez: ISA has been in business for almost 30 years now, and we are just now moving into the spotlight in the Controls industry. In 2010 the previous owner retired, and a new group of executives including our CEO, Mike Epperson pledged to grow ISA in new and exciting ways. Since joining ISA in 2012, I have created and developed ISA's social media platform in line with Mike's vision of ISA's growth strategy. Through social media marketing, ISA has been able to reach out to customers and industry partners like never before. Social media was the avenue that I used to reach out to Eric Stromquist and Ken Smyers with Control Trends. After communicating with the guys for a few weeks, we ended up filming and episode of Control Talk 2.0 here at our facility.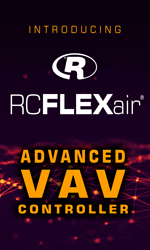 But social media is not a panacea for all of our marketing needs. When you are looking for a part and you need some assistance you need a human being at the other end of the phone that knows how to get you the right information. We have a great team of 10 account managers that will research and find spec sheets and installation information on just about any part related to what we sell. The account managers can also connect an integrator to our repair lab technicians to work through any roadblocks that may come up during troubleshooting or installation. Social media is a great way to connect, but we make sure that there is always a live person to connect with.
Sinclair: Thank you for your time, Julio. We look forward to seeing you at the Control Trends awards at the 2015 AHR show in Chicago.
Rodriguez: Ken, thank you for inviting me and I look forward to seeing you there also.

---

[Click Banner To Learn More]
[Home Page] [The Automator] [About] [Subscribe ] [Contact Us]