---
Every month there is a blizzard of information contained in the emails and newsletters that cross my desk on their way to AutomatedBuildings.com. Some of this information is not in the form of any type of content we can publish but I feel I should share with you these snippets, blog bits, and url links that are about to fall off my desktop.
State of the Union- Intelligent Buildings Author: Marc Petock, VP, Marketing, Lynxspring We have seen a tremendous amount of advancement in our buildings environment over the last several years. Technologies and solutions have matured to enable facility optimization through the convergence of information technology, operational technology and building automation. The adaption of building system integration and intelligent building technologies continues to expand beyond the commercial office building, spreading across to hospitals, hotels, retail, schools, and universities and manufacturing. Also the convergence of next-generation solutions such as edge device-to-enterprise or IoT, the Cloud and data analytics have opened up new advancements in how we manage and operate facilities.

What's new? The major changes to ASHRAE/IES 90.1 2013's Section 9 (lighting) include:
OCTOBER 7-8, 2014 Mandalay Bay Convention Center NFMT Vegas is a free 2-day conference and trade show for all facility management professionals. It's vital that you invest a little time away from your office/facility to benefit from new ideas, innovative solutions and powerful networking. Come to NFMT Vegas and return with best practices, new business connections and resources, product info, and proven facilities management strategies
KNXtoday sponsoring the ISE Smart Building Conference again this year, with the first one taking place in London on 7th October. Iain Gordon, President of KNX UK will moderate 'The Future of Building Automation' session and you can register online to attend.
CORE TECH 2014 -- VIEW THE VIDEO: We hope you will join us and hundreds of other corporate real estate and facilities professionals at Sprint HQ for this not to be missed event!
Shift Gears to Increase Building Performance and Tenant Satisfaction Author: Mike DeNamur - United Technologies Building & Industrial Systems In Today's World, Change is the Only Constant Our world is changing. And perhaps nowhere is this change more evident or accelerated than in the commercial building industry. For building owners and managers, these changes translate into an increasingly complex set of challenges. Here are some of the factors facing building operations and management today:
Has Anyone Seen A Real Internet of Things Ecosystem? Smart Systems and the Internet of Things is real and many, if not most, of its silicon, software, and network pieces are finally beginning to fall into place. But creative business development among technology developers has not kept pace with their technology innovations. The tech tools may be 21st century, but the business thinking of the tool "creators" has too often remained in the 20th. Yet, despite considerable progress in many areas, the potential for Smart Systems is still largely untapped - potentially billions if not trillions of nodes could be connected if the right technology and business architectures were in place.
Will Robots Make Their Way Into Corporate and Commercial Real Estate? Author: Howard Berger, Managing Partner, Realcomm Last year, Amazon and Google signaled to the world that robotics would be playing a larger role in our lives following their respective acquisitions of Kiva and Boston Dynamics. With the increased interest in robotics, what are the implications for corporate and commercial real estate?

Energy efficiency has macro-economic advantages – it boosts tax revenue and creates jobs. And on the micro-level businesses can become more competitive by wringing as much value as possible from their energy dollars. Energy efficiency has health benefits – it reduces air pollution and therefore lowers instances of respiratory disease. It may even reduce anxiety and depression where fuel poverty exists, the report says.
Towards a Wiser Use of Intelligence: Fieldwork in the Application of Information Technology in a Commercial Building Carl Blumstein and Therese Peffer California Institute for Energy and Environment, University of California
"If I only knew then, what I know now…" is a commonly heard from entrepreneurs. It's not about regret at all, it's just about learning. So we asked FD members and notable entrepreneurs, "if you could meet your sixteen year-old self, what would you tell them?" Here's what they revealed:
The Ninja Platform The free Ninja Blocks platform makes it trivial to build web & mobile apps that talk to hardware. Get up and running in minutes, and begin talking to hardware & connected devices with the web languages you already know. Focus 100% on your app, and never have to worry about embedded programming, electronics, & networking protocols again.
A fascinating report from the Institute of Electrical and Electronics Engineers (IEEE) Computer Society – CS 2022 – explores the future technology landscape and identifies 23 technologies the authors believe could change the world eight years from now. (IEEE is a member of the Council's Advisory Board.)
Every city can become smarter. Smart cities start with smart systems that work for the benefit of both residents and the environment. The cities that succeed in making the transition to 'smart' will be those that improve their critical systems by combining a bottom-up, systems-centric approach with a top-down, data-centric one. This paper presents a 5-step approach for converting our urban centres into more efficient and sustainable places to live.
IBM researchers are looking into the possibility of using block chain technology for the Internet of Things (IoT) – a term for the growing network of devices with basic computer-like capabilities that communicate over the web.
At Building Robotics, We are excited to be launching a whole new Comfy website, with stories from Comfy's first year in action and new resources and information about Comfy

KNX Association eNews -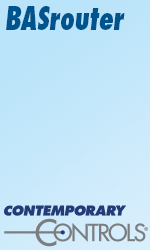 September 2014
Published on Sep 9, 2014 Energy Optimization System (EOS™) from SHIFT Energy applies a technique called 'Intelligent Live Recommissioning' that utilizes patent-pending smart algorithms, big data analytics, cloud computing and IoT technologies to optimize a facility's environment and energy usage resulting in 20% to 35% savings

More than 25 Expert Speakers announced for the Smart Building Conference
AspectFT® is a Building Automation Integration and Energy Control Solution designed to allow users seamless access to their building data through common and convenient web technologies available on a wide array of generally available devices.

Automation 101: An Industry Guide to Control System Engineering Check out what's inside this eBook!
The integration between BAS and CMMS is significant because they create a comprehensive tool that leads to better smart building management, energy reduction and cost savings.

---


[Click Banner To Learn More]
[Home Page] [The Automator] [About] [Subscribe ] [Contact Us]