---

EMAIL INTERVIEW – Larry Andriunas and Ken Sinclair
Larry Andriunas, President, Kodaro, LLC
Larry Andriunas is President of the new software company Kodaro, LLC. Operating out of the Bay Area, Kodaro was created to help contractors, controls companies and end-users find value in their building data. Andriunas is leading a team of experienced engineers to develop software that securely unlocks building data to improve occupant comfort, increase operational efficiency, and reduce energy costs. The company launched in September and this is one of the first interviews Andriunas has conducted in his new role.
Connect with Larry Andriunas on LinkedIn
Follow Kodaro on
LinkedIn: https://www.linkedin.com/company/kodaro-llc
Twitter: http://www.twitter.com/KodaroSoftware
and kodaro.com
---
Meet Kodaro, a new software company for the building automation industry

We're combining deep knowledge of the building controls industry with a future-focused approach that brings solutions to this space, rather than more questions.

By now, everyone has heard of the Internet of Things and most people are busy finding ways to connect it to the building automation industry. Here at Automated Buildings, we've been exploring this topic in a variety of ways, from machine learning to the big umbrella of "big data." I spoke with Larry Andriunas about how he sees his new software company, Kodaro, fitting into this new direction for our industry, what the new company will focus on first off, and how it plans to continue innovating.

Sinclair: Congratulations on the Kodaro launch. Why is now a good time for this business to open in the building automation industry?

Andriunas: Thank you! I'm really excited about this new company. My background is in controls, like many of us in the industry today. I started with my family's controls contracting company almost 30 years ago. When we sold that business, I eventually found myself at Honeywell and worked up the ranks to Director of Commercial Sales there. So I've seen the industry go through some changes, but none compare to what we're seeing now. The possibilities presented by networked controllers and the technology that is expanding around us are really unprecedented. Now feels like a really good starting point for a company like Kodaro. We're combining deep knowledge of the building controls industry with a future-focused approach that brings solutions to this space, rather than more questions.

Sinclair: What are some of the solutions you'll be introducing?

Andriunas: We recently announced that Controlco has transferred its software and hosting products over to us at Kodaro. We've taken over the management of their popular drivers, which connect various brands of controllers to the cloud. Kodaro is also now managing and iterating the TenantEye and WorkSimply products that Controlco had been incubating for a number of years. We'll release version updates of those products as needed, but for now, existing TenantEye and WorkSimply customers won't see any changes, they'll just have Kodaro as added members of the team. As those are hosted products, Kodaro is also taking over Controlco's hosting product offerings.

From here, we'll be developing more software that will securely unlock building data to improve occupant comfort, increase operational efficiency and reduce energy costs. We'll be achieving those objectives in a variety of ways, from standalone products to enterprise solutions, but that's our general direction.

Sinclair: Who is on the Kodaro team? Anyone we may already know from other companies within our industry?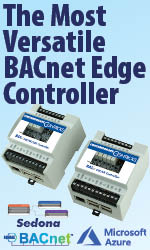 Andriunas: When we launched Kodaro we also announced our first employee, a very skilled engineer with experience in the renewable energy and energy efficiency fields for over 12 years. Jon Schoenfeld will lead the development of our analytics offerings. We expect to have a handful more engineers to announce in the coming weeks.

Sinclair: There have been private conversations within the building automation industry talking about how the industry is a bit slow to catch on to new technologies. There have been buzz words before, but what makes you think the Internet of Things is here to stay, and how will Kodaro encourage a traditional industry to actually buy into these new ideas?

Andriunas: I've definitely heard some of those conversations, and I'm familiar with the buzz words of old. But our industry need only look slightly past the windows of the buildings we work in to see that the world is changing around us. Networks are not going away, data is not getting smaller, and security threats are not decreasing. Kodaro will be engaging contractors, integrators and end-users in these kinds of conversations, talking about what they need out of their buildings to achieve total efficiency, not just energy efficiency or operational efficiencies alone. From there, we think it will be pretty easy to show how Kodaro can help.

I think part of the resistance has been the idea that the building automation industry is so different, with its own unique problems that out-of-the-box solutions or technology companies with no direct building experience can appropriately address. That's partially true. There may already be software solutions out there but they aren't working for people so it's thus far been more efficient to stick with status quo. Kodaro's edge is that we are built from the building automation industry. We know what it takes to get a controller connected to Niagara, we know how to install a control panel. We also know how to get building systems securely talking to each other while producing usable information that can positively affect business decisions.


---


[Click Banner To Learn More]
[Home Page] [The Automator] [About] [Subscribe ] [Contact Us]