---

When I was running a large portfolio of building systems projects, we always seemed to struggle with inefficiency, rework, communication issues, issue tracking and timely resolution, and meeting-overload. We were all using spreadsheets, emails, and lots of group meetings and phone calls to manage the installation and commissioning process. This was a drain on productivity, and on larger projects, could even threaten our ability to stay organized and thorough, and to be able to deliver a high-quality project.
I have always been passionate about challenging the status quo and finding new and better ways to do things. It's this desire that led me to found BlueRithm and develop our first and primary product – a modern software system for managing installation and commissioning projects.

While there are existing software systems that facilitate commissioning work, BlueRithm is one of the first that has been built with systems contractors and integrators in mind. There is industry agreement that processes such as building commissioning benefit from using a cloud-based platform to manage this work. We see significant opportunities for systems contractors to reap the same benefits by using a product like BlueRithm, as I have suggested before.
Systems work on construction projects invariably comes at the end and is likely subject to a compressed schedule. Any additional delays caused by failing to execute the work in the most efficient manner can cause problems related to customer relationships, quality control, profitability, and in general the long-term viability of your business if these are recurring problems. BlueRithm can help avoid pitfalls and keep your project operations running smoothly.
For many reasons, construction productivity has been flat for several decades, while in other industries like manufacturing and agriculture productivity has significantly increased. It's partly because of this slow adoption that technology companies have been more reluctant to produce purpose-built tools to support and automate work that is as specialized as building systems and commissioning work. The construction industry has much to gain by moving into the digital age. More specifically, I believe that there are significant opportunities for systems contractors and integrators to improve their business outcomes and bottom lines by using a tool like BlueRithm.
BlueRithm is cloud-based software for managing projects that involve electrical, mechanical, automation or other technology systems, commissioning processes, functional testing, and system start-up events. It works on any device, is always on and able to provide your team with real-time information about your projects and the work of your team, as well as any guest users you add.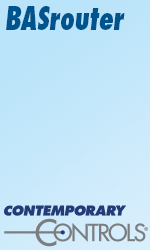 I am proud of what we've done so far, and could not be more thrilled to be serving this community.

We are a new and proud sponsor of AutomatedBuildings.com, and I hope to hear from many of you. Stop by our website to learn more and to schedule a demo or trial.





---

[Click Banner To Learn More]
[Home Page] [The Automator] [About] [Subscribe ] [Contact Us]