---
Don't Limit Your Microgrid to One-Resource-Behind-One-Meter





If you are looking to increase net asset value by improving NOI radically, you need to drive down your energy costs, and the only way to get there is to orchestrate the best mix of assets and technologies into a financially programmable microgrid.




Adam Maher,


Senior Vice President,


CleanSpark




In this historic hurricane season, the fragility of existing energy infrastructure is on full display. One bright spot in all the coverage of Hurricane Harvey in Houston was that the microgrid-equipped H.E.B. Grocery chain of stores kept its shops open and served the public, while power outages kept competitors closed. Each such microgrid success is getting deserved attention and inspiring imitation, creating the momentum needed to transform the nation's electric power grid into a more resilient, more distributed energy system. But, there is a threat to this momentum: Many in the market are stopping well short of a full microgrid installation, seemingly convinced that putting one energy resource behind one meter--such as a solar-plus-battery combination--is all that they need. There is so much potential power and savings that will never be realized with this partial approach. Any corporate campus, REIT, shopping center or other commercial/industrial property concern that wants its own power-plant capabilities for resiliency and to maximize NOI (net operating income) should aim for a full microgrid. This means combining the best mix of clean, renewable energy sources with a controls strategy, and driving all decisions from a full understanding of your unique buildings, your business, your load profile, and the way utilities operate in your part of the country.

Driven by their charter to defend the country, military microgrid operators have pioneered the art of orchestrating multiple clean-energy power plants with projects like the FractalGrid at Camp Pendleton. Likewise, as they pursue the goal of using 100% clean energy, tech leaders like Google (Alphabet), Apple, Microsoft, Amazon, and Facebook are not only microgrid operators, some are forming energy subsidiaries inside their companies. Both military campuses and these big-data companies have dynamic, upper-hand relationships with local utilities. They are changing the energy landscape for other microgrid operators, but you need to be in that class to be positioned to make similar energy cost management, sustainability, predictability and resiliency gains. Often when you enter a long-term contract with a single vendor, you effectively pass on the opportunity to have your own future energy ownership plan.

Achieving the best microgrid configuration and the fastest investment payback starts by picking the right grid development partner, a partner who can guide you through production options: solar, wind, diesel, etc. The project team should objectively evaluate the optimal mix of distributed energy resources and financially model long-term performance, considering financing options, state and local programs, recurring maintenance costs and performance degradation. Astute evaluation of all these factors is key to making the right decision. The prospect of doing such thorough pre-planning may seem daunting, but it is no reason to retreat to 'one resource behind one meter'—i.e., just solar or just batteries. Bulk application of a partial solution is never a formula for success, much less so in a market as complex as the commercial/retail world.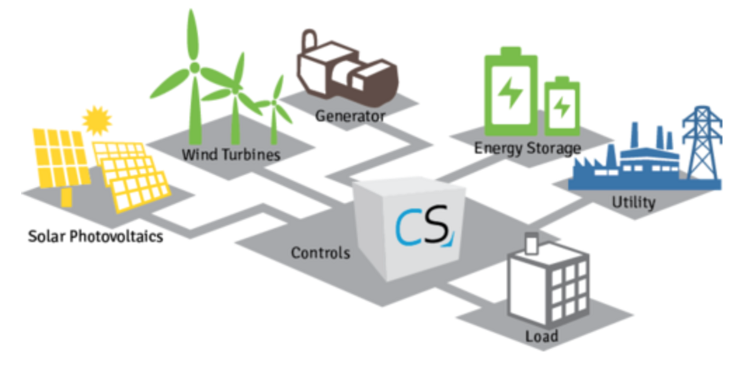 When you have the right tools and experience, doing such evaluations can be a straightforward exercise. At CleanSpark, we start our microgrid design and engineering projects by hacking the existing utility bill, finding all the ways to attack energy costs and to beat the utility at its own game of rate structures and energy supply and demand. We were early to the microgrid market after years of working behind the scenes on military microgrids. Our software evaluates thousands of scenarios and algorithmically models the best payback so the customer understands what they should build—i.e., what distributed energy resources (DERs) to include in their microgrid in what priority. This is the least risky and most affordable way to progress toward true energy independence.

Preparing a recent energy plan for a shopping mall in California, the project team started by modeling its future microgrid using real performance data from the actual shopping center—not by plugging pro forma data into predictive models. The team collected a year's worth of energy data, recording usage at 15-minute intervals. They then had a detailed picture of the mall's energy load profile from the outset, knowing the peak times and time-of-use charges that had been applied in the past. By installing the mix of DERs to match that profile and by integrating the FlexPower™ system to control and optimize energy consumption, the mall was on its way to achieving its goal of a microgrid that could deliver 100% renewable energy. Even without significant state or utility-sponsored incentives, this project is on course to pay back the investment capital in under seven years.

Customers that buy energy-as-a-service from a single vendor before doing the economic modeling are not positioned for similar success. They can do programmatic peak shaving and demand-response as intended and, in some cases, they can also sell energy back to their utility when they over-produce. But some are already finding that the payback of having one resource behind one meter is falling short of their ROI goals and limiting their options for microgrid growth and flexibility. About 85% of the energy storage customers we've asked express that they now see the one-resource approach was wrong. But they say, "What can we do? We've already bought into a long-term contract."

Don't let this happen to your organization. Energy storage is a welcome addition to the DER arsenal available to a microgrid project team; don't let aggressive sales pitches blind you to your full set of options. If you are looking to increase net asset value by improving NOI radically, you need to drive down your energy costs, and the only way to get there is to orchestrate the best mix of assets and technologies into a financially programmable microgrid.

---
About the Author
Senior Vice President
Adam Maher comes from a 20-year career in industrial development. As owner of an intermountain construction and development firm, Adam designed, constructed and managed millions of square feet of commercial and industrial product across 16 states. In the process, he developed a deep appreciation of the need for advanced building controls and dynamic utility management. Adam now acts as Senior Vice President for CleanSpark specializing in energy use PowerPlanning, turn key micro grid development services, and grid performance management.

Adam holds a B.S. in Design from Brigham Young University and B100 or equivalent in more than a dozen states.

---

[Click Banner To Learn More]
[Home Page] [The Automator] [About] [Subscribe ] [Contact Us]