---
Analytics is Only Half the Story





A truly optimized building is a delicate balance of well designed, and maintained system through the use of digital analytics tools and a cadre of available engineers to address matters before they become major issues.




Anto Budiardjo,
Fractional Entrepreneur
anto@budiardjo.com
Optimizing large and complex buildings is a challenge. The advent of big data analytics combined with professional services have created a winning combination to solve this dilemma, but how should building owners and managers decide to apply these powerful tools, given their particular circumstances.
Awareness through analytics

Cloud analytics platforms provide a way to gain visibility of how a building system is performing. By creating a digital twin in the cloud, analytics can simulate the complex engineered system of buildings to uncover sub-optimal operations. The system alerts facility managers of issues that require engineering resolution regardless of cause and tracks all issues to resolution.
Capability to address issues
In most cases, problems uncovered by analytics will need attention by an engineer. For this, the availability of in-house and external resources is critical to fully resolve issues detected to ensure the system continues to perform optimally. The technical skillset required for this work is often broad, from BMS controls to IT networking and knowledge of mechanical HVAC equipment.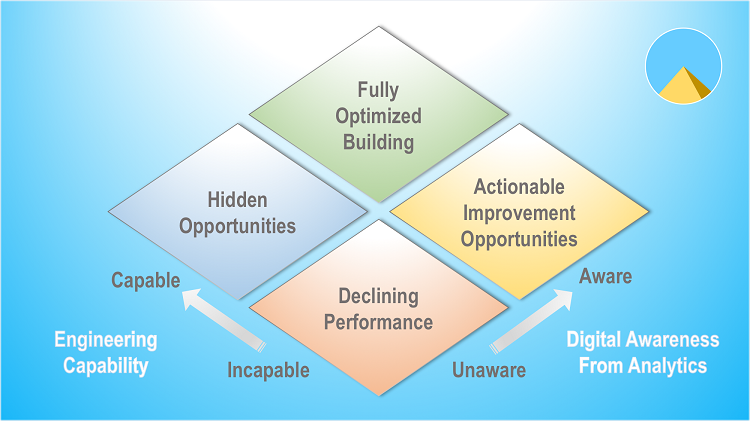 A mapping of a building owner's digital awareness from analytics, compared to their engineering capabilities can provide a useful understanding of the challenges and dynamics at play in the quest to achieve the best-optimized building solution. The matrix above produces four quadrants:
Unaware and Incapable

- Building performance is likely in continuing decline

Capable but Unaware

- Resources not being deployed to optimize the building

Aware but Incapable

- Optimization tasks are known, but not being performed

Aware and Capable

- Building is, and will remain fully optimized
Building owners and managers need to balance their resources with benefit from the expended effort. This basic economics is particularly the case where mechanical equipment and human activities impact the system performance over time, such as from wear and tear. The above quadrants can help owners and managers understand their current building optimization stance and a course of action. Let's dig deeper.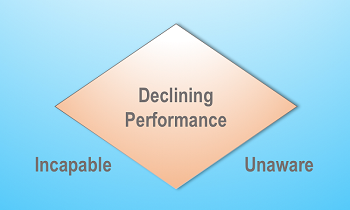 Unaware and Incapable - Declining Performance
Owners and managers in this quadrant either don't know how and/or do not have the resources to ensure their buildings become and remain optimized. Typical sentiments here include:
Fix equipment only when they break

Occupants are content, presumed comfortable

Energy costs are within budgeted numbers

No desire for sustainability or environmental responsibility

The consequence of continuing on this quadrant:

Equipment likely not operating efficiently

Energy costs probably not the best it can be

Occupants are underperforming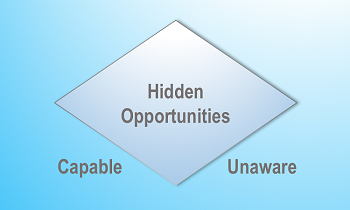 Capable but Unaware - Hidden Opportunities
Buildings in this quadrant are likely to have issues that are not apparent or visible to facility managers. Available resources are not addressing the most pressing problems. Notable outcomes in these buildings include:
Equipment failures are typically significant problems

Onsite engineers need to address hot/cold calls daily

Energy costs savings are possible, but no info on how to achieve

In-house and external engineers are not being used effectively
Recommended action:
Install analytics to guide the actions of engineers and vendors

Consider a balanced in-house vs. external engineering resources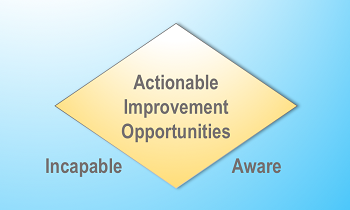 Aware but Incapable - Actionable Improvement Opportunities

Through the use of analytics, facility managers in this quadrant have a significant awareness of the issues that need addressing in their system but do not have the time or resources to address them. Typical attributes include:
Needing to prioritize a sizable list of issues to address

Inability to commit to capital expenditure, for whatever reason

Not having the right technical expertise to address issues

Unable to properly manage vendors who are providing services
Recommended action:
Engage specialized professional services firm to supplement in-house resources

Fund the cost of services from savings derived from addressing issues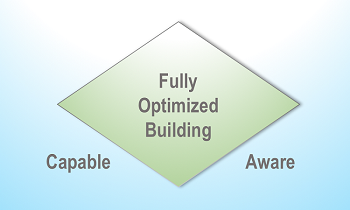 Aware and Capable - Fully Optimized Building
These facilities depict well-optimized buildings through the reliant of analytics and availability of in-house and external resources. Notable sentiments in these buildings include:
Happy and productive occupants

Moderate amount of downtime due to continual maintenance work

Building owners and managers with good visibility of areas of concern

Energy costs are the lowest possible, visibly proven
A truly optimized building is a delicate balance of well designed, and maintained system through the use of digital analytics tools and a cadre of available engineers to address matters before they become major issues.

Originally published on A New Deal for Buildings blog.



---


[Click Banner To Learn More]
[Home Page] [The Automator] [About] [Subscribe ] [Contact Us]