---

Buildings that have BACnet-based building control systems are particularly well positioned to participate in DR programs.

Jim Butler, CTO
Cimetrics Inc.
Demand Response (DR) programs are becoming increasingly available and hold great promise for reducing the need for peak-load electrical generation plants. These programs provide financial incentives for electricity consumers to temporarily reduce their demand for electricity upon request by the electric utility or Independent System Operator (ISO).











Buildings are a very appealing target for temporary demand reduction due to their large consumption of energy. It is estimated that non-residential buildings account for approximately 34% of total electricity consumption in the U.S., the majority of which is used for HVAC and lighting. Residential buildings account for approximately 36% of total electricity consumption in the U.S. (Reference: Buildings Energy Data Book, Sept. 2006, published by the U.S. Department of Energy.)
Some utilities have DR programs that reduce the electric consumption of air conditioning units in residential and small commercial buildings. In the past, such a program might have required that a special device be installed that automatically interrupts power to the customer's air conditioning unit for several minutes upon receipt of a radio signal from the utility. Future DR programs are likely to make use of "smart" meters that are being installed by many electric utilities.
In the larger commercial and industrial facilities that have sophisticated HVAC systems, interrupting power to air conditioning equipment is usually not practical. Instead, the facility's building control system must respond to a load shed request from the utility by initiating a sequence that results in a reduction in electric demand without severely compromising occupant comfort or damaging equipment.
Communication between the electric utility and the building control system has typically been very simple, such as a single relay contact closure indicating that the building should reduce demand. Historically, most building control systems have used proprietary communication protocols, making it difficult to use a more sophisticated communication interface between the utility and building control systems.
Future DR programs (and other programs that involve dynamic demand reduction) are likely to use more sophisticated communications between electricity providers and the building. Standard communication protocols are being developed that will facilitate the exchange of a richer set of messages. Organizations involved in this work include the GridWise Architecture Council, Lawrence Berkeley National Laboratory and the American Society of Heating, Refrigerating and Air-Conditioning Engineers (ASHRAE) Standing Standard Project Committee 135 (maintainer of the BACnet standard).
Advantages of BACnet Systems for Demand Response
BACnet is a standard network protocol for building automation systems developed by ASHRAE. Originally approved as an ASHRAE and ANSI standard in 1995, BACnet was approved as an ISO standard in 2003. The most common applications of BACnet are HVAC and lighting control in commercial and institutional buildings. BACnet-based control systems are available from almost every major manufacturer of HVAC control systems.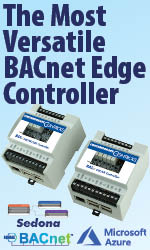 Buildings that have BACnet-based building control systems are well suited to participate in a wide variety of current and future DR programs. Because BACnet is an open network protocol with broad support, it is easy for third-party service providers, including DR aggregators, to establish a network-level connection to BACnet-based systems. One benefit of such a network connection is that it allows a service provider to monitor how the building systems react during a demand reduction event, resulting in information that may be used to improve the systems' response to future events.
A fundamental technology of BACnet is a 16-level priority scheme for commandable objects (typically control system outputs and setpoints). This scheme allows multiple software programs to control the same object at different priority levels without the programs conflicting with each other. DR-related software programs can be added to an existing BACnet system at an appropriate priority level, often with little or no change to existing programs.
BACnet's new Load Control Object was developed specifically for applications like DR. This object provides a high-level interface that allows an energy management application to send demand reduction requests to a BACnet-based control system and monitor the system's compliance with the request. The definition of the Load Control Object does not specify how demand is to be reduced—that must be determined by a controls engineer. Multiple objects may be used in the same building (or collection of buildings) for distributed load control.
Conclusion
Demand Response programs give building owners the opportunity to reduce their energy costs while contributing to the stability of the electric grid. Buildings that have BACnet-based building control systems are particularly well positioned to participate in DR programs.
For more information about BACnet, see http://www.bacnet.org. For more information about Cimetrics, visit http://www.cimetrics.com.
---
About the Author
Jim Butler is CTO of Cimetrics Inc. Jim has participated in the development of BACnet since 1994, and from 2000-2006 served as Manager of the BACnet Testing Laboratories.
---


[Click Banner To Learn More]
[Home Page] [The Automator] [About] [Subscribe ] [Contact Us]