---

A New Way for Building Automation to Leverage Real-time Weather Information




Roy Kok
VP Sales and Marketing
Kepware Technologies
Real-time Weather Data is now available for use in building automation systems. Imagine having access to real-time weather data that affects the performance and efficiency of your building control system? What if your system could be enhanced to make use of live and forecast data related to factors such as Light Intensity, Humidity, Dew Point, Wind Speeds, Gust Levels, Rain Levels, Temperature, Wind Chill Values, and Wind Direction? This is now possible through an exclusive relationship between Kepware Technologies and WeatherBug, the owner of the largest network of weather stations in the world.











WeatherBug, Germantown MD., manages over 8000 weather stations throughout North America. These Stations feed real-time weather data to servers at their headquarters. Kepware Technologies has developed a Communication Driver, based on industry software standards (OPC Data Access), for the purpose of accessing weather station and WeatherBug forecast data for use in automation systems. Data is then available for use by any OPC Standard compliant automation software. This includes building automation products from well known companies such as Automated Logic, GE Fanuc, Honeywell, Iconics, Invensys, Johnson Controls, Rockwell Software, and Siemens.
Operation of the WeatherBug driver is simple. After the initial software installation, the user performs the following setup:
Specify a ZIPCODE, then browses for the weather station of interest

Choose weather data required for your application select from Air Quality, Alerts, Forecast, Live Observations, Station Information, and Ultraviolet conditions

The WeatherBug driver will automatically generate your tag database

Adjust the tag database and update rates for your specific application
The project can be scaled for large applications, simply repeat the process above to access additional weather stations. There are no limits imposed on the amount of data which can be read and the driver will retain configuration information for future operation. Access to current weather data is enabled through standard service contracts which provide data from up to 3, 9, or 24 weather stations. Yearly enterprise contracts are available for applications requiring access to more than 24 weather stations.
Many management and control systems will choose to receive weather information from this driver, leveraging the automation industry standard OPC-DA interface. The driver is a plug-in to an OPC Server, and the server conforms to DA 1.0, 2.05, and 3.0 specifications and meets the OPC compliancy requirements of the OPC Foundation. The product will operate on Microsoft Windows Desktop and Server versions including NT, 2000, XP, and Server 2003. Additionally the driver can make data available to management and control systems via legacy DDE methods such CF_Text or optimized DDE methods like Advanced DDE, FastDDE or Suitelink. The WeatherBug for automation solution can also be expanded to bridge data into 3rd party systems via universal open standards such as Modbus RTU, Modbus TCP/IP, BACnet, or ODBC.
The diagram below details the architecture of this product.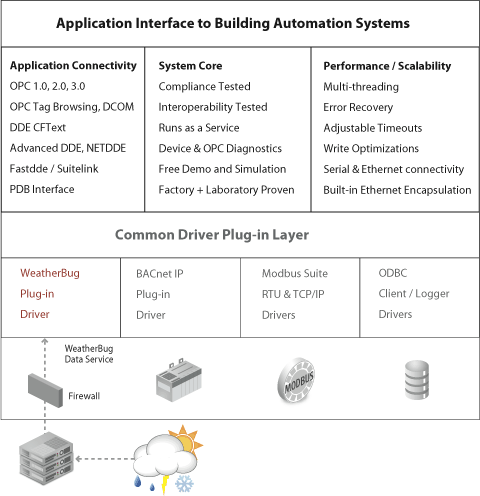 Cost Reduction Important to Everyone
The WeatherBug for automation solution should be of interest to building/facility owners, building managers, and to building system suppliers. Although the buildings of today are smarter, greener, and more efficient than they've ever been in the past, the expectations of and demands on building control systems are greater as well. Leading building automation systems need to continually become more efficient by reducing energy, maintenance, and manpower costs while they continually adhere to and improve the comfort of building occupants. Systems that make use of important real-time and forecast weather data can do so without the requirement that building owners purchase and maintain their own weather stations.
Efficient Temperature Control
A bright sunny day can deliver a great deal of unwanted energy through windows. Or, similarly, a very hot or cold outside temperature can create significant temperature gradients within a building. The ability to modulate variable frequency drive blowers based on current weather conditions can represent significant energy savings, while improving comfort. Run them at higher speeds when gradients are an issue. Tailor them back when gradients are less of an issue, to save energy and reduce wear on components.
Optimized Lighting Control
Facility lighting control based on outside light intensity. The human eye automatically compensates for varying light conditions. Hence, a bright sunny day makes little difference from an overcast day in our ability to see, however in reality, a cloudy day can deliver less than 1/3 the overall intensity. Building lighting systems could adapt to these changing conditions to improve viewing comfort and reduce energy consumption.
Reduce Water use for Grounds Management
Via access to weather data, the management of building grounds based on rainfall, temperature, humidity, and dew point information now becomes possible. Automation systems can now moderate water use based on recent rainfall and current evaporation characteristics. Control based on past, current and forecast data can significantly reduce energy costs and conserve water.
Energy Management
The addition of forecast data paves the way for managing energy production. New systems can focus on generating energy during off peak periods, storing the energy for use at a later time. A forecast for cold weather the next day can trigger the generation and storage of heat energy the previous evening, for use the next day.
Finally, instant access to real-time weather and forecast information enables your building automation system to notify occupants of impending rain, high winds, storm alerts, etc. Notification can be built into building displays. Notifications can be distributed via email, SMS messaging or other IT mechanisms.
Until now, the ability to leverage real-time weather information and forecast information has never been available to building automation through a standard product.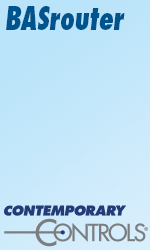 For more information – www.kepware.com/weatherbug
---
About the Author
Roy Kok is the Vice President of Marketing and Sales for Kepware Technologies, the leading supplier of communications for automation. Kepware is located in Portland Maine and delivers its products to the marketplace through Direct, OEM and Channel relationships.
Previously, Roy managed Product Marketing and Product Management of GE Fanuc's HMI/SCADA solutions, primarily CIMPLICITY and iFIX HMI/SCADA products and associated communication drivers.
Prior to GE Fanuc, Roy held key positions with notable automation industry companies including Intellution, VenturCom, Sytech, Nematron, Intec Controls, and Kaye Instruments. As of 2007, Roy has over 30 years of experience in the automation industry.
Roy has a Bachelor's degree in Electrical Engineering from Northeastern University in Boston Massachusetts.
---


[Click Banner To Learn More]
[Home Page] [The Automator] [About] [Subscribe ] [Contact Us]