---
Grid Frequency Control

System frequency on the grid is a continuously changing variable that is determined and controlled by a second by second (real time) balance between system demand and total electricity available.


Dane Overfield
EXELE Information Systems, Inc.
Balancing the supply and demand of electricity is a dynamic challenge and a mandatory requirement for electricity providers on the grid. In the UK, Endeco Technologies provides CashBack from National Grid and energy savings from energy bill optimisation.
Endeco's customer site loads are automated 24/7 to temporarily reduce their power usage during periods of energy price peaks or required energy grid interruptions. At the Endeco Network Operations Centre, Exele TopView alarm and notification software plays a key role in both the monitoring and notification of these events.
National Grid owns and manages the grid that delivers electricity to millions of people throughout the UK. System frequency on the grid is a continuously changing variable that is determined and controlled by a second by second (real time) balance between system demand and total electricity available. If demand is greater than generation, the frequency falls.
In the UK, electricity providers are required by the Grid Code to provide an automatic change in active power output in response to a frequency change, thus ensuring a consistent frequency across the grid. This Mandatory Frequency Response (MFR) capability is a condition for generators connecting to the GB Transmission System.
One of the tools provided by National Grid to ensure a consistent and reliable energy source is their Frequency Control by Demand Management program (FCDM).
Frequency Control by Demand Management
This service specifically aims to prevent the fall in system frequency below the statutory limit of 49.5Hz. On a general basis, frequency does not commonly fall below 49.7Hz unless there is an unanticipated generation loss or demand increase on the system. The FCDM service allows the provision of frequency response through the co-operation of demand customers who can reduce consumption when the grid frequency drops below a pre-set level.

Drops in frequency below the pre-set level are detected through the use of low frequency relays installed on sites taking part in the FCDM service. Demand customers taking part in this service are required to reduce demand for a period of 30 minutes when the relay detects a drop in frequency. Once demand has been reduced, the grid frequency should begin to stabilise.
FCDM Implementation
In order to make a significant contribution to the energy demand reduction required, participant customers must represent a large amount of electricity usage, a minimum of 3MW. The number of such large consumers that are able and willing to participate is limited. Energy Aggregators pool together large consumers of electricity that on their own do not meet the 3MW requirement so that together they can participate in the FCDM program.
Endeco Technologies, an approved aggregator for National Grid, provides the hardware & software solutions along with the monitoring and controls required for a company to participate in the FCDM programme and generate CashBack. Endeco currently develops and deploys site automation technology to their customers' facilities. These customers consume significant amounts of power and are flexible in when they can consume power.

Endeco Technologies connects facilities to the National Grid and manages the 'on-call' frequency events for them. Endeco's clients are paid on availability rather than utilisation at a rate of £30,000/MWh and this is calculated based on the aggregated metered MW of demand during the periods of accepted availability periods.
Endeco implements a local control system at each of its client participant facilities that monitors the grid for a drop in frequency, called a response event. Within two seconds of detecting a response event, Endeco's Optimisation Engine reduces the power consumption at that facility, thus reducing the demand on the grid for a period of time.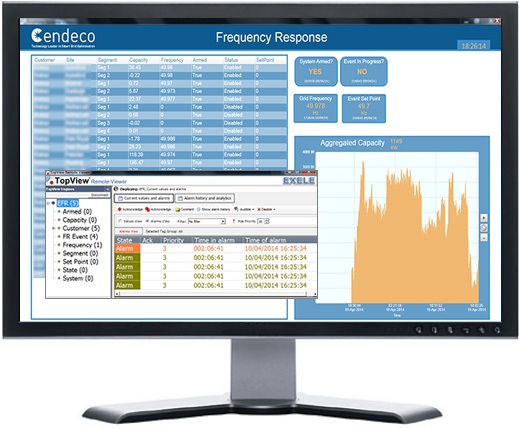 In addition to controlling an actual response event, Endeco continuously monitors its clients systems to ensure that they are in fact online and available to participate in demand reduction should the need arise. This is imperative for two reasons; the grid needs to know how much energy demand is available for reduction at any given time, and the participants are paid based on their energy usage being available.

Monitoring and Communication
It is critical that Endeco maintains constant communication to their onsite control systems as well as to National Grid. In the case of a response event, each site must kick-in synchronously. Part of Endeco's own internal infrastructure is a Network Operations Centre where the Frequency Response service and status of their client sites can be monitored. EXELE TopView alarm monitoring and notification software is used as a user facing tool in the Network Operations Centre for recognizing and acknowledging when faults and events in the system are detected.
"TopView allows us to react in real-time" said Endeco Software Engineer, Peadar Doyle, "this is particularly important to keep the connection between our client sites and National Grid alive". TopView is incorporated into the Endeco system to bring visibility to any event by instantly displaying it on a large screen located at the Network Operations Centre. "While the Endeco Optimisation Engine seamlessly handles the onsite power reduction during a response event," explains Doyle, "the first realisation for us at the Network Operations Centre that a response event has occurred is when TopView notifications start popping up on our monitoring system letting us know our local sites are kicking in".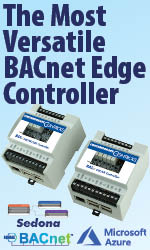 TopView also plays a key role in Endeco's communication process by monitoring the communications links between the local facilities, the Network Operations Centre, and the National Grid. It is also used to automatically send email notification messages to clients at the start and end of a response event so that they are aware of what is happening on their sites.
Conclusion
In the UK, National Grid needs to control the demand side of the energy equation to meet its obligations. Endeco Technologies CashBack services and automated energy control system contributes to the success of the National Grid by providing both small and large energy customers access to the Frequency Control by Demand Management programme. Integrating the TopView alarm and monitoring software into the Endeco solution improves its communication functionality and provides a more robust solution.
---
About the Author

Dane Overfield currently works with the direction and development teams for Exele's Process Data Analysis, Calculation, and Alarm Notification products. Dane has been with Exele since 1991, primarily working with and developing software for automation and historian products. He has been involved with designing and implementing process solutions for customers for over 20 years, most recently focusing on Exele's TopView and OPCcalc software products.
---
About EXELE
EXELE Information Systems, Inc. is a privately held consulting and software engineering company founded in 1978 specializing in manufacturing applications and process control. EXELE provides consulting, environmental reporting, and software products for process automation (OPC, SCADA, PI) and manufacturing systems. For more information, visit exele.com
About Endeco Technologies
Endeco is the Technology Leader in Smart Grid Optimisation.

Leading provider of National Grid #CashBack & Energy Bill Optimisations to the Food Distribution, Processing & Retail Industries.

We invested £5m to research and develop the only software on the market integrating all Smart Grid opportunities.

Our Revolutionary Optimisation Engine software automates energy demand 24/7.

Taking the customer years ahead of the competition with new revenue from the National Grid, the Carbon Reduction Commitment and Smart Grid Optimisation.




---


[Click Banner To Learn More]
[Home Page] [The Automator] [About] [Subscribe ] [Contact Us]