---
EMAIL INTERVIEW – Gajendra Ratnavel and Ken Sinclair

Gajendra Ratnavel is CEO of L Squared Digital Signage, global digital signage provider of multi-channel interactive marketing products for small to enterprise level businesses. With a HQ in Toronto, Canada, L Squared offers an end-to-end service for businesses looking to adopt digital signage to promote, engage or educate colleagues and/or end users. The company was founded by Gajendra in 2005. In the years since, it has grown to become a global player in multi-channel interactive marketing products for several verticals.

Gajendra is a Computer Engineering graduate at University of Waterloo. His expertise includes business strategy, end-to-end technical project management, computer science, digital networks, display advertising, and software development.
---
Digital Signage and the Future of Automated Technological Infrastructure within Education
Inside schools and universities there's lots of amazing new automation and digital signage technologies which help to offer a cutting edge education through new operations and forms of communication.
In the second of our series of interviews with L Squared CEO, Gajendra Ratnavel, we discuss his thoughts on the impact of digital signage on facilitating the spread of information and ideas around campus. Also his vision of future automated buildings technology in North America.


Sinclair: "You work with various schools and universities across North America, why is digital signage and automation technologies suited to the education sector?"
Ratnavel: "You know, it's pretty cool when I take a step back and think about what new technologies like ours brings to Education. We work with lots of fantastic educational institutions, many of which have been around for a long time and look, architecturally, pretty conservative and traditional on the outside. On the inside of schools and universities, however, there's lots of amazing new automation and digital signage technologies which help to offer a cutting edge education through new operations and forms of communication."

Sinclair: "Can you tell our readers about a project within Education which you feel highlights the need for automated building solutions?"
Ratnavel: "Sure. Let's see.. Well, one project with which I was personally heavily involved – and really enjoyed -was with McMaster University up here in sunny Ontario. It was a super project to work on and the team there are just fantastic. Nevertheless, the challenges were significant when we were first brought in.
"The university had several different legacy digital signage systems that spanned a few departments on campus. They found that the separate unconnected signage was no longer sufficient in terms of the number of screens and the centralised management of them for such campus-wide communications as Frosh welcome messages, announcements or weather alerts.
"The project included the installation of screens in 20 additional campus buildings. No small task – but McMaster is, after all, one of the largest universities in North America both in terms of the number of students and the share size of the lovely campuses. L Squared built a robust cloud based Digital Signage network which offers emergency messaging on the Digital Signage screens as well as many of the computers used on campus. It was a big success and we hope it continues to offer value to the university for years to come."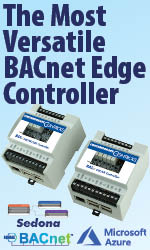 Sinclair: So you feel that Digital Signage software and hardware is finally sophisticated and cheap enough to offer a more seamless experience similar to that which, say, phones have offered through apps for many years?"
Ratnavel: Absolutely. In terms of software, there are some great tools out there now. Our new Hub software provides an easy-to-use software with lots of widgets which our customers use to present targeted and engaging information. The hardware is now so reliable and robust that companies like ours can offer super competitive warranties too.

Sinclair: "So you think that the future for automation technologies with schools is bright?"
Ratnavel: "I believe that the seemingly ever-increasing velocity of technological advance with build automation technologies means that institutions like McMaster will be able to info, engage and inspire students and stakeholders in such powerful ways that countries like Canada and the US can expect to continue to develop a wealth of high achievers through their schools".

First interview in series Why is Digital Signage Important to Building Automation?


---


[Click Banner To Learn More]
[Home Page] [The Automator] [About] [Subscribe ] [Contact Us]