---
Across My Desk


snippets, blog bits, and url links that are about to fall off my desktop

Founder, Owner, Publisher AutomatedBuildings.com
Every month there is a blizzard of information contained in the emails and newsletters that cross my desk on their way to AutomatedBuildings.com. Some of this information is not in the form of any type of content we can publish but I feel I should share with you these snippets, blog bits, and url links that are about to fall off my desktop.
We crowdsourced a complete city-wide Internet of Things data network with the people of Amsterdam in 6 weeks using a new technology named LoraWAN™. Now we are launching our global campaign to repeat this in every city in the world. The technology allows for things to talk to the internet without 3G or WiFi. So no WiFi codes and no mobile subscriptions.

Creating a connected building in under 4 hours IBM Internet of Things YouTube

Over the last 5-7 years there have been a good number of conversations, debates, articles and presentations about the idea of each and every building needing its own network. Base Building Network (BBN), Building Local Area Network (BLAN), Building Wide Area Network (BWAN), Building Communications Infrastructure (BCI) and Building Telecommunications Infrastructure (BTI) are just a few of the names that have been suggested.
The highly anticipated Niagara 4 is here! It's been about 10 years since we've had a release of Niagara with this much power and potential. Niagara 4 builds on the legacy of the Niagara Framework® in many new and ground-breaking ways, and is designed to help businesses take full advantage of the Internet of Things. Some of the most exciting advancements include:Modern user interface and design language (HTML5) Powerful and easy-to-use security features Seamless conversion from Niagara AX Tridium's OEMs and distributors are preparing for the release of Niagara 4. Look for a release announcement soon from your Niagara partner. Meanwhile, we're excited for you to get started!Certification Training is a prerequisite for purchasing Niagara 4 and is available now.

Jones Lang LaSalle launches IntelliCommand™ powered by Pacific Controls The global smart-building cloud-based portfolio management solution, IntelliCommand™ provides 24/7, real-time remote access to control buildings, reduce carbon footprint and energy costs by 18 per cent
DGLogik: Rapid IoE application development demo at Cisco Live 2015 Watch DGLogik's demo from Cisco Live showcasing their platform for rapid IoE application development. Eugene Mazo, cofounder and CEO of DGLogik, demonstrates...
Games with garbage and watching fish: inspiring controls applications We love to hear stories about cool things our Partners have done with our controls. Today I found out how our enteliWEB product, which is software normally used by building managers to control their building systems, is helping children learn about aquatic ecosystems.

What's next for Niagara and Tridium Tridium's Vice President of Global Marketing & Product Strategy Pranay Prakash provides a look at what's next for Niagara and Tridium.
Green Proving Ground Program Studies Advanced Wireless Lighting Controls BY CRAIG DILOUIE, ON AUGUST 20, 2015
Demand Side Response (DSR) Explained Demand Side Response is set to become an increasingly crucial aspect of the UK's energy strategy - as businesses work with utilities to minimise energy demand peaks. We explain what DSR is, and how it could affect your business.
Google sneaks home IoT hub disguised as WiFi router under the noses of sleeping telcos
Design-build-operate firms like McKinstry are looking to optimize the entire building lifecycle through the use of sensors.

Niagara 4 is designed to make developers and systems integrators more competitive, and Niagara users more successful. It's been about 10 years since we've had a release with this much innovation. In two new videos, Jonathan Rodriguez, one of Tridium's senior product managers, overviews the changes and improvements we've made. And, he details some of the most exciting features of Niagara 4.
What Smart Home and IoT Devices Makers Need to Know about ZigBee 3.0
The co-founders of OpenSensors believe that while connecting billions of devices to the internet will be complicated, being able to do it on infrastructure you control should be easy. That's why the London-based startup formed last year with plan to build a software tool that lets companies build out the infrastructure needed to host millions of devices.
With these goals in mind, we initiated a project to 1) simplify sensor deployment by creating an easy-to-install, plug-and-play network that could receive data wirelessly for viewing in a web interface, and 2) develop software tools to analyze the data. Over a period of twenty months, we assembled a series of prototypes and field tested them in our office and our buildings.
Growing realization Bluetooth Low Energy and Zigbee are not the right solutions" because they consumer tens of milliwatts, said Benton Calhoun, co-founder of PsiKick (Charlottesville, N.C.). "People are talking about new solutions, but it's not clear what they are yet," he told an audience of several hundred silicon designers at the annual Hot Chips event here.
Green Proving Ground (GPG) is assessing technologies in the following areas: Building Envelope, Energy Management, HVAC, Lighting On-Site Power & Renewables, Water
Online Learning How Nanodegrees Are Disrupting Higher Education New "micro" online certification programs are changing the educational pathways to success in certain industries.
The DZone Guide to the Internet of Things, 2015 Edition The 2015 DZone Guide to the Internet of Things offers insight into executive and developer perspectives of IoT trends and concerns, a listing of platform and hardware solutions to facilitate IoT development, and a comprehensive checklist to help you secure your IoT applications. Free 32-page ebook
Building Performance Evaluation for Non-Domestic Buildings This guide will support the industry by explaining how to use Building Performance Evaluation (BPE) to address issues of inefficiency and user dissatisfaction. It is a general introduction to BPE, explains why it is important and how it can be carried out
Introducing the new Niagara Community website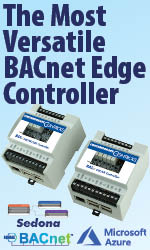 Find support, tools and resources available to Niagara users by visiting www.niagara-community.com starting August 7
SmartThings is a well-known, Internet of Things company owned by Samsung, another ZigBee Alliance Participant member. It offers the easiest way to build a smart home with a central Hub and mobile app to control all connected devices through one interface. SmartThings implements ZigBee Certified products as their own core products, and their service supports the many interoperable ZigBee products found worldwide.
Here is a link to our BAS curriculum ECT 33 - CONTROL SYSTEMS NETWORKING FOR BUILDING AUTOMATION Installation and use of common digital control-system networks and standards such as BACnet MS/TP, BACnet IP, Lonworks, Ethernet networks. Students will learn about the benefits of each type and common network problems.
Digital Place-based Media Trends & Directions. August 2015 This series of 4 chapters, available for online viewing provide insights into key trends and directions.
Chapter 1: Investment Criteria for Digital Signage. Chapter Introduction. Full 50-minute video
Chapter 2: Frictions in Buying and Supplying Digital Signage. Chapter Introduction. Full 50-min. video. Article describing the Frictions in the Buying and Selling Process
Chapter 3: Processes for Design, Sourcing and Optimization. Chapter Introduction. Full 50-min. Video
Chapter 4: Technology and Services Trends. Chapter Introduction. Full 50-minute video.
The AHR Expo Innovation Awards foster innovation by recognizing the most advanced HVACR products Building Automation - Any product, system, control or software that automates and/or integrates building management or energy conservation. (Thermostats should be entered in this category.)

---


[Click Banner To Learn More]
[Home Page] [The Automator] [About] [Subscribe ] [Contact Us]