---
AHRExpo 2016 Education Sessions


Our 17th year of Free Education Sessions in Orlando.

Founder, Owner, Publisher AutomatedBuildings.com
Very pleased to be doing our 17th year of Free Education Sessions at AHRExpo 2016 in Orlando. Pleased to be joined by these industry experts to help us all better understand the change upon us;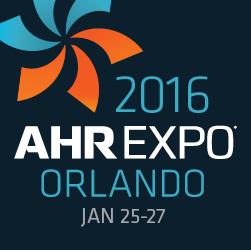 Jim Sinopoli PE, RCDD Principal Smart Buildings
Paul Oswald | Managing Director CBRE | ESI
Brad White, P.Eng, MASc SES consulting Principal

Hosted by Ken Sinclair Editor/Owner/Founder www.AutomatedBuildings.com

First Session; Transformational Change for Building Automation Monday, Jan. 25; 9 am

The bottom line to date is; "the possible is presently impossible without transformative change, but the map of the possible is leading rapidly to help define the needs of that Transformative change that is now required everywhere in our industry." I am extremely pleased with the industry support I have receiving helping me define "the possible of connected buildings" this clear definition of the possible is helping us all define the transformational change we all need to make. The possible expands daily as we better understand the change upon us.

Insight to Session;
We are grateful that Ken has kicked off the discussion of "Roadmap of the Possible" and is inviting industry stakeholders to contribute to the dialogue. Connected buildings are becoming and will continue to become a reflection on today's information technology (IT) and today's societal trends which include mobility, social media, big data and personalization. Today's IT has been inserted into our buildings through networked controls systems, sophisticated sensors and big data analytics.
I am pleased that spurred on by my attempts to build a map of the possible that we have several great articles on extending the possible and how we all can lead "Transformational Change". Please feel free to join in with comments and or articles and interviews to share your opinions.

I have provided my review / summary of articles in this issue that speak to "Transformational Change" in my review the Possible Leads to Change
And this editorial Change Evolves from the Definition of the Possible

Second session

Transforming Skill Sets to Lead and Manage Change Monday, Jan. 25; 1:30 pm

An education session and discussion; led by industry experts about how we need to approach the engagement of our only true asset our people and make transformative change part of their and our lives and use the resulting feedback to create self learning cultures for our companies.
Session insight;

We will build on last years session in Chicago, "Addressing the Skills Gap", Understanding that People are our only Asset, an education session.

To help grow our only true resource, our people, younger, by reaching out to youth with messages about our vibrant, vital and rewarding industry. Organizations need to attract talent before they graduate; whether working on a two or four year degree, students need to be introduced to this field early on. Through internship programs, they can gain an understanding of the field and whether this is right for them. The knowledge shift required for the IoT will be discussed.

Paul Oswald Environmental Systems, Inc., Jim Sinopoli our contributing editor, and Ken Sinclair will discuss the problems and skills needed to address the skills gap.
For insight on this session Paul speaks to how we need to refocus on our only asset our people, work on bridging the skill gap and growing new talent.
Third session

Data Analytics / Occupant Engagement and the Road to Self-Managing Buildings Tuesday Jan. 26; 9:00 am
An education session led by industry experts exploring data driven decision making and introducing the new value added with Occupant Engagement in increasing comfort and productivity. Discussion of the evolving new industry measured variables of "satisfaction" and "happiness" now with feedback from social media and data analytics. This session will also explore what we might find on the road to self-managed buildings.
This is bound to be a fun informative session that will include the daily evolution occurring in Jim, Brad, and my world's.

Please be part of our:

Fourth annual Connection Community Collaboratory, Orlando Tuesday Jan. 26; 1:30 pm
It is not a meeting, it is an education session and discussion led by industry experts about how we need to approach creating and selling connection to the world. An open fun Collaboratory atmosphere come learn and share your opinions. The concept of connection communities was created by Marc Petock and Ken Sinclair in Chicago at the AHRExpo 2012. We were searching to find words that described the communities who are working together and fueling new ways to extend the value of our building systems while exploring the best of breed in change and innovation.

This review of our Third annual Connection Community Collaboratory Chicago will help you understand was hosted by AHRExpo and moderated by AutomatedBuildings.com Videos by ControlTrends.org capture the wisdom and insight.
We are extremely pleased that the folks at AHR Expo provide AutomatedBuildings.com the annual venue and industry provides their people and support for our free education sessions. Thanks to all, you truly understand a collaboratory.
Please help us promote these free education sessions by posting on your social media.

---

[Click Banner To Learn More]
[Home Page] [The Automator] [About] [Subscribe ] [Contact Us]