---
Realcomm - Cisco, TAC and Others to Participate in NextGen Intelligent Building Symposium!











Realcomm is pleased to announce the "NextGen Intelligent Building Symposium" to be held as part of Realcomm 2006 in Dallas. The advisory group that will guide this symposium consists of: Jim Whalen - Boston Properties, Dave Clute - Cisco Systems, Rob Jones - SENTRE Partners, Darlene Pope - Realcomm, Paul Ehrlich - Building Intelligence Group, Ron Zimmer - CABA, and Alan Kell - i&i limited.
The idea of an Intelligent, NextGen, High-Performance or "Connected" Building has been around for a long time. It has only been in the last 2-3 years, with the introduction of IP (Internet Protocol) to the Building Automation industry that this idea has really taken off. The idea of "connecting" a building to a network and managing everything from lights to parking gates over the network is now reality.
This 2-day symposium, which will be part of the annual Realcomm conference this June in Dallas, will cover all aspects of this emerging trend. The starting session will define a NextGen building from a number of different perspectives. This will be followed by a discussion of the business drivers behind the implementation of these new concepts and ideas, and finally, we will create an Intelligent NextGen building, beginning with the structured cable infrastructure all the way through connecting the network appliances (which could include the towel dispenser in the bathroom). For anyone interested in the vision, business objectives, or technical implications of creating a NextGen Intelligent Building, this is a "must attend" event!
The following is a summary of the sessions for the NextGen Intelligent Building Symposium.
DEFINING an Intelligent NextGen Building
In order to better understand a NextGen Intelligent Building, it is important to define it. NextGen, Intelligent, Smart, High-Performance, and Connected are just a few of the names we have heard. This segment will focus on 1) identifying the different stakeholders in the NextGen building marketplace, 2) understanding the fundamentals of design efficiency, sustainability and flexibility, 3) outlining the business drivers and ROI strategies of these projects, and 4) reviewing international case studies of the most advanced buildings in the world.

Designing the Building NETWORK
For the first time in history, the "Building" now has a new form of infrastructure, the "Network". Electricity, HVAC, and water have historically been the 3 forms of utilities found in a building. With the advent of advanced communications and all the ancillary systems that accompany it, there is now the need for a building-centric network. This segment will address 1) the network design, including configuration strategies, 2) the role of structured cabling in the network, 3) integrating wireless into the design, and 4) security issues and solutions.

Delivering Broadband TENANT APPLICATIONS
Now that the 21st Century has arrived, tenants are expecting more from the buildings they reside in. High-speed Internet access and all the applications that go along with it are quickly becoming the norm in business requirements. This segment will review 1) the need to deliver world-class, fault tolerant broadband services, 2) delivering Voice over IP (VoIP) services to tenants, and 3) understanding future applications such as video over the network. The goal of this segment is to understand the potential of these new digital tenant services.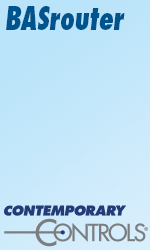 The Future of Network-Based ENERGY MANAGEMENT Systems
Building Automation has been around for a number of years and yet is still not considered mainstream in the Commercial Real Estate industry. There are a growing number of individuals who believe that BA will get more attention in the near future due to continuously rising energy prices. This segment will focus on using BA systems to 1) provide for a comfortable and consistent environment, 2) allow flexibility throughout the facility, and 3) provide sophisticated use of management systems that will maximize conservation and energy efficiency.

IP Impacts on Traditional HVAC and LIGHTING Systems
Automated HVAC and lighting have long been the cornerstone of building systems. Both have been in place for many years and have been used with a great deal of success in each of their respective environments. With the advent of building IP networks, HVAC and lighting automation vendors have begun to re-think their overall strategies. They now need to provide the expected historic functionality as well as the flexibility and integration offered by standard IP networks. This segment will focus on the future of IP-based HVAC and lighting systems.

Network-Centric SECURITY and SAFETY Systems
Surveillance, access, and life safety are three of the most important systems found in any building. Cameras, access devices, and sensors make up the foundation for these systems. With such an important role to play in buildings, how feasible is it for these systems to operate on the same network as all the other BA systems. This segment will consider 1) the current state of IP technology for each of these systems, 2) integration of existing disparate analog systems, and 3) the future of fully integrated IP-based security and safety systems.

New INNOVATIVE APPLICATIONS for Networked Buildings
With IP-centric building networks making their way to mainstream thinking and traditional building automation vendors jumping on-board, we are beginning to see a host of new ideas, applications, and systems being considered for this new network. This segment will focus on the latest technologies for 1) digital signage and visual communication systems that can connect to the network, 2) automated integrated parking systems, and 3) a host of other unique and innovative systems that can be added to the network, such as intelligent bathrooms.

Tying It All Together - Creating the True Building ENTERPRISE
The next step after traditional BA systems all move to a standard IP environment is to begin to leverage these new tools to take property and facility management to another level. The potential to leverage these systems and operate Commercial Real Estate with hyper-efficiency will enable building owners to lower operating expenses and gain higher tenant satisfaction. This segment will discuss the status of integrated software platforms for building automation and building operation centers as a model for extremely efficient management and operations.
For more information visit www.realcomm.com
---

[Click Banner To Learn More]
[Home Page] [The Automator] [About] [Subscribe ] [Contact Us]