---
Distech Controls Launches Innovative Product for Fan Coil Unit Controller Applications.











Brossard, Quebec, Canada, March 28th, 2007 – Distech Controls, a leading provider of open control building automation solutions, announced the launch of its new configurable ECC-PFCU series, fan coil unit controllers. The ECC-PFCUs control the space temperature for equipments with up to 4 stages of cooling or heating, 2 floating valves and up to 3 fan speeds and offers complete humidity control including a dehumidification cycle.
The powered fan coil unit controllers' line includes the ECC-PFCU, with 6 universal inputs, 4 high voltage relay outputs and 4 triac outputs, the ECC-PFCU-A, featuring 2 additional analog outputs and 24 VAC power supply and the wireless communication enabled ECC-PFCU-W and ECC-PFCU-AW. The ECC-PFCUs are designed in Distech Controls' new compact plastic enclosure and feature a separable back plate with identified terminal block, allowing for easy wiring.
"The ECC-PFCUs are truly innovative products on the marketplace" said Etienne Veilleux, President and CEO of Distech Controls "they offer unique features which benefit all applications and allow further versatility and cost savings in designing and implementing a building automation system. Equipment manufacturers will profit from cost savings associated with the elimination of any external relays, power supplies and additional wiring, since the ECC-PFCUs offer these integrated and on-board".
The ECC-PCFUs can be powered by supply ranging from 85 to 265 VAC, with no external transformer required, thus requiring no additional wiring and related expenses. Additionally, relay outputs supply up to 277 VAC and triac outputs up to 265 VAC power switching, allowing for application options ranging from 24 VAC valve to 277 VAC lighting control. With 6 high precision (16 bit A/D) universal inputs, the ECC-PFCUs support digital, voltage (0-10V), thermistor (PT100, 1K, 10K, 100K) inputs and current from 4-20 mA with external resistor. Further expanding the controller's versatility, the spare I/O points can be shared over the network.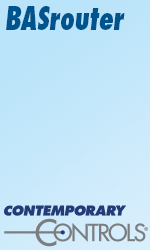 "Our line of powered fan coil unit controllers meet all standards for open protocol and are LONMARK certified" added Etienne Veilleux " Furthermore, the products have been tested and certified under the international safety standard for electrical equipment, obtaining the UL 61010-1 listing".
The ECC-PFCUs can be configured by using the LNS based EC-Configure plug-in or EC-Net AX wizard, for integration into the Niagara Framework. These configuration interfaces, provided free of charge, simplify configuration and sequencing methods by prompting the user for the necessary configuration data. Additionally, the equipment based control configuration enables one to extend the control logic to other outputs, such as to remote I/O modules, in fact doubling the amount of physical outputs which can be controlled by one ECC-PFCU.
Distech Controls' wireless, battery-less technology has also been integrated in the powered fan coil unit controllers. The ECC-PFCU-W and the ECC-PFCUA-W, with an on-board wireless receiver provides support for a variety of wireless, battery-less sensors, switches and other devices. The wireless, battery-less peripherals are easy to install, highly adaptable and have no limitations as to the building materials they can be mounted to. Distech Controls' wireless battery-less sensors and switches reduce installation time and related costs as well as maintenance costs.
Distech Controls also offers the EC-Smart-Sensor-FC, a communicating LCD Sensor for use with the ECC-PFCU products, providing monitoring of room temperature, setpoint adjustment and override and a fan speed command. The EC-Smart-Sensor-FC can be set to user mode functions (read-only) and offers a password protected configuration mode.
For more information concerning the ECC-PFCUs, visit www.distech-controls.com.
---


[Click Banner To Learn More]
[Home Page] [The Automator] [About] [Subscribe ] [Contact Us]