---
LonWorks and ABB Take Serial Communications of Drives to New Level - Again!











ABB advances serial control communications and control capabilities to new level with latest LonWorks interface for HVAC drives
NEW BERLIN, WI, April 23, 2007. . . ABB's Drives new LonWorks interface for the ACH550 series variable frequency drive "represents nothing less than a Paradigm Shift in serial communications and control capabilities," according to Mike Olson, manager – HVAC applications, for ABB Low Voltage Drives.
This new LonWorks interface, RLON-01, supports pass-through I/O, allowing LonWorks integrators to use the ACH550 drive's digital inputs and outputs as "free" I/O points in their system. These I/O points can be used for monitor and / or control of external devices such as dampers that may or may not be directly related to the VFD HVAC application. Here are examples of possible uses of this new capability:
-- Monitor digital inputs & outputs – Through this variable, the status of the standard (6) VFD's digital inputs (DIs) may be monitored via LonWorks. Some examples of possible use of these DI monitoring points are: safety status, damper end switch proof receipt, flow switch indications, and any control sequence that requires receipt of a contact closure for indication.
-- Command digital outputs -- The digital (relay) outputs may be controlled via this input variable. Some examples of possible use of these DOs are; opening dampers check valves, or any device that requires a maintained contact closure for operation. "As a standard feature, the ACH550 drives series has three relay outputs, with an option for three additional relay outputs," noted Olson.
-- Monitoring External 1/External 2 status – This output variable indicates the control selection currently being used EXT 1 or EXT 2.
-- Monitor Hand/Auto status – This output variable indicates if the drive is in Hand or Auto control mode. Use of this feedback point is for a performance contractor to monitor when an end-user has overridden the automation system.
-- Command External 1/External 2 State – This input variable sets the control location that is desired EXT 1 or EXT 2. Use of this input variable could be to switch between "Occupied" and "Night Set Back" Mode via LonWorks.
-- Command Drive Speed and/or PID Set Point – This analog input variable directly sets the speed and/or PID set point.
-- Monitor Motor Voltage – This output variable indicates the drive output voltage to the motor.
-- Monitor Drive Last Fault – This output variable indicates the drive's last fault.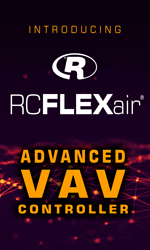 "While a LonWorks interface has been available on ABB HVAC drives since 1995, this latest advancement brings the power of LonWorks-based serial communications to a new level," Olson noted.
Essential Documentation
RLON-01 resource file revision D and ACH550 Drive software V.310F or later is required. ABB's BACnet, FLN and N2 communication protocols also support equivalent I/O network variables. For all your fieldbus support file requirements, visit our new fieldbus software and documentation download website at: http://www.abb.us/drives and select Software/Downloads from the table menu to the left of the page.
ABB, Automation Products, Low-Voltage Drives, is a leading supplier to the U.S. HVAC market, and has connected tens of thousands of drives to building automation systems via serial communications. In the USA, ABB, New Berlin, Wisconsin, supplies a complete line of energy-efficient electric drives and motors to HVAC and commercial customers through an integrated channel of sales representatives. Products manufactured include AC and DC variable speed drives from fractional to 500 horsepower. HVAC single-motor drive applications include supply & return fans (air handlers), exhaust fans, fume hoods, re-circulation pumps, condenser fans; multiple-motor applications include multi-cell cooling towers, paralleled chilled water, and booster pump systems (http://www.abb.us/drives).

ABB (www.abb.com) is a leader in power and automation technologies that enable utility and industry customers to improve their performance while lowering environmental impact. The ABB Group of companies operates in around 100 countries and employs about 108,000 people.

---

[Click Banner To Learn More]
[Home Page] [The Automator] [About] [Subscribe ] [Contact Us]