---
Quality of LOYTEC's BACnet controllers officially proved and certified

Eleven LOYTEC products are compliant with the BACnet standard ISO 16484-5/ANSI ASHRAE 135 as attested by the accredited certification authority WSPCert. Certification requires compliance of the device with the BACnet standard of the American Society of Heating, Refrigerating and Air-Conditioning Engineers (ASHRAE) in all five areas of interoperability: exchange of data, alarming and event management, scheduling, trending and device and network management.

Certified as BACnet Building Controllers (BB-C) were all BACnet enabled L-INX Automation Servers from LOYTEC and the L-GATE product line. In addition the LIP-ME201 BACnet Router became certified as BACnet Application Specific Controller (B-ASC). Certification is a process according to the guidelines of the European Standards Commission, in which rigid technical, organizational and formal requirements have to be fulfilled.

LOYTEC CEO Hans-Joerg Schweinzer states, "Of course we are very happy, our most important BACnet enabled devices, automation servers, gateways and routers are BTL-certified now. In this way their unbroken interoperability is attested officially to the international market. As a result LOYTEC solutions can be deployed now when tenders explicitly demand a BACnet certification."

The corresponding certificates can be sourced at the LOYTEC website (http://loytec.com/en/products/btlcertified). For devices already shipped LOYTEC offers a firmware update free of charge.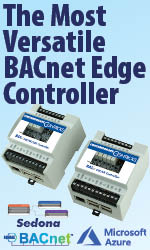 About BACnet certifications:
BACnet tests and listings are available in the US as long ago as January 2002. Since April 2004 BACnet products become tested and listed in Europe, too. Certification by the official European certification authority WSPCert attests the complete fulfillment of the corresponding BACnet standard and thus grants maximum interoperability of the devices. The application of the worldwide BACnet communication standard ISO 16484-5 in building automation and security techniques in Europe is fostered by the BACnet Interest Group Europe (BIG-EU). It was founded 1998 by 18 companies from the area of building automation and today counts more than 80 members from all over Europe, the US and Canada, among them also the Austrian company LOYTEC electronics. Open and standardized communication protocols like BACnet enable the integration of devices by various manufacturers into the automation system of a building.

About LOYTEC:
Founded in 1999, LOYTEC electronics GmbH today ranks among the leading European providers of intelligent network infrastructure products for building automation. There LOYTEC sets to open and standardized communication protocols exclusively. LOYTEC develops, manufactures and distributes to the world router solutions, embedded Automation Servers, DALI lighting controls, graphic user interfaces, touch panels and gateways. Primary focus is on network solutions for buildings and real estate. Methods provided are remote access and notification, as well as functions for data acquisition, information viewing and data storage. The LOYTEC system is based on a protocol independent approach for decentralized alarming, scheduling and trending.

For more information visit www.loytec.com
---

[Click Banner To Learn More]
[Home Page] [The Automator] [About] [Subscribe ] [Contact Us]