---
86 New Product Technology Presentations To Be Featured In Three Theaters At The 2012 AHR Expo

Westport, Connecticut… November 29, 2011— Visitors to the 2012 AHR Expo in Chicago January 23-25 can get a sneak preview of the latest new products and technologies that will be impacting the HVACR industry by attending some of the 86 presentations taking place in three New Product Technology Theaters.

Ranging from the latest in micro thermo technologies to the future of air purification, manufacturers from around the world will be showcasing their newest products and solutions during 15-minute presentations all three days of the Show. The presentations are complimentary to all attendees and seating is available on a first-come, first-served basis.

"Based on demand from exhibitors, we had to add more presentation times and a third theater," said Clay Stevens, President of the International Exposition Company that produces and manages the AHR Expo. "The presentation schedules for all three Theaters are currently filled."
According to Stevens, it is a very positive sign that despite the uncertain economy the HVACR industry seems to be moving confidently ahead. He cites a recent exhibitors' survey where nearly three-fourths of the respondents said they expect a better year in 2012. The same survey found that 82 percent expect sales to increase in 2012, with 29 percent expecting increases of more than 10 percent. Another strong indication of a positive economic outlook is that exhibitors have reserved over 415,000 square feet of space, making 2012 the largest AHR Expo in its 82-year history.

The 2012 AHR Expo will feature more than 1,900 exhibitors from around the world showcasing hundreds and hundreds of innovative new products to over 50,000 attendees and exhibitor personnel. The 2012 AHR Expo is endorsed by 35 leading HVAC/R industry associations and is co-sponsored by the American Society of Heating, Refrigerating and Air-Conditioning Engineers (ASHRAE) and the Air-Conditioning, Heating and Refrigeration Institute (AHRI). The Heating, Refrigeration and Air-Conditioning Institute of Canada (HRAI) is an honorary sponsor. ASHRAE's Winter Conference is held concurrently with the AHR Expo each year.

The New Product Technology Theater Schedule is:

MONDAY
11am ClimateTalk Alliance Introduces Zoning Profile ClimateTalk Alliance
11am Revit to the Field Get The Point LLC
11:15pm Triple-D Universal Coil Cleaner DiversiTech Co.
11:30am HVAC Contractors Can Use iPad for Profitable Project Management Maxwell Systems, Inc.
11:30am Performance and Economic Improvement of Scrubbers with Versacomb Gas-Phase Media MWV Specialty Chemicals
11:45am Micro Thermo Technologies Sporlan - Parker Hannifin
12pm NeatHeat Baseboard Reconditioning System Creative Hydronics International
12pm The Draft Stimulator Draftrite, LLC
12:15pm UnderDuct, by Monoxivent Monoxivent
12:30pm Affordable Parallel Positioning Control System Fireye Inc.
12:30pm Innovation: Prestyl USA Introduces a New and Cost Efficient Radiant Heating Panel System Prestyl USA
12:45pm tekmar's New House Control 406 for Heat Pumps Tekmar Control Systems Ltd.
1pm It Just Got Easier to Monitor Energy Consumption in HVAC Belimo Aircontrols (USA), Inc.
1pm New Cutting Edge Products from Weil-McLain Weil-McLain
1:15pm Connect to the Internet. Connect to More Sales. RedLINK Connects. Honeywell International Inc.
1:30pm Dunkirk Helix VLT Condensing Boiler ECR International
1:30pm NEW One-Step ArmaTuff Exterior Laminated Insulation Armacell LLC
1:45pm FabricAir JetFlow - longest throw ever from a fabric duct FabricAir, Inc.
2pm AspectFT Open and Integrated Building Control American Auto-Matrix
2pm How Gas Fired Infrared Heating Systems Maximize Energy Efficiency and Improve Building Performance Superior Radiant Products Ltd.
2:15pm PUMP-FLO Insight: The Future of Product Configuration Engineered Software Inc.
2:30pm Flexible AC Electrical Submeter with BACnet Communications Measurlogic, Inc.
2:30pm Innovations in Braeburn Thermostat Technology Braeburn Systems, LLC
2:45pm ECM Pump Technology - Past, Present and Future WILO USA LLC
3pm HVAC BIM Simulation Software Now has Controls! HVAC Solution Inc.
3pm Monitoring Energy Performance with Onset® HOBO® Data Loggers Onset Computer Corporation
3:15pm Introducing the Radon VAC Side Wall Radon Mitigation System. The Effective, Affordable and Safe Way to Reduce Radon Levels in Existing Homes. Tjernlund Products, Inc.
3:30pm Hydro-Core Hydronic Manifold System Webstone Company, Inc.
3:30pm Take the Guesswork out of Air Filter Clog Detection CleanAlert, LLC
3:45pm New Super Efficiency Permanent Magnet Motors NovaTorque, Inc.
4pm Diagnose Series. The New Standard In Compressor Protection Kriwan
4pm The Evolution of Baseboard, Condensing Boiler Baseboard Smith's Environmental Products
4:15pm R410A DC Inverter Window Type A/C Bingdian Air Conditioning Co., Ltd.
4:30pm Introducing the Most Unique & Energy Efficient Humidification Solutions, by Humidifall Humidifall, LLC
4:30pm Twin Cool presented by Robert Greene Klingenburg GmbH
TUESDAY
10:30am Leading the VRF Industry with Multi V III LG Electronics U.S.A., Inc.
10:30am Title to Be Determined Purafil, Inc.
10:45am Ecobee's Newest Wi-Fi Enabled HVAC Controls and Web Portals Ecobee
11am Bard I-Tec ~ Ideal Comfort, Intelligent Technology Bard Manufacturing Company, Inc.
11am Delphi MCHX® Heat Exchangers Delphi
11:15pm Optimizing System Control with Auto/Adapt Grundfos Pumps Corporation
11:30am Fluke Thermal Imagers in HVAC Applications Fluke Corporation
11:30am Transform Standard Air Conditioning Equipment into a Variable Capacity System Rawal Devices, Inc.
11:45am New Control Possibilities for Demand Control Ventilation KMC Controls
12pm Digital Estimating Software FastEST, Inc.
12:15pm The New GPS Insight Dashboard Interface GPS Insight
12:30pm Midco's Unipower Family of Variable Air Power Gas Burners Midco International, Inc.
12:45pm Handheld Multi-sensor Indoor Air Quality Survey Tool Kanomax USA, Inc.
1pm The REAL Solution to IAQ Problems Best Living Systems, LLC
1:15pm Continental Control Systems Releases the WattNode BACNet Energy and Power Mete Continental Control Systems, LLC
1:30pm EE240 Series - Wireless Sensor for Humidity / Temperature / CO2 E + E Elektronik Ges. m.b.H.
1:45pm Paperless Service Management Software Jonas Software
2pm Tecumseh Masterflux Product Innovations Tecumseh Products Company
2:15pm Proper Temperature Measurement Testo, Inc.
2:30pm Air Quality Compliance Technologies for Critical Environments AAF International (American Air Filter)
2:30pm Infrared Technology: The Smart and Energy-Efficient Solution for Heating Industrial and Commercial Facilities Schwank USA, Inc.
2:45pm Introducing the New D-Max 1.6E Spiral Tubeforming Machine ISM Machinery Inc.
3pm Benchmark BIM Training Software: From Concept to Completion International Training Institute (ITI)
3pm The New Standard in Fire Suppression for Residential-grade Appliances Denlar Fire Protection
3:15pm ATOM - Data Acquisition, Analysis, Management and Billing for Building Services (Electrical, Water, Gas, Thermal Energy, People Counters and Carbon Emissions) Innotech Controls America
3:30pm Energy Saving Design Air Doors Airtecnics
3:30pm Non-chemical Water Treatment in HVAC Applications ScaleBlaster Inc.
3:45pm New Method for Quantifying Air Sealing A-A Exteriors.com
4pm GET Green Allanson International Inc.
4pm Mayekawa (MYCOM) Air to Water CO2 Refrigerant Hot Water Heat Pump Introduction Mayekawa / Mycom
4:15pm Introducing the Nano Induct Air Sanifier Air Oasis LLP
4:30pm Energy Efficiency Education Dashboard: Creatively communicate building performance QA Graphics
4:30pm Wine Cellar Temperature/Humidity Control Bacchus Cellar Systems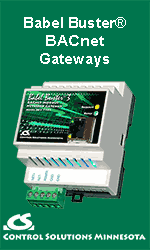 WEDNESDAY
10:30am Color Rendition in Lighting Tools TerraLUX, Inc.
10:45am Lifetime Power Wireless Sensor System Powercast Corporation
11:00pm Aquatherm for District Energy Aquatherm, Inc.
11:15pm Heating Pipe Freeze Protection Thermostat Valmar Inventions Inc.
11:30am Optimizing Thermal Energy Management with Modular On-Demand Steam Boilers Miura North America, Inc.
11:30am SAWIN MOBILE INSTANT ROI Service Automation, Inc.
11:45pm Installing Radiant Heating Project . . . in a day Uponor
12pm Our Revolutionary Q9 Plus with Toshiba's Breakthrough VLP Technology Changes the HVAC Industry Toshiba International Corporation
12pm The Health, Comfort & Energy Savings Benefits of Bipolar Ionization AtmosAir
12:15pm Bio Gas Energy Reclamation PLC
12:30pm Copper Piping & High Pressure Refrigerants Mueller Industries, Inc.
12:30pm Cost Saving and Benefits of Using Aluminum Fittings, Valves and Tubes by Locus Co., Ltd. Locus Co., Ltd.
12:45pm Sila Seal: Great Product, Great Price Sila-Seal
1pm New Daikin McQuay Rebel Commercial Rooftop Unit Daikin AC (Americas), Inc.
1pm The New Wahl Heat Spy - A Thermal Imaging Camera Upgradeable In The Field After Purchase Palmer Wahl Instrumentation Group
1:15pm SlabHeat - Electric Indoor Slab Heating Watts Radiant
1:30pm Future of Air Purification activTek Environmental
1:30pm Ionizer With Circuit Inside Discharge Tube (Easy Installation) SUDO Premium Engineering Co., Ltd.

For more information, current schedule and registration information visit the Show's website at www.ahrexpo.com.

ABOUT AHR EXPO
As the largest and most comprehensive HVAC/R exposition, the AHR Expo attracts tens of thousands of attendees from all facets of the industry, including contractors, engineers, dealers, distributors, wholesalers, OEMs, architects, builders, industrial plant operators, facility owners and managers, agents and reps.
Since 1930, the AHR Expo has been the HVAC/R professional's best resource for new products, new ideas and new services. It's a hands-on, interactive event that showcases a wide spectrum of equipment, systems, and components. This unique industry forum creates a dynamic marketing environment unequaled in size and scope by any other industry event.
The AHR Expo is produced and managed by International Exposition Company, 15 Franklin Street, Westport, CT 06880; telephone: 203-221-9232; fax: 203-221-9260; e-mail: info@ahrexpo.com; website: www.ahrexpo.com.

---

[Click Banner To Learn More]
[Home Page] [The Automator] [About] [Subscribe ] [Contact Us]