---
DataNab Expands Range of Universal Monitoring and Control Devices

BURNSVILLE, MINN., January 9, 2011 – DataNab, a supplier of low-cost IP-enabled solutions for commercial and residential systems, announces new Modbus I/O modules for networkable and standalone monitoring and control applications. The devices deliver new and flexible I/O options to users while retaining the low cost associated with DataNab products, and broadens the company's I/O product range for contractors, systems integrators, end users and OEMs.

The company begins shipping two new I/O devices in Q1 2012:
• Ui28_PC2, featuring 28 universal inputs and two high-speed pulse counters
• Ui16_R5, featuring 16 universal inputs and five relay outputs

The new devices can be purchased separately or as part of a larger DataNab solution with sensors, building management software and/or other control and automation devices.

Ui28_PC2
The Ui28_PC2 is ideal for monitoring sensors and metering devices. Users can efficiently monitor temperature, humidity, current and other status points for building automation, energy management and other applications. It is one of the few devices of its kind with 28 inputs, giving customers an easy way to gather data from a large number of sensors with a single device. It is also the first DataNab universal I/O device to feature two high-speed, 32-bit pulse counters.

"Pulse counters have grown in popularity due to the wealth of metering applications today," said Adam VanOort, president of DataNab. "The Ui28_PC2 will help our customers more easily track consumption tied to electrical, water and gas usage, since most utility meters have a pulse output. It is an effective way to help businesses and residential customers track and manage their monthly utility costs."

Businesses can further benefit by using the Ui28_PC2 to monitor sub-circuits by connecting up to 28 current transducers (CTs) to the device. This can help customers measure usage specifically tied to certain elements, such as lighting circuits, in addition to using the pulse counters to measure a building's total energy usage as recorded by the main utility meter.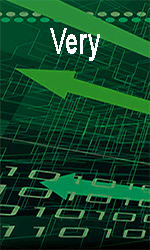 Ui16_R5
The Ui16_R5 reduces the input count and adds five output relays, making it ideal for monitoring and control of multiple points. The output relays enable the control aspect and can be used network-wide to easily turn lights on and off, activate or de-activate alarms or fire up the air conditioner or heating system to address room temperatures.

The Ui16_R5 offers Form C outputs, which provide a normally closed and normally open contact for each relay. This simplifies wiring for contractors, integrators and end users.

"The Ui16_R5 offers a simple solution for convenience stores, quick service restaurants and other small businesses to easily monitor signals and control the associated equipment, from rooftop systems to the boiler room," said VanOort. "The device also features a heartbeat timer so that it can continue to operate standalone in the event of network failure — ensuring that the building remains comfortable and equipment continues to operate."

Both devices are compact and rail-mountable, and capable of working with 12-24 volt AC or DC power supplies to maximize ease of use for all customers.

About DataNab LLC (www.datanab.com)
DataNab LLC is based in Burnsville, Minnesota, USA, specializing in network-based solutions in a variety of applications including audio streaming and distribution, process controls, energy management, building automation, remote monitoring, data acquisition and access control. DataNab solutions are ideal for applications in AV, broadcast, security, building/facility management, alternative energy and other markets.




---


[Click Banner To Learn More]
[Home Page] [The Automator] [About] [Subscribe ] [Contact Us]