---
KMC Press Releases AHR Expo 2012
FlexStat Control of Copeland Scroll Digital Compressor

16 January 2012 Sidney, Ohio and New Paris, Indiana
KMC Controls announced today that its FlexStat™ controller/sensor, with integral Copeland Scroll Digital™ compressor control, is now approved for use with the 3–15 ton range of Copeland Scroll Digital compressors. KMC has received manufacturer's approval of special models of the popular FlexStat controllers for use in commercial air conditioning applications that have a Copeland Scroll Digital compressor installed to provide variable capacity.
The KMC controller may be applied in most single or multi-stage DX compressor unitary applications including RTU or split commercial and residential unitary applications, heat pumps, chiller, or commercial refrigeration applications.
KMC Controls and Titus HVAC Collaborate to Simplify Air Distribution
New, Fully Configured VAV Terminal Units Lowers Costs and Increases Ease of Installation

CHICAGO – AHR Expo (Booth #3735) January 23-25, 2012 – KMC Controls, a standout in BACnet building automation, and Titus HVAC, the leader in air management, announce a joint collaboration to simplify air distribution through the introduction of the Titus Alpha Controller line.
Through the collaboration, select digital variable air volume (VAV) terminal units from Titus are now available with integrated and Titus-branded BACnet Applications Specific Controllers designed and manufactured by KMC Controls. As a result, the new Alpha line advances air distribution using VAV by lowering installation costs and increasing ease of installation, startup and commissioning.
BACnet Offering Extended to Wireless via EnOcean

16 January 2012 New Paris, Indiana and Montreal, Quebec
The powerful line of BACnet building automation products from KMC Controls has now been augmented to include wireless sensors. These new sensors employ EnOcean energy-harvesting wireless technology. The self-powered sensors communicate to KMC's award-winning BACnet network through an EnOcean-to-BACnet gateway powered by CAN2GO (www.can2go.com).
This approach saves project time, labor, and cost by eliminating the wiring from room sensors to the controller network. Further, the approach mitigates the maintenance costs of other wireless technologies as there are no batteries to replace. In addition, the new sensors can be mounted to alternate building materials such as stone, metal, or glass, thereby providing for greater design freedom.
Modular Control Solutions for UFAD, VAV, and Hydronic Applications

16 January 2012New Paris, Indiana
KMC Controls is now shipping a new line of modular BACnet controllers and associated actuators designed for quick installation of Under Floor Air Distribution (UFAD), Variable Air Volume (VAV), and hydronic heat applications.
The BAC-5841 and -5842 are native BACnet, fully programmable, direct digital controllers. They have been factory pre-programmed and pre-configured for use in UFAD applications. They have modular input and output jacks to simplify field wiring, using standard Ethernet cables to connect input sensors. KMC HSO series cables, with modular plugs, connect outputs. These outputs are typically connected to KMC MEP-4042 and -4842 proportional actuators with integral modular jacks.
The controllers can provide up to five individual zones of control using KMC wall sensors. They are pre-configured to provide five cooling zones. Two outputs may also be changed from cooling to heating. Depending on cable lengths and power wiring used, up to eight actuators may be driven in each chain, and each chain can be individually tied to any of five zone sensors. These models can also be used with UFAD diffuser actuators manufactured by KMC Controls for specific OEMs.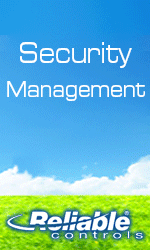 FlexStat Now Available with CO2 Sensing & IP Connectivity

12 December 2011 New Paris, Indiana
FlexStat represents a line of integrated BACnet controllers and sensors from KMC Controls. It has gained significant market share and can be used for(1) standalone control of common mechanical equipment (through built-in programming), (2) small building automation, or (3) as part of a larger BACnet network.
KMC Controls has now introduced significant enhancements to this product line with greater connectivity options, expanded sensing capability, and improved programming sequences.
The new 12x series of FlexStat look, on the outside, like the existing line of BAC-10x series, but they offer inputs for six external sensors (instead of three) and advanced firmware that gives options such as for a remote space temperature sensor (including remote only, averaging, highest, or lowest selections).
Other model options include BACnet communication over Ethernet, over IP, over IP as Foreign Device, as well as over standard MS/TP.
About KMC Controls
KMC Controls has been designing and manufacturing building automation solutions, HVAC control products and energy management solutions for more than 40 years. KMC remains the only privately held controls manufacturer with a full line of digital, electronic, and pneumatic products. Its professional affiliations include BACnet International and USGBC, among others. KMC maintains regional sales offices throughout the U.S. and distributes its solutions and products through value-added, authorized installing contractors, wholesalers, and original equipment manufacturers throughout North America as well as authorized distributors worldwide.

For more information visit http://www.kmccontrols.com


---


[Click Banner To Learn More]
[Home Page] [The Automator] [About] [Subscribe ] [Contact Us]