---
Daintree Networks Expands Controls Control to HVAC with Thermostat Automation
Daintree Networks Expands Control to HVAC with Thermostat Automation in ControlScope 3.0

Uses comprehensive networked lighting control to bring greater capabilities to Smart Buildings, existing customers

Los Altos, Calif. - January 30, 2013 - Daintree Networks, Inc., the leading provider of networked wireless control solutions for smart buildings, today announced that the latest release of its award-winning control solution now extends control to HVAC applications with programmable thermostat automation.

Commonly found in industrial, multi-site retail, and branch office facilities, programmable thermostats have been widely installed with the intent of providing energy savings by automating heating and cooling. However, that goal has largely been missed, creating substantial innovation and market opportunity.

"Studies have shown that programmable thermostats are often not configured or incorrectly configured, resulting in little or no realized energy savings despite the devices' significant capabilities," says Daintree Networks' Jason Choong, Chief Solution Architect and Vice President of Product Management. "Difficult set-up, complicated user interfaces, and improper changes by building occupants have all contributed to missing the goal. By simply and wirelessly adding programmable thermostats to a ControlScope network, a facility manager can ensure these devices are actually being automatically managed, saving energy and money." ControlScope 3.0 will not only offer this integrated control for new clients, but because of its open architecture, existing lighting control customers accounting for ten million square feet of commercial and industrial space will automatically gain these new capabilities, should they wish to take advantage of them.

Originally a full-featured lighting control solution, ControlScope solution has evolved to enable broader smart building capabilities. Frequently built on a wireless network of lighting products, ControlScope has extended intelligence to other building control and monitoring functions. As it evolves, it continues to garner awards, including the most recent "Building Operating Management 2013 Top Products Award"-a 100% reader-selected honor.

Customers and channel partners alike approve of the direction. According to Chris Covell, CEO of SmartWatt Energy, a leading nationwide provider of turnkey energy-efficiency solutions and major Daintree integration partner, "This is what the industrial and other key markets we serve need - a best-of-breed solution with capabilities that can easily evolve as technology and building requirements evolve. Our customers understand the benefits and overwhelmingly prefer the ControlScope open solution."

"Smart lighting is part of the smart building," says Danny Yu, Daintree's CEO. "We have always seen it that way. So when we originally set out to create ControlScope, we began with the end in mind and architected our platform to enable expanding and enduring value to building operators. Creating a robust, scalable, high-performance, networked wireless solution that not only provides full-featured commercial lighting control but also flexibly incorporates other valued capabilities such as thermostat automation and plug-load control has been a tough engineering feat. By applying our decade of expertise in embedded wireless networking and control, we have done the tough part and are delivering on our value promise. In contrast, proprietary, lighting-centric controls companies continue to offer products limited to controlling lighting for a small set of building types. With this ControlScope release, Daintree now provides the first true commercial-grade, fully standards-based, networked wireless control solution addressing multiple key energy building applications. And demand from the market is clear."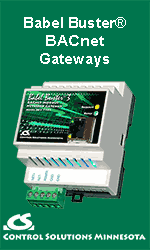 About Daintree Networks, Inc.
Daintree Networks is a market-leading innovator in next-generation commercial and industrial building automation. Daintree provides the industry's leading wireless control solution for smart buildings, delivering dramatic energy and operational savings, as well as occupant-friendly work environments, all in a simpler, more cost-effective way than ever before.

Since its founding in 2003, Daintree Networks has been a pioneer in wireless mesh networking and control. The company has brought this extensive experience to bear in developing the market's first truly open, easy-to-install, easy-to-use solution for wireless building control. For more information, visit www.daintree.net.


---


[Click Banner To Learn More]
[Home Page] [The Automator] [About] [Subscribe ] [Contact Us]