---
Building Automation Systems – What's Ahead for 2010 and Beyond















Leonia, NJ – March 2, 2010 —According to BCS/2010, the latest market analysis from BCS Partners (www.BCSPartners.net), cautious optimism prevails for the near future. The Building Automation Market took a serious hit in 2009 but modest growth is expected in 2010-2011. This marketplace, however, is not forecast to regain its pre-crisis level until 2012. BCS/2010 is the 6th edition of this widely used market analysis since 1993.
Unfortunately, new building construction, particularly in the office building segment, is not expected to provide growth. Existing building retrofits, while still the source of 70-75% of the market, are not growing as fast as they should, primarily, as the authors of BCS/2010 argue, because smaller building owners are still not sufficiently aware of the benefits available. Larger buildings and campuses as well as national franchises tend to have on staff engineers and analysts with the knowledge and resources to use available technology to reduce costs, but not the great number of smaller buildings which still have little or no advanced building automation in place or even planned. In several previous articles the authors have suggested the BAS manufacturers should spend more of their marketing communication investment on building owner education rather than on competitive technical advantages, which are not a prime concern of these owners.
On the side of positive growth are the many technological advances, primarily wireless data sensors and transmitters, which are rapidly moving from skepticism to accepted reliable solutions. The installation savings and flexibility provided will dramatically increase the numbers and types of system improvements that can and will be instituted to provide greater savings in comfort, productivity and preventive maintenance in addition to ever more efficient energy management. Integrating the BAS into overall enterprise management is going to further justify additional investment.
BCS Partners see Building Control Systems as the driver for a much larger enterprise, which totals over $8 Billion in 2010.
· The Building Controls Enterprise ($8+ Billion)
· The Building Controls Market ($4.0 Billion)
· Building Controls Product ($1.0 Billion)
· Building Control Systems ($0.5 Billion)
The Enterprise includes all revenues associated with the building control function including performance contracting and facilities management. The Market includes all products and services related to the building control function. Product includes all products types associated with building control including actuators, valves, sensors/transmitters, controllers and other types. Systems include all ddc products and associated software. The $-figure is the approximate value to North American customers in 2010.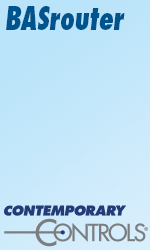 BCS/2010 details the network supplying the building owner with Building Controls Products. The largest piece (36%) flows through Mechanical and General Contractors. Another 34% flows through Control Contractors, which includes Dealers and Systems Integrators. Controls manufacturer branch offices supply 18% with the balance (12%) coming from imbedded controls and wholesalers.
Focus on total building operation and maintenance until recently only in the business plans of the largest manufacturers is moving into the plans of the some of the smaller manufacturers. Whether coupled with total air conditioning equipment or not, the additional total potential for the industry is great and with that comes the opportunity to sell more BAS but on the other hand it can lessen the focus on the BAS hardware itself. Thus, making it more complicated for the decision on industry growth forecasts.
Over-riding the usual forecasting data is the degree to which the US Government's directions and budget decisions will provide substantial growth for the industry. Manufacturers agree that this can be a substantial factor but its timing is far from certain. The fastest growth in 2010 is expected in Healthcare and Educational Buildings with Commercial Buildings not far behind. Lagging, of course, will be Office Buildings
For further information on BCS/2010 email mcmahontec135@aol.com; website www.BCSPartners.net.

About BCS Partners
BCS Partners was organized in 1993 to provide market analysis and research services for building automation and related technologies. In addition to comprehensive building controls market reports published in 1993, 1996, 1999, 2002, 2006 and 2010, BCS Partners have completed many proprietary market investigations including an analysis of the building controls markets in the 100 largest U.S. metropolitan areas. From 1994-2001, BCS Partners administered a Consortium of leading controls manufacturers sharing detailed product shipments data to North American destinations semi-annually. Ron Caffrey had a 40+-year career with Johnson Controls including a 20-years stretch as V.P. Marketing. Terry McMahon has been an independent consultant since 1968 and authored Frost & Sullivan's U.S. building control systems reports from 1976-1991.
---


[Click Banner To Learn More]
[Home Page] [The Automator] [About] [Subscribe ] [Contact Us]