---
Tridium's 2010 Niagara Summit Attracts Record Number of Attendees, Sponsors and Exhibitors















Three day conference focusing on technology for driving smart devices, connecting machines to machines and delivering pervasive automation solutions brings together record number of attendees and sponsors

RICHMOND, VIRGINIA- May 11, 2010 - A sold out crowd of 925 industry professionals and members of the Niagara Community from around the globe gathered at the 2010 Niagara Summit at the Red Rock Resort in Las Vegas to exchange and share experiences on automation infrastructure technology, device-to-enterprise integration and to find out the latest in how devices integrate, connect and create interoperable environments.

During this three-day conference, which was held May 2-May 4, attendees listened to industry leaders and other technology experts - those using the Niagara and Sedona Frameworks to develop applications and deploy solutions built around open systems, interoperability, integration and connectivity. Attendees heard presentations on the latest capabilities, scalability and portability of NiagaraAX; bringing intelligence and connectivity to the network edge and back with the Sedona Framework; wireless, M2M, energy, smart services, security and the latest in device-to-enterprise applications and automation infrastructure.

On Day 1 a highly charged crowd listened to the keynote addresses of Roger Fradin, President and CEO, Automation and Control Solutions, Honeywell and Tom Wujec, Autodesk Fellow on their perspectives regarding technology and innovation. The group also heard from Tridium's President, Steve Fey, who provided the audience with a look at how the journey is continuing and the vision going forward with the company's Niagara and Sedona Platforms. The morning general session ended with an exciting demo from Scott Muench, Tridium's Senior Applications Engineer who created a live connected world that included smart street lights, smart meters, representative equipment from a convenience store, a medical device; all connected in real time to Pacific Control's Global Command Center in Dubai, U.A.E.

Day 2 began with an enlightening presentation on energy, the Smart Grid and Demand Response given by Jon Wellinghoff, Chairman, Federal Energy Regulatory Commission. This was followed by a global panel of Niagara end user companies who shared how they are using the Niagara and Sedona platforms today. The panel included representatives from Gilbarco, MGM Grand Macau, Panduit, City of Raleigh and Pacific Controls.

Tridium also used this event to share updates on several products and applications on the horizon including the company's expansion of its enterprise security, smart services and energy applications and up coming features and enhancements in future releases of the Niagara and Sedona platforms.

This year's Summit also saw several new Niagara and Sedona based products and applications making their market debut from partners. These included Y Wire's broadband over power line communicating light switch solution, Honeywell Security's Pro Watch integration with Niagara, Pervasive Devices' wireless Sedona Controllers, Constellation Energy's Niagara based VirtuWatt Energy Manager™ automated load control solution, J2's FIN Visualizations and graphic tools and Controlco's first datacenter, 1U, rack-mount, Sedona controller line with temp sensor module. In addition, IBM and Tridium announced their intent to integrate select offerings from each company and develop joint solutions that will target the growing market for smarter buildings and cities that use less energy, are more efficient, have lower operating costs, are safer and contribute to a sustainable environment.

Marc Petock, Vice President of Global Marketing & Communications for Tridium attributed the success to several factors including "the continued world wide acceptance of the Niagara Framework as the technology of choice for practitioners developing smart devices and delivering pervasive automation solutions, the on-going concern to manage energy usage and control costs, the continued global growth of the Niagara Community and the significant number of new Niagara-based deployments." He went on to say that "the overall energy and enthusiasm at the Summit was outstanding.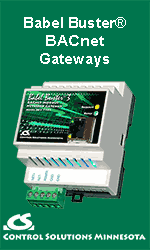 The Niagara Summit is held every other year with the next one scheduled for Spring 2012. More information about the Niagara Summit can be found at www.niagarasummit.com.

About Tridium Inc.
Tridium is the global leader in open platforms, application software frameworks, automation infrastructure technology, energy management and device-to-enterprise integration solutions. Our technologies extend connectivity, integration and interoperability to the millions of devices deployed in the market today and empowers manufacturers to develop intelligent equipment systems and smart devices that enable collaboration and communication between the enterprise and edge assets.

The Niagara Framework® is a software platform that integrates diverse systems and devices regardless of manufacturer, or communication protocol into a unified platform that can be easily managed and controlled in real time over the Internet using a standard web browser. By integrating today's diverse building systems such as environmental controls, security, lighting, energy, video, fire and life safety, Niagara is creating better buildings---ones that are smarter, use less energy, are more efficient, have lower operating costs, are safer and contribute to a sustainable environment.

The Sedona Framework™ is the industry's first, open source development framework that provides a complete software platform for developing, deploying, integrating, and managing pervasive device applications at the lowest level. It brings the power of programmable control and the Internet down to extremely inexpensive devices. The Sedona Framework distributes decision making control and manageability to any device and brings intelligence and connectivity to the network edge and back.

The company is an independent business entity of Honeywell International Inc.

Additional information about Tridium is available at www.tridium.com.
---


[Click Banner To Learn More]
[Home Page] [The Automator] [About] [Subscribe ] [Contact Us]