---
Tridium Expands NiagaraAX Driver Library with Release of Two New Drivers

Carrier and McQuay Equipment NiagaraAX Drivers add to robust list of drivers for communicating to and interacting with NiagaraAX
Richmond, VA - May 12, 2011 - Tridium announced the market availability of two new drivers for the NiagaraAX platform - the NiagaraAX Carrier Equipment Driver and the NiagaraAX McQuay Equipment Driver. These additions add to the company's extensive library of drivers and portfolio of hardware, software and tools designed to create better buildings---ones that are smarter, use less energy, are more efficient, have lower operating costs, are safer and contribute to a sustainable environment.

The Niagara AX Carrier Equipment Driver works within the NiagaraAX Framework Architecture to provide integration of Carrier HVAC Equipment with JACE® platforms including the JACE-NXT and embedded JACEs such as the JACE -6 and JACE-7 series controllers. It allows for the discovery of CCN Controllers and Bridge devices mounted on Carrier Equipment. Once discovered these devices and the information that they contain may be added to NiagaraAX JACEs and become part of a comprehensive building management system.
The NiagaraAX Driver for McQuay Equipment supports communication with the McQuay Open Protocol Master (OPM) which is a gateway device to a network of McQuay MicroTech controllers. This driver is compatible with NiagaraAX release 3.4 or later, communicates via RS-232 to one OPM and works like other Niagara drivers with remote data represented as proxy points in the JACE station.

"Niagara's open architecture continues to enable more devices to operate with the Framework. The addition of these two new drivers to our driver library opens up more possibilities for Niagara based building automation solutions", said Marc Petock, vice president global marketing and communications at Tridium."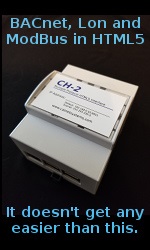 NiagaraAX software and hardware solutions are available from leading building control manufacturers and system integrators worldwide.
About Tridium Inc.
Tridium is the global leader in open platforms, application software frameworks, automation infrastructure technology, energy management and device-to-enterprise integration solutions. Our technologies extend connectivity, integration and interoperability to the millions of devices deployed in the market today and empowers manufacturers to develop intelligent equipment systems and smart devices that enable collaboration and communication between the enterprise and edge assets.

The Niagara Framework® is a software platform that integrates diverse systems and devices regardless of manufacturer, or communication protocol into a unified platform that can be easily managed and controlled in real time over the Internet using a standard web browser. By integrating today's diverse building systems such as environmental controls, security, lighting, energy, video, fire and life safety, Niagara is creating better buildings---ones that are smarter, use less energy, are more efficient, have lower operating costs, are safer and contribute to a sustainable environment. Today, there are close to a quarter million instances of the Niagara Framework operating in 50 countries.

The Sedona Framework™ is an open source development framework that provides a complete software platform for developing, deploying, and managing pervasive device applications at the lowest level. It brings the power of programmable control and the Internet down to extremely inexpensive devices. The Sedona Framework distributes decision making control and manageability to any device and brings intelligence and connectivity to the network edge and back.

The company is an independent business entity of Honeywell International Inc.

Additional information about Tridium is available at www.tridium.com.






---


[Click Banner To Learn More]
[Home Page] [The Automator] [About] [Subscribe ] [Contact Us]