---
DataNab Building Monitor Software Reduces Entry Price for Centralized Monitoring

BURNSVILLE, MINN., August 30, 2011 – DataNab, a supplier of low-cost IP-enabled solutions for commercial and residential systems, has broken the low-end price barrier for centralized monitoring software in building automation, energy management and other applications that require detailed visualization for data-rich systems.

DataNab's new Building Monitor software provides end users and system integrators with a low-cost solution to enable custom, centralized web-based control and monitoring. The software, now available for download at http://www.BuildingMonitor.com, lowers the cost of entry for users that wish to monitor multiple devices and sensors, and manage an entire building or multiple locations through a single web-enabled interface.

"Front-end software solutions typically cost anywhere from $500 to $10,000 depending on the vendor," said Adam VanOort, president of DataNab. "At $250, our open-standards Building Monitor software allows our customers to use a standard web browser to visualize and control everything at the device and sensor level — for a very low cost."

Building Monitor provides users with all of the standard features necessary in a front-end software solution, including:
• Visualization and monitoring of real-time data
• Ability to change modes and set points manually or by schedule
• Powerful alarming functionality
• Creation of data logs and graphical trends for reporting and analysis

End users can collect data from a wide variety of devices — DataNab and otherwise — to closely monitor critical processes, and then define alarm limits and communication modes for alarm notifications. These are receivable remotely by e-mail or locally by connecting relay modules to trigger strobes and/or annunciate an audible alarm in the area.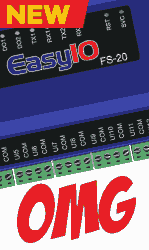 Flexible Applications
Flexibility in deployment is also key: Customers with multiple sites that need to operate independently can install separate Building Monitor instances at each site, since the low price ensures that it is not cost-prohibitive to purchase a license for each location. Conversely, an operation with multiple sites requiring integrated control and monitoring on a global scale can install a single instance of the software in one networked location.

Building Monitor works for a wide variety of applications. Set up is simple, allowing customers to quickly connect devices and create watch lists or graphical views for real-time monitoring.
One popular application is temperature monitoring, alarming, and trending within buildings and cold storage rooms.

A popular energy saving application is thermostat management. Customers can replace existing thermostats with a communicating model from DataNab, and use the Building Monitor software to automatically change setpoints on a schedule, and/or implement dynamic load shedding techniques for demand-limiting applications. In this case, the facility's real-time demand is monitored and thermostat setpoints are dynamically adjusted to lower demand and avoid costly penalties from the electric company.

Building Monitor works with all DataNab I/O devices by using Modbus TCP over TCP/IP networks and Modbus-RTU over RS485 networks. All computers support TCP/IP communication through the built-in Ethernet port, and support for RS485 networks is easily implemented through inexpensive USB-to-RS485 converters. Visit http://www.BuildingMonitor.com to learn more about Building Monitor and how you can use it as an affordable solution for your application.

About DataNab LLC (www.datanab.com)
DataNab LLC is based in Burnsville, Minnesota, USA, specializing in network-based solutions in a variety of applications including audio streaming and distribution, process controls, energy management, building automation, remote monitoring, data acquisition and access control. DataNab solutions are ideal for applications in AV, broadcast, security, building/facility management, alternative energy and other markets.



---


[Click Banner To Learn More]
[Home Page] [The Automator] [About] [Subscribe ] [Contact Us]