| | |
| --- | --- |
| | |
| Probable Industry Applications of Web Services | Moderator, Ken Sinclair. |
---
As the Moderator for the assembly of the Web Services Information Model I have prepared a first cut at Probable Industry Applications of Web Services.
Your input is important. Please share your views as to the best method of creating the Probable Industry Applications of Web Services for our Information Model. It is extremely important that users of Building Automation Systems; Building Owners, Designers, Architects, Performance Contractors and related Stakeholders provide input to this section as applications which are not included may effect the development of a truly flexible model.
Please email me at sinclair@AutomatedBuildings.com
---
Presentation of Indoor Air Quality data to anyone anywhere with overlaid web services resources such as local weather and pollution index. We have used this as our example to simply demonstrate the web services concept. The actual application of probable industry web services are very diverse and only limited by your imagination.


Real time energy pricing with actual real time energy usage to provide real daily operating costs.


Remote optimization services which would share real time building data with web services statistical and simulated input.


Maintenance and Asset Management with real time input.


Client and or occupant comfort feedback and interaction.


Pay as you go building services, interactive request of space on demand with real time cost feedback.


Creation of "Supertech" centers anywhere to build an intelligent database, to answer and post FAQ and run a Help Desk.


If special interest news groups are started elsewhere we will provide linkage if requested.
---
March 8, 2002
Ken,
About five years ago I sketched out this concept for Internet-based services.
The generic "I-Box" could be thought of as any network or gateway device that would allow connection to services that the "end user" subscribed. All of which would be accessible via wired and wireless means to web browsers. The "Central Command & Control" would today be the .NET web services. The devices connected on the right are typical for a residential application.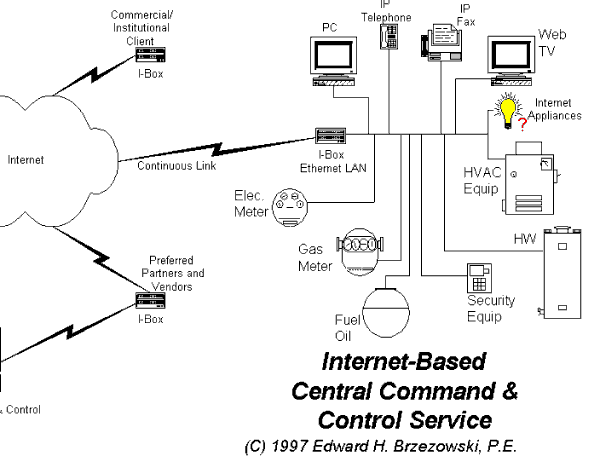 Once these various types of "Clients" are connected continuously to the Internet, the web services are then enabled to "Partners and Vendors"
Preferred Partners and Vendors
Contractor Partners - Mechanical, Electrical, Plumbing, Energy Management, Automation, Telecommunication, Security, etc.
Utility Partners - Telephone, Cable, DBS, Gas, Electric, Oil Companies and their Deregulated Spin-offs
Internet Service Provider Partners - Local, State, National, International
Security Company Partners - Central station companies with connections to privatized security force, police and fire departments
Energy Consultant Partners - Energy Service Companies, Consulting Engineers, Facility Managers, etc.
Maintenance Consultant Partners - Maintenance Service Companies, Consulting Engineers, Facility Managers, etc.
Vendor Partners - Monitoring and control, technology, telecommunications, network, computer, HVAC and security companies
An article yesterday on the SiliconValley.com, indicated in a report that "Half a billion people have home Internet access" around the world at the end of last year. The global connected community continues to grow at unprecedented rates.
http://www.siliconvalley.com/mld/siliconvalley/2811195.htm
About one year ago I looked more closely and made this snapshot of the Internet and it's growth from various perspectives.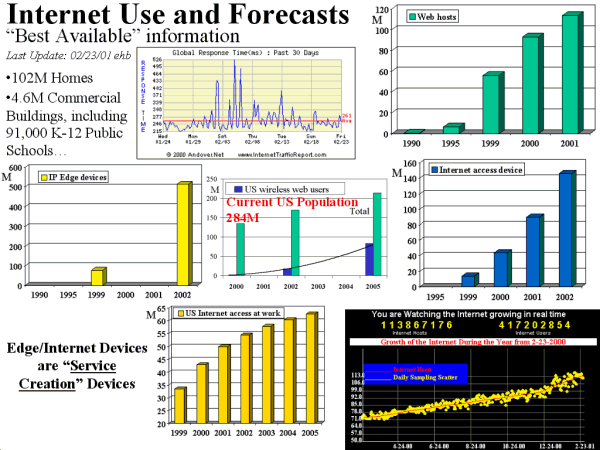 I believe we are now getting closer to the point when the number of "edge devices" will soon start to quickly outpace "end users" pointing and clicking at their web browser screens.
This will be the beginning of the web services industry. It will be a collaborative and partnering process, no one firm, not even Microsoft can do this alone. It will be a "win-win" situation for all involved.
Edward H. Brzezowski, P.E. Facility Energy Services, Inc.
---


[Click Banner To Learn More]
[Home Page] [The Automator] [About] [Subscribe ] [Contact Us]