---
COVID-19

the World's Biggest Remote Working Experiment is Underway





James McHale,




Managing Director,


Memoori


COVID-19, the world's biggest remote working experiment, is underway. As Europe goes into lockdown and the rest of the world prepares to do the same, millions of office workers will be attempting to work from home. Tens of thousands of companies will experience what it is like to have no physical office at all. While there aren't many "winners" in a situation like this, those involved in offering flexible working services are seeing hundreds of millions of people thrust into an involuntary remote working trial.
All kinds of businesses were already exploring flexible working as a potentially exciting option for some staff, some of the time, with obvious convenience and potential productivity gains. However, when the dust settles on this global work-from-home experiment, flexible working may be seen as necessary for the future survival of companies — not just because this virus will not be the last, which it won't, and not only because stakeholders will be exposed to the far-reaching benefits of flexible working, which they will, but also because of the cost-saving measures that will surely follow when the inevitable post-coronavirus recession begins.
"This is not how I envisioned the distributed work revolution taking hold," said Matt Mullenweg, chief executive of WordPress and Tumblr owner Automattic, who already have a highly flexible workforce. "The changes might also offer an opportunity for many companies to finally build a culture that allows long-overdue work flexibility. Millions of people will get the chance to experience days without long commutes, or the harsh inflexibility of not being able to stay close to home when a family member is sick… This might be a chance for a great reset in terms of how we work," he continued.
First and foremost, for this to be "a great reset" for "long-overdue work flexibility," this single global experiment has to be a success. If business owners witness a huge drop in productivity, unable to blame it all on their unpreparedness, they may resist flexible working options. Equally, if employees find themselves uncomfortable or unproductive at home, suffering from cabin fever or distracted by the children sharing their space under lockdown, then they may be the group demanding to go back to the office as soon as possible. This is not the perfect way to run a flexible working experiment, but it is still an unprecedented opportunity for the industry, and they are not going to let it slip through their fingers.
Progressive startups, like Slack and Zoom, and established giants, such as Google and Microsoft, are doing everything they can to make this experiment a success. Each is offering a range of subscription-based flexible working tools for free, in the hope that many of those who start using them during the involuntary lockdown measures currently in force in many countries, will continue to use them once normality returns. While Internet service providers (ISPs) are supporting their efforts by removing the usual data transfer caps, to allow people to do more from home.
"We are fully prepared for this situation. First and foremost, our concern is for the families and individuals affected by the coronavirus," said a spokesperson for Slack, the highly popular business chat software. "For now, we are focused on helping people around the world adapt to remote work with free resources. For example, we have been hosting free consultations for companies adapting to remote work for the first time. We've been speaking to companies of all sizes and from all industries – from large enterprises with hundreds of thousands of employees to small businesses with a team of five."
Microsoft has made its Cloud Productivity Suite free to small businesses for the next six months, including its Slack chat competitor, Teams. Google has also made their video conferencing service, Hangouts Meet, available for all G-suite customers until July 1, 2020. Videoconferencing service Zoom has lifted limitations on its own free tier, allowing conversations to exceed 40 minutes. While Comcast, Charter, Verizon, Google, T-Mobile and Sprint have signed a pledge to keep Americans internet-connected for the next 60 days, even if people cannot afford to pay their internet bill. Each making it a little bit easier to work at home, and each supporting the success of this experiment.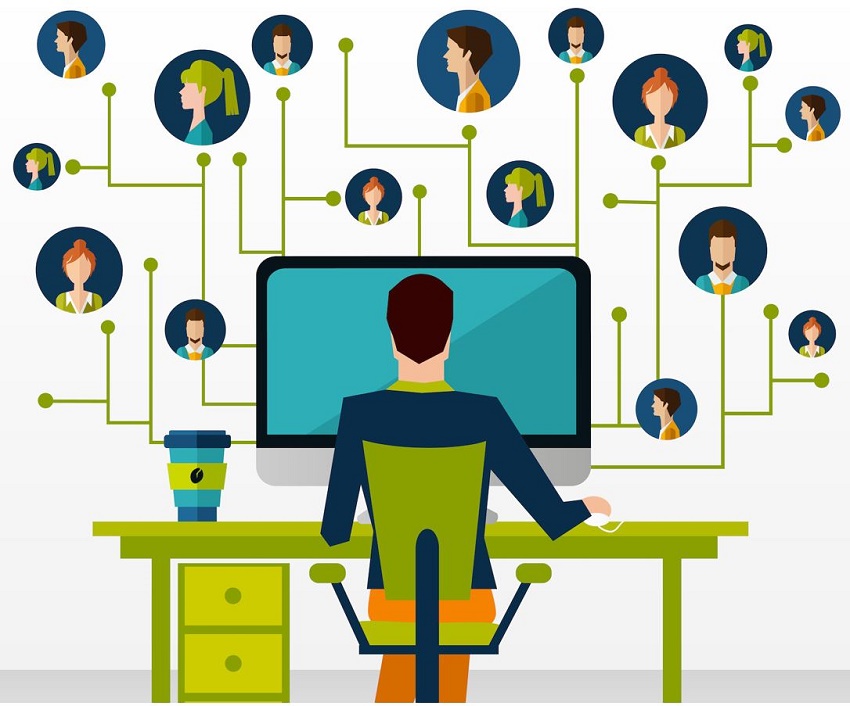 The employers themselves are also helping their home-working staff to maintain productivity during these lockdown circumstances to survive, thereby further supporting the success of the experiment. Last week, Twitter made it compulsory for its staff to work from home and supported their efforts to create comfortable home offices, promising to reimburse employees, including hourly workers, for the expenses required to set up home offices, covering the costs of buying things such as computer hardware, desks and ergonomic chairs. We don't know how long it will be but by the end many more people will be much better set up to work-from-home.
"It looks increasingly as if the situation will not ever go back to how it was: many employees for companies who have sent all staff home are already starting to question why they had to go into the office in the first place," says Alex Hern Technology editor at the Guardian. "Large technology firms were some of the first to make the switch to remote working for all their staff, building on pre-existing infrastructures such as office chat groups, remote access to critical tools, and the fact that much knowledge work can be carried out remotely."
This experiment is now expected to show the wider business community, "the fact that much knowledge work can be carried out remotely." So, when they return to their offices, be that in weeks or months, they are likely to look around and see a whole lot of wasted space. That thought of "we don't need all this space" will then become the driving force for flexible work, as all companies begin to explore cost-saving measures to survive the inevitable recession that will follow the current crisis. Not all physical offices will disappear, but some will and those that remain may choose to save costs through flexible working policies and space optimization in their downsized workplaces.
"Space optimization is an obvious use case with a demonstrable return on investment. If you can work out that 40% of the desks are never, or rarely, used there is a clear and obvious saving to be had. Then you can make some clear decisions on how the space could be better utilized, for example, whether to sublet it or divest it altogether or maybe re-invest the savings into other workplace features which will enhance the employee experience," explains our recent in-depth report covering all aspects of an occupancy analytics market potentially poised for massive post-corona growth.
We are still in the early days of this unprecedented global work-from-home experiment, and very little can be predicted with any certainty. However, work will have to go on, and for now, it will have to happen from home. Employees and employers will have to find ways to make it work, and in the process of doing so, many will find a better way to work in the future. With many flexible working tools widely available for free and occupancy analytics ready to present more cost-saving opportunities on our return to the office, flexible working has been given an unexpected and potentially huge opportunity to revolutionize our work landscape forever.


---


[Click Banner To Learn More]
[Home Page] [The Automator] [About] [Subscribe ] [Contact Us]