---
In 2017, Brad White and Nigel David authored an overview of the open source VOLTTRON platform for the readers of Automatedbuildings.com. White and David's overview of VOLTTRON summarized the platform's development and articulated the promise of the open source platform. Rather poignantly, the authors described the VOLTTRON platform as a "cake without icing."

For readers not yet acquainted with the VOLTTRON technology, the diagram below provides a helpful snapshot of the open source VOLTTRON platform.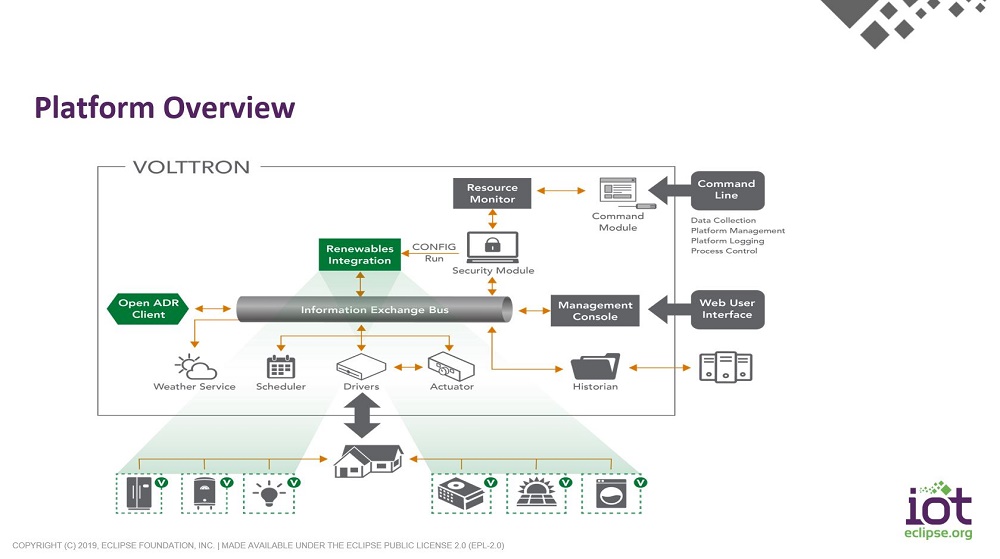 In this updated overview of the Eclipse VOLTTRON™ platform (the technology's new name reflects its status as an open source project of the Eclipse Foundation), we showcase several notable deployments of Eclipse VOLTTRON™ and identify the unique value of the platform across diverse use cases. Municipalities, universities, utilities and their partners are utilizing the Eclipse VOLTTRON™ platform for different reasons and for different purposes. To us, the varied use cases demonstrate that there is - to build upon White and David's imagery – more and more icing on the Eclipse VOLTTRON™ cake.

Notable Eclipse VOLTTRON™ Deployments: 2017-2019

The City of Washington DC

The City of Washington DC has made a commitment to reduce its greenhouse gas emissions 50% below 2006 levels by 2032 and to become carbon neutral and climate resilient by 2050. Based on a study conducted in 2011, buildings accounted for 74% of the District's total emissions, the largest contributor to the City's carbon emission profile. In its Climate Action Plan, Washington DC prioritized reducing building energy use, including reducing energy use by buildings owned and operated by the DC municipal government.
Starting in 2016, Washington DC's Department of General Services (DGS) began work on an initiative that would 1) bring building performance data to the cloud to support retrofit/repair targeting and 2) enable upgraded operations of the buildings in Washington DC's municipal real estate portfolio. Through this initiative, the DGS facilities management team are able to use – for the first time – a single log-in to remotely access granular, real-time data related to the operation and performance of buildings in their 10M SqFt portfolio of offices and schools.

Why did Washington DC Choose to Deploy Eclipse VOLTTRON™?
Washington DC's Department of General Services (DGS) evaluated several approaches that would enable the agency to acquire granular energy data, create time-series trending of that data in the cloud, and enable access to the data gathered from multiple buildings across its portfolio using a single log-in system. Why did it select the Eclipse VOLTTRON™ platform?
Like many municipalities, Washington DC operates a real estate portfolio that has HVAC control systems from numerous vendors. For this reason, municipal efforts to access energy use data often involve complex and expensive custom data integration projects and/or include long-term contracts with the organizations completing the custom integration. Washington DC sought an alternative approach. Two priorities helped inform the DGS decision-making regarding the best approach to acquire granular building data and access the data through the cloud.
DGS opted to deploy the Eclipse VOLTTRON™ platform as an integrative layer where data from controllers, switches, meters, sub-meters and various devices present in buildings can be collected and managed in a secure platform. Installation of a VOLTTRON appliance by a facilities team member or HVAC vendor can be completed in 1-2 hours. In most cases, data is streaming to the cloud the same day as the installation of the Eclipse VOLTTRON™ node.

Outcomes:

As of September 2019, data from more than 60 buildings is being sent to Washington DC's cloud-based building performance data hub. Because of the initiative, Washington DC has second-to-none visibility into the performance of its buildings. Using the data, Washington DC's DGS and its partner organizations have been able to:
Implement effective re-commissioning initiatives,

Monitor and maintain results from building retuning,

Utilize powerful energy data analytics software and

Make data-driven decisions about how to most effectively and efficiently achieve its energy efficiency and carbon reduction goals.



DGS uses the newly available data to design and implement innovative approaches to capital retrofits, commissioning and building optimization program that save the City an estimated $1.5 million per year in energy savings.
Penn State University
Penn State University has a system-wide goal to cut its greenhouse emissions by half. To support this objective, PSU and project partners including ACE IoT Solutions, Lenovo and Onboard Data have embarked on a pilot project to reduce the cost and tediousness of manual data make-ready efforts required to prepare a building for optimization. Preparing buildings to benefit from advanced building analytics applications can take weeks of largely manual data tagging and data mapping. The investments required to enable the facilities data to flow can be significant roadblocks to organizational decisions to adopt new technologies. Indeed, despite the buzz surrounding smart cities, campuses and buildings, PSU Partner Onboard Data estimates that less than 2% of buildings are trending and utilizing data.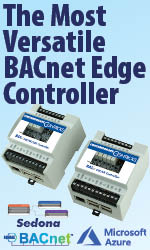 As readers of Automatedbuildings.com understand all too well, data that does not include consistent and understandable meta-data is more difficult to analyze and disaggregate and, consequently, has less value. Indeed, without effective metadata, finding value in HVAC and operations data can be akin to searching for a needle in a haystack.

Why did PSU choose to deploy Eclipse VOLTTRON™?

The goal of PSU pilot project is to evaluate the effectiveness new approaches designed to help facilitate wide-spread adoption of data-driven facilities management technologies. The pilot project uses Eclipse VOLTTRON™ as the integration layer with energy systems present in PSU's buildings. Importing data and metadata captured by Eclipse VOLTTRON™ through the platform's BACnet scanning feature, PSU's partners are leveraging advanced data science techniques to automate data tagging and data mapping.

According to the facilities professionals at PSU, at least three elements must be in place for the promise of data-driven facilities optimization and algorithmic automated fault detection to be fully realized.

Effective data acquisition tools

Effective data tagging


Effective algorithms and Machine Learning applications
For the PSU pilot, Eclipse VOLTTRON™ provides a convenient, relatively low cost and secure solution for data acquisition. PSU and its project partners use to Eclipse VOLTTRON™ platform to conveniently and securely acquire and ingest data from building automation systems, elevators and other relevant building systems across the PSU's campus.

Outcomes:

Based on the results of a 10-building pilot, PSU has validated that – using advanced tools and techniques – they have successfully automated point mapping with a level of accuracy that lessens significantly the level of manual labor required to prepare a building for data-driven facilities management.

Deployments by Southern Company and the University of Toledo

Both the Southern Company and the University of Toledo have current projects that include the use of Photovoltaic (PV) and Battery Energy Storage Systems to optimize energy usage and delivery. The projects illustrate the - increasingly realizable - promise of grid-interactive efficient buildings (GEB).

The Southern Company's Smart Neighborhood initiative, includes 62 new homes in suburban Birmingham, Alabama and 46 homes in the Upper West Side of Atlanta, Georgia. Each of the 108 Smart Neighborhood homes has a dedicated Eclipse VOLTTRON™ instance. The goals of the Smart Neighborhood deployment include helping reduce the energy consumed by the homeowner, maximizing the use of local generation and storage and assisting in utility-level operations.

At the Scott Park Campus of Energy and Innovation at the University of Toledo, a cooperative effort of the University's Facilities and Engineering departments has integrated the campus's photovoltaic (PV) panels, building automation systems and battery energy storage system (BESS). The demonstration project uses VOLTTRON to connect via a single platform the PV arrays, the building automation control systems for 8 buildings and the University's Battery Energy Storage System (BESS).
Why Southern Company and the University of Toledo Deployed Eclipse VOLTTRON™?

Both of the deployments received funding from the U.S. Department of Energy's Building Technologies Office. The projects are designed to assess and demonstrate the capabilities of Eclipse VOLTTRON™ to manage and control building energy systems.

In the University of Toledo deployment, the Eclipse VOLTTRON™ platform provides a common framework for dynamically controlling elements of the connected systems. Because the Eclipse VOLTTRON™ platform includes drivers to facilitate transparent communication with Modbus and BACnet devices, the platform enables the abstraction of divergent systems into a common - protocol agnostic – platform. The common platform enables the University to develop and/or deploy applications that deliver the maximum value from the connected energy assets.

Southern Company's Smart Neighborhood deployment utilizes the unique characteristics of Eclipse VOLTTRON™ platform to connect each home to a network that – using VOLTTRON agents -- can interact with the home's heating, ventilation and air-conditioning and water heating systems. The connected system is designed to facilitate decisions about available power sources and energy usage optimizing for both price and reliability. Based on data inputs including weather, solar irradiance, load forecasts and time of use pricing, the Smart Neighborhoods' network can optimize battery storage and power generation to minimize overall system cost.

Outcomes:

The Southern Company's Smart Neighborhood initiative has been a success. According the recent press reports, the Smart Neighborhood homes have been selling quickly and are appealing to home-buyers. The Smart Neighborhood homes are 50%-60% more energy efficient than a standard home. The homes have a home energy rating system (HERS) score that is 40 points lower than a standard single family homes built in 2017.

Additionally, the deployment has been a success as a research initiative. Southern Company is collaborating with Oak Ridge National Lab (ORNL) to better understand how homeowners interact with their connected devices and high efficiency technologies. For example, analyzing the data collected via Eclipse VOLTTRON™, Southern Company and ORNL are working to best schedule each homes' major appliances, in coordination with solar and batteries, to minimize cost while optimizing each homeowner's comfort.

According to project directors at the University of Toledo, the Scott Park Campus deployment has successfully demonstrated effective strategies for controlling PV and BESS energy sources in a campus environment. Notably, the project provides a road-map for universities about how to utilize distributed solutions without relying upon need expensive, single-vendor centralized command and control systems. Moreover, the partnership between the University's Facilities and Academic departments illustrates that the open source Eclipse VOLTTRON™ software provides a valuable research platform and opportunities for faculty and students to pursue innovative research initiatives.

Eclipse VOLTTRON™: Looking-Back and Looking Forward

Looking back on the development of Eclipse VOLTTRON™ technology and the Eclipse VOLTTRON™ ecosystem, there has been substantial progress in both areas. The Department of Energy (DoE) and the National Labs continue to support the development of the Eclipse VOLTTRON™ technology. The recently released Cybersecurity Threat Profile and the monthly "office hours" convened by the team at the Pacific Northwest National Lab are evidence of the continued support. The use cases detailed above reflect the motivations that are driving a growing number of entities to join the Eclipse VOLTTRON™ ecosystem.

By contributing VOLTTRON to the Eclipse Foundation, the National Labs created ideal conditions to sustain the growth and adoption of the platform. This goes way beyond what simply open sourcing the code would have achieved. The reason for this is simple: The Eclipse Foundation is a vendor-neutral and member-driven organization. VOLTTRON now belongs to its community and cannot be controlled by any single player. Moreover, VOLTTRON is now developed following the proven and rigorous Eclipse development process, which has been leveraged by hundreds of open source projects over the last fifteen years. The VOLTTRON teams also benefits from the collective expertise of the forty organizations making up the Eclipse IoT working group.

To return to White and David's imagery, during the last three years DoE, the National Labs and the growing number of entities active in the Eclipse VOLTTRON™ ecosystem have been adding icing to the VOLTTRON cake. Eclipse VOLTTRON™ is now 1) a reliable, cost-effective and convenient data acquisition solution, 2) a protocol agnostic data management tool that provides a single home where building automation, building operation and energy usage data can be managed effectively and 3) a proven platform that can support the development and deployment of applications for controlling distributed energy resources.

Here is an up-to-date vision of the Eclipse VOLTTRON™ Ecosystem: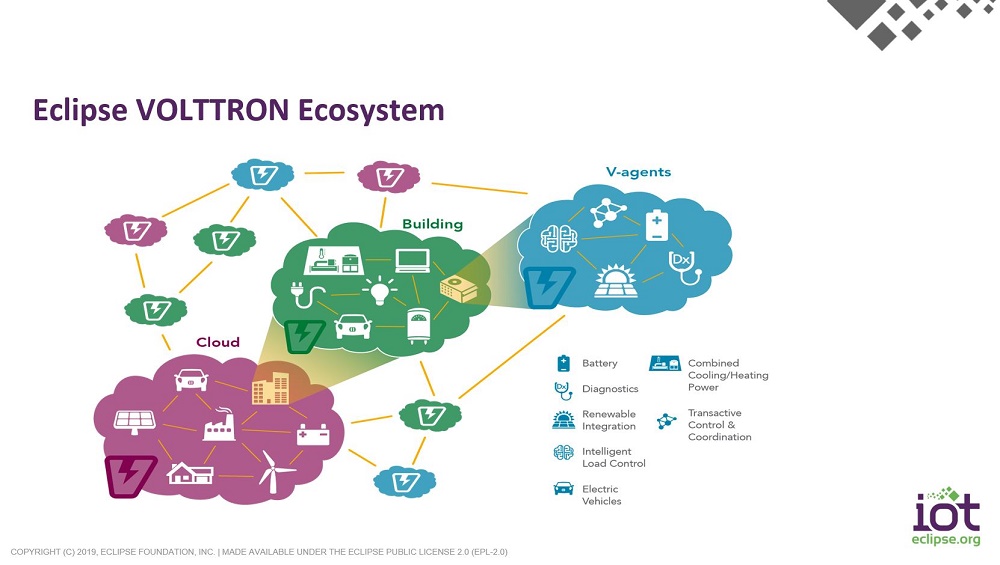 Looking ahead to the next three years of Eclipse VOLTTRON™, we see several developments and trends that are likely to increase demand for the unique functionality of Eclipse VOLTTRON™, including:

The increasingly widespread adoption of Project Haystack tagging schema

Growth in Utilities offering incentives for retro-commissioning

Increase in the number of municipal building data benchmarking and transparency regulations

Continued development of data-driven ML/AI solutions for optimizing building operations
As these marketplace developments and trends grow the Eclipse VOLTTRON™ ecosystem, we can envision Eclipse VOLTTRON™ becoming an open-source middleware that undergirds the integration and management of the disparate systems that contribute to the performance of smart and connected buildings.

Learn More and Get Involved

To receive monthly updates regarding notable developments in the Eclipse VOLTTRON™ ecosystem and opportunities to engage with members of the ecosystem, please visit this page to enter your email and subscribe to an Eclipse VOLTTRON™ Ecosystem mailing list.
---
About the Authors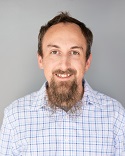 Andrew Rodgers leads technical strategy and architecture development for ACE IoT Solutions. When not bringing his extensive professional experience in Industrial Control Systems, Critical Infrastructure Controls, and Network Engineering to his professional endeavors, he can most commonly be found with a camera in his hand. Andrew loves sharing his travels and photography, and keeps his Instagram account updated with images from his most recent adventures. Connect with Andrew on LinkedIn.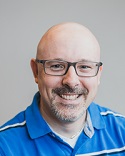 Frédéric Desbiens is working at the Eclipse Foundation as the program manager for IoT and Edge Computing. His job is to help the community innovate by bringing devices and software together. He is a strong supporter of open source. Over his career, he worked as a product manager, solutions architect and developer for companies as diverse as Pivotal, Cisco and Oracle. Connect with Frédéric on LinkedIn.


---


[Click Banner To Learn More]
[Home Page] [The Automator] [About] [Subscribe ] [Contact Us]