---
David Miller,
Facilities Engineer
LaBella Associates

It is the role of the design community to rethink once separate systems and create improved experiences for the occupants and owners of tomorrow's smart facilities.
Smart Buildings
At the peak of dotcom euphoria, a tremendous amount of excitement revolved around making everyday things smarter and better. From refrigerators to clothing, it seemed the technology of the world wide web was on track to radically change everything. As old became synonymous with irrelevant, the bricks and mortar infrastructure of commercial buildings was often overlooked by investors. Ironically, just five years later, the bricks and mortar business is thriving. Ordinary buildings are using dotcom technologies to become measurably better and smarter











Smart buildings are safer, more productive for occupants and more efficient for owners. Smart buildings simply work better, cost less to operate, and provide more value to their stakeholders.
The smart building is a dynamic combination of both information and concrete. The smart building is flexible, responsive, even anticipatory of occupant and owner needs.
It is both a physical container for the enterprise as well as a data space. The intelligent building monitors, controls, measures, predicts, improves and contributes to the business it provides a home to.
No longer simply a dry warm space, the facility is evolving into a supporting community of dynamic, flexible, systems, which constantly measure their performance and strive to improve. These improvements revolve around occupant comfort, minimized energy consumption, maximum uptime, safety, and convenience. Efforts automatically align across multiple systems to improve the experience of human and building interaction.
In the language of the architect and the engineer, a smart building implements sequences of operation that increasingly cross traditional specification section boundaries. These systems share data, make decisions jointly, and interoperate with equipment that has traditionally been self contained and independent. Two examples illustrate the potential impact of these trends.
Smart Office 2005
Tom stops by his office in a medium sized commercial building one Saturday evening. The proximity sensor reads Tom's smart card as he nears the front door. A security system verifies that Tom is indeed welcome in a portion of the facility on this particular day and time, and unlocks the office door. The security system monitors Tom's entrance, making sure only one person enters, and automatically secures the door behind him. The building's air conditioning system is notified that Tom is on his way and begins to adjust his workspace to personalized settings. Interior lighting returns from standby, power saving levels, and provides safe illumination to his office. After several hours work, the building senses Tom's departure and returns to unoccupied settings. Intelligent sensors resume their watch as the security system is automatically rearmed.
Smart Factory 2010
A wireless and inexpensive sensor, just one of many hundreds spread throughout a medium sized factory, awakes from hibernation mode and carefully sniffs the air. Always on the lookout for the first signs of trouble, the small device checks its own health and automatically adjusts its sensitivity. Something is different.
After a quick double check, the sensor broadcasts a message that smoke has been detected. This message is received by the building's fire alarm system, and triggers activity across the building and the Internet. Data from adjacent sensors confirm the presence of a real fire. The local fire department begins to receive a stream of data. At first, it is simply the message that a fire has been detected. Within moments, information flows in from multiple systems, creating a customized plan of response to this particular fire.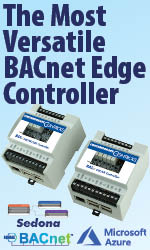 The location and type of detectors as well as the time between successive events is analyzed. Factory supply chain computers know from smart tags the exact locations and types of raw material in the fire's path. From across the Internet, real time information about the fire, its fuel, and its progress converge. Real time weather data including local wind speed and direction streams into the system. Details concerning building construction flow outbound from another web server. A real time model of this fire, its current extent, and its most likely next steps, has been created in data space.
Activity has been equally hectic in the physical building space. The number of people and their exact locations have been used to calculate optimum evacuation routes. Air conditioning and ventilation systems are automatically adjusted to control smoke and slow the spread of fire. Doors are unlocked as intelligent signage, local alarms, and overhead paging systems deliver clear and simple instructions to speed evacuation.
By now, the local fire department is rolling. Onboard computers are already receiving accurate floor plans and hazard location information, as well as updates on the numbers and locations of people still left in the facility. Best routing into dangerous areas is updated on the fly. When the fire department arrives, most of the occupants have been safely evacuated.
For the few unfortunate enough to be trapped, help is directed to their location. Ambulances are already in route, data streams have already begun to flow back to the hospital, scheduling equipment and resources and preparing to treat the wounded as they are received. But that is the story of a different system….
Web Services
The office building of the first example can and does exist today. The interactions between systems is rather limited and rule based. Simple schedules and interlocks based on single events characterize this type of integration. But even this relatively simple example is a smarter building than most of us expect to work in today. Relays, interlock wiring, and the sharing of scheduling databases facilitate this level of integration.
The second example does not require significantly new technology or infrastructure, only the coordination of smart building experts working across multiple disciplines. The enabling technology that has recently evolved to allow this complex interaction among multiple systems is called Web Services.
In recent years, the majority of building control system providers have introduced systems that communicate using standards developed by the information technology industry. These standards like XML and SOAP provide the framework for Web Services software. It is the role of the design community to rethink once separate systems and create improved experiences for the occupants and owners of tomorrow's smart facilities.
---


[Click Banner To Learn More]
[Home Page] [The Automator] [About] [Subscribe ] [Contact Us]