---
Viconics Marketing Team
Viconics

Most noteworthy, 2005 has provided the industry with "smarter" field devices to which facilitate the automation process and inherently reduce project cost with little to no effect on functionality.
2005 has been an interesting year for the automation industry. It's often difficult to find the time but equally important to reflect on some of the industry advancements, as well as products introduced which facilitate the integration and automation of buildings.











Most noteworthy, 2005 has provided the industry with "smarter" field devices to which facilitate the automation process and inherently reduce project cost with little to no effect on functionality. Communication connectivity has found it's way down to what were once considered "command only" field devices. These devices are now carrying the burden once carried by more expensive controllers that required larger amounts of programming and commissioning time. This transfer of burden is simplifying the automation process, and thereby offering savings to the end customers.
Of the "smart devices" introduced this year communicating thermostats appear to be one of the more popular. These devices are providing not only an array of products well suited to small facilities, but also a less costly solution for larger projects that use typical, simple methods of HVAC. Communicating thermostats are typically offered, as with other end devices, pre-canned (pre-programmed) and offer the contractors the simplicity of a traditional thermostat with network connectivity. Echelon-LonTalk and BACnet ms/tp versions appear to be the defacto flavors to date. Expect to see wireless equivalents in the not so distant future. Cost savings is realized through packaging applications, providing familiar "thermostat like" installation and commissioning with a BACnet or Echelon LonTalk onboard network interface.
Deployment of these types of controllers and other peripheral items appear to be accelerating to meet the ever-growing industry demand. Devices such as communicating thermostats and packaged controllers I suggest are not new to the industry. We've seen application specific controllers for quite some time. So what's new? In the past these types of products have always been offered as part and parcel of a complete line of automation products. Controllers, sensors, and other hardware were once sold as part and parcel of a complete catalog offering. The proliferation of open architecture systems and protocols has truly changed the industry and 2005 appears to be the year in which these "smart device" can finally leverage the architecture that is now being provided.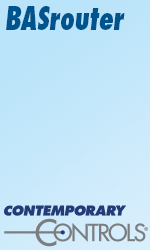 Controls professionals today have the freedom to choose products based on performance rather than catalog, focusing on what's better for the application and installation. Communicating field devices in general are reducing the amount of controllers in general and the wiring architecture required to support them. Retrofit projects are becoming easier due to size, communication protocols, and location issues becoming a thing of the past. These new devices truly are changing the automation landscape.
Systems are also maturing, packaging tools that facilitate the integration of these once "third party devices". Flexibility, and packaged integration toolsets appear to be the new industry focus rather than new hardware and programming solutions. Support of multiple protocols and web services have become increasingly important also in addition to an expanded library of third-party integration drivers.
We've all seen important advances over the past many years, 2005 however I would say is an important milestone. We're finally experiencing the benefits of open systems, through both the introduction of "smart devices" and the maturing of traditional automation systems with tools to support. This year's product growth has been impressive. I'm excited about the AHR in Chicago and the months to follow. 2006 I'm sure will be another great year for our industry.
---


[Click Banner To Learn More]
[Home Page] [The Automator] [About] [Subscribe ] [Contact Us]