---
EMAIL INTERVIEW – Peter Rake and Ken Sinclair
Peter Rake, Global Director of Integration, Switch Automation

Peter Rake is a highly technical systems integrator with more than 20 years of experience implementing complex building systems for Fortune 500 companies. As Global Director of Integration, Peter is on the front lines of customer relations, training and program implementation. He works closely with all project stakeholders from the site teams to the C-suite to ensure seamless implementation of the Switch Platform.
This interview with Switch Automation's Global Director of Integration, Peter Rake, highlights the new Switch Dx³ (Digital Device Discovery) product and how it connects to building systems to assess and report on data connectivity, network integrity and overall digital readiness.
Assessing smart building readiness
The first step to deploying a successful digital facilities management program is knowing what sensors and systems are connected in your building.


Sinclair: How do I know if my portfolio is smart building ready?
Rake: The first step to deploying a successful digital facilities management program is knowing what sensors and systems are connected in your building. Switch Dx³ uses an IoT gateway that connects to, and integrates with, existing building automation systems (BAS) such as HVAC, lighting, metering, cameras and access control. An easy-to-interpret dashboard displays connected and compatible devices on the building network and highlights if the right integration ports are open (e.g. BACnet/IP) along with potential vulnerabilities in those systems. Once you know the connectivity status of your buildings you can either take steps to upgrade sensors and systems or begin pulling in data to perform predictive analytics to optimize building performance.

Sinclair: What's included in the Switch Dx³ product?

Rake: Three main components come with the Switch Dx³ product: a Switch IoT Gateway, an online dashboard and technical integration support. The Switch IoT gateway comes with the Switch Platform OS preinstalled. To keep it simple, we have one gateway for small buildings up to ~500k sq. ft. and another for greater than 500k sq. ft.
Once the gateway is configured and connected to your building, network discovery is initiated from the online dashboard and the network information is pulled into an easy-to-read snapshot. Get an immediate overview of the compatible systems and data (sensor) points on the building network and sub-systems, and gain insight into network connectivity status and potential cybersecurity risks in each building. Gain a better understanding of your building data network health, its vulnerabilities and understand any prerequisites to launching your smart building program.
Included with Switch Dx³ is up to 8 hours of remote support from our integration specialists to ensure full connectivity. Bridge the gap between IT and building management teams (OT) with expert support and seamlessly integrate disparate building systems.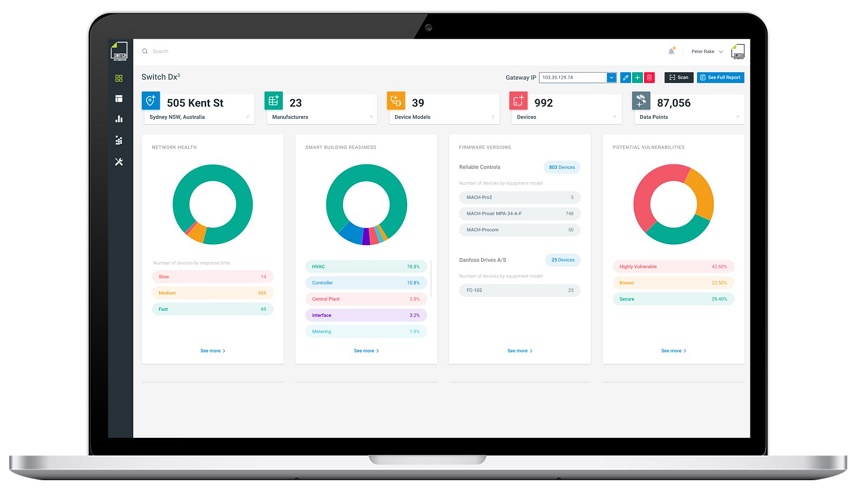 Sinclair: Who is the Switch Dx³ product for?

Rake: Switch Dx³ is for building owners and operators who want to launch a smart building program but may not want to jump into a full IoT platform right away. We're the first to admit that digital facilities management is not an easy thing, and it's helpful to start with a simple assessment of what's in your building.
Switch Dx³ is the perfect way to dip your toe into digital facilities management – a foundational site-readiness tool that helps prepare your portfolio for subsequent deployments of smart building software, including retrocommissioning, continuous commissioning and control.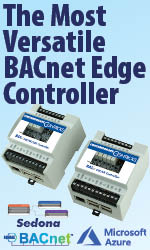 Sinclair: What are the next steps for deploying a digital facilities management program once you've assessed the IoT readiness of your building?

Rake: If your building has the right sensors and systems in place, the next step is typically to begin importing sensor points into a smart building platform, such as the Switch Platform. This enables you to run fault detection and diagnostics (FDD), conduct retrocommissioning audits and to develop a continuous commissioning strategy. Once data is imported and tagged, we would build user interfaces to give facility management teams true insight into the underlying operations for a building. We'd then create dashboards within the Platform, allowing teams to monitor and optimize portfolio assets from a central location. Create a unique digital facilities management strategy to improve tenant comfort, reduce energy use and lower operational costs across your portfolio.

Want more information on how to ensure your portfolio is fully IoT-enabled? Watch this recorded webinar to learn how to take the first step on your digital facilities management journey.


---
Switch Automation is a global real estate software company that helps property owners and facility managers reduce operating costs, improve energy efficiency and deliver exceptional occupant satisfaction. Our comprehensive smart building platform integrates with traditional building systems as well as Internet of Things (IoT) technologies to analyze, automate and control assets in real-time. We serve enterprise customers and partners in a variety of industries including financial services, retail, grocery, commercial real estate and more. Learn how Switch Automation creates technology to bring people and planet to the center of building operations at www.switchautomation.com.

---


[Click Banner To Learn More]
[Home Page] [The Automator] [About] [Subscribe ] [Contact Us]