---
Across My Desk

snippets, blog bits, tweets, linkedIn posts, and url links that are about to fall off my desktop

Ken Sinclair

Founder, Owner, Publisher AutomatedBuildings.com
Every month there is a blizzard of information contained in the emails and newsletters that cross my desk on their way to AutomatedBuildings.com. Some of this information is not in the form of any type of content we can publish but I feel I should share with you these snippets, blog bits, Tweets, LinkedIn posts, and URL links that are about to fall off my desktop.
On a daily basis I tweet as @Ken_Sinclair https://twitter.com/Ken_Sinclair

I actually now have a few moments ;-) https://twitter.com/Ken_Sinclair/moments
Tweet links I think will be of interest and part of our rapid industry evolution.

Also, http://automatedbuildings.com/ maintains this LinkedIn online blog for the magazine, a great place to interact.
I also write a column twice a month for Contractor Mag https://www.contractormag.com/iot
And a column once a month for facilitiesnet Home of Building Operating Management & Facility Maintenance Decisions Magazines

But I still have stuff falling off my desk I feel I should share.
My Top Tweets, posts, podcasts, and video interviews
Video/Blogs/Podcasts
ControlTalk NOW Previews Ken Sinclair's Automated Buildings December Edition: "Building Wireless Inside Out!"
CT Video Sept Issue join 29 mins
CT Video about August Issue
Recalibrate join at 27 mins
Discussion of June Issue
Your People Networks
Discussing our Cybersecurity Issue
How will AI Affect You?
Building Emotion at the AHR Expo
Collaboratory at AHR video
Open Hardware Software AHR
Digital Mindfulness in Smart Building
Mindful Machines
Digitally Mindful Buildings
https://twitter.com/Ken_Sinclair
https://www.linkedin.com/in/ken-sinclair-8246965/detail/recent-activity/posts/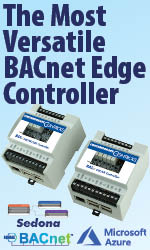 Desk Droppings
When analytics insights fall on deaf ears - If you're finding cool shit with your analytics and it's falling on deaf ears, it might be time to take a step back and consider this: EMIS is an exploratory analytics tool. We use it to find the needle in the haystack. To understand what the data is hiding in our buildings. But to get shit done, we need to transition to explaining what the data means, including who, what, where, why, and how.

Access Control, Asset Tracking, Bluetooth Low Energy, Broadcast, Condition Monitoring, Item Finding, Location Services, POI Information, Smart Building, Smart City, Smart Industry, Space Utilization, Wayfinding
98% of Gen Z report owning a smartphone, on average receiving their first at the age of 10. They are also part of the largest generation globally, and in the US. As fairly new consumers, their brand preferences are not yet set, givingcompanies the opportunity to define themselves in a way that resonates with this mobile-native generation.

The app store for the built world Introducing an industry-first marketplace for owners, best-in-class technology providers, and PropTech companies to innovate together.
Q: What are AI-driven inference engines? From the BuildingIQ perspective, an AI-driven inference engine is a powerful tool related to the understanding the relationships amongst data and devices in a system using imperfect data. What do I mean by "imperfect data?" Simply that when we don't have a lot of data or all of the necessary pieces to come to a conclusion about a system, an inference engine helps us to fill in any missing gaps. It helps us identify relationships that may not be obvious, or in the design of the system, and figure out what's going on inside of that data system without actually having all of the needed information or documentation. It's not that the designed-in rules are unimportant, it's that the relationships uncover unintended rules that could be very important!
LONMARK® Smart City Council Network News It has been a busy and productive year for the SCC and I would like to share some of the most important highlights.
Decarbonization is Our Climate Emergency - It falls to us—to whoever is able—to take action in spite of National and International floundering.
Building Engagement Platforms - The age of IoT, IP and digital transformation are increasingly common across a range of industries and are revolutionizing them.

Top LinkedIn posts
Over 11,670 views Can BMS Save the World? Whether it iSMA, Honeywell, Schneider or Johnson Controls we are playing on the same team. And the stake in this game is our planet. https://lnkd.in/gv_zQRE hashtag#education hashtag#future hashtag#connectedbuildings hashtag#buildingautomation hashtag#smartgrid hashtag#datacollection hashtag#interoperability hashtag#opensourcesoftware hashtag#datamodeling hashtag#climateemergency

Over 13,540 views A well read article from the past. March 2009, WOW! This paper reveals how all BACnet devices can effectively share a common IP network — thereby enhancing the power and convenience of BACnet. We have been at this for a while

Over 13,546 views A well read article from the past. March 2009, WOW! This paper reveals how all BACnet devices can effectively share a common IP network — thereby enhancing the power and convenience of BACnet. We have been at this for a while https://lnkd.in/gnTrRwB hashtag#connections hashtag#design hashtag#education hashtag#connectedbuildings hashtag#buildingautomation hashtag#history
---


[Click Banner To Learn More]
[Home Page] [The Automator] [About] [Subscribe ] [Contact Us]