---

EMAIL INTERVIEW Jack Mc Gowan & Ken Sinclair
John J. "Jack" Mc Gowan, CEM
Energy Control Inc.
GridWise Architecture Council Chairman
It has been said that energy and automated buildings are the new convergence. So with all of the buzz around Demand Response, GridWise and Building Automation we asked Jack Mc Gowan to help us understand how to choose between all of the opportunities to learn more about this exciting space.
---
What is the difference between GridWise and Demand Response?
I like to think of Demand Response as the first business model that is getting traction in the larger world of GridWise. GridWise is about interoperability on a broad scale including the full spectrum of electricity infrastructure and technology from generation through end use of electricity.











Sinclair: I notice that a number of events are coming up that include separate discussions about GridWise and Demand Response. What is the difference?
Mc Gowan: That is an interesting question, because in my view there is no difference but there is clearly a very important distinction in approach and timing. I like to think of Demand Response as the first business model that is getting traction in the larger world of GridWise. GridWise is about interoperability on a broad scale including the full spectrum of electricity infrastructure and technology from generation through end use of electricity. It is particularly about using interoperability to enable new business models that allow for the transaction associated with buying and selling electricity to be opened up. Think of our early experiences with the Internet to just surf or maybe send an email, and consider now how companies like eBay, Amazon and Google have built business models that are highly profitable. In just the same way Demand Response is a great example of how automation technology is being used to help utilities control and shift the demand for power at critical times, and in return resulting in a very real business proposition that will bring value to the electric system and revenue to building owners and control companies.
Sinclair: So you are talking about business models and propositions, how does this really translate to business for a system integrator?
Mc Gowan: That is a great question, because in our industry we have become very accustomed to putting a number in an envelope, and so this whole business opportunity may seem foreign. In the early days of building automation, the sales cycle was much more a negotiation in which we would help customers understand why direct digital control systems were much better than pneumatics, etc. As the marketplace came to embrace automation, for many automation providers the selling emphasis moved to competition based upon technology features and functions or protocols to competition based almost entirely on price. The business is changing and it is time to rebuild our negotiation skills and learn how to sell automation based on Demand Response. First Integrators who want to do this will need to invest in learning this business and fortunately there are a number of places to go for this knowledge. The NewEnergy Alliance which had its founding meeting in Baltimore this fall at the corporate headquarters of Constellation NewEnergy is being formed to serve as a conduit for Demand Response knowledge. Energy Control Inc. is the only system integrator to join this alliance as a founding member and it will be working with Constellation to build a training program to teach integrators how to play in this business.
Sinclair: Ok, but why should integrators care and what is the opportunity?
Mc Gowan: Well I think it is a no-brainer because this presents an opportunity to go to existing customers and offer them new value. The Independent System Operators (electricity wholesalers) and the utilities (electricity retailers) are willing to pay owners cash to help them shift load from critical peak periods. The translation is that customers may be able to pay for controls upgrades with the utilities money. This is a billion dollar market and to really be successful it will have to leverage the control capability of automation systems. Why shouldn't integrators be interested?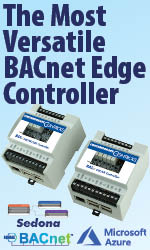 Sinclair: So if an integrator is interested where do they go?
Mc Gowan: There are a series of events coming up to consider. Grid-Interop will be in Albuquerque on Nov. 7, 8 and 9 www.grid-interop.com/2007/ . This is a technical conference that will focus on the underlying technology discussions around interoperability for the entire electric system. There will be action roundtable discussions on how to accelerate the integration of the smart building with the smart grid. In January at AHR I will be doing two free education sessions www.ahrexpo.com/education/freesessions.php one will be on Global Warming and GridWise and the second is called "The new Building Automation: Energy Demand Response". In May of 2008 Connectivity week will be in Santa Clara www.builconn.com and this will be an excellent place to get detailed information across the entire spectrum of smart buildings at the GridWise Expo.
Sinclair: That all sounds great but it seems like the real hot topic these days is green buildings, so why not focus on them?
Mc Gowan: It is true that LEED and the US Green Building Council are getting a great deal of traction and I think integrators should pay attention to LEED. They should also look at programs from Energy Star and others. One really interesting point however is that this whole area is very much a part of the movement toward addressing climate change. In the US, 39% of greenhouse gas emissions come from generation of electricity and there has been solid research done to validate the fact that these emissions increase at times of peak demand. This is because utilities must fire-up their least efficient and highest polluting plants to meet peak demand. The point is that all of these issues are connected, and Al Gore emphasized that in his movie. Equally interesting is the work that has been done by the 2030 Challenge of the American Institute of Architecture, which identifies that 48% of greenhouse gas emissions come from buildings, including residential. This is really just another way to embrace the whole idea of green buildings, but more importantly to emphasize the HVAC, automation and energy part of that equation. Integrators can't tell a story about how our work addresses building sites, urban redevelopment, bike racks or recycled carpet. They can however tell a story about energy and demand response, plus they may be able to help pay for their services with dollars from utilities.
---


[Click Banner To Learn More]
[Home Page] [The Automator] [About] [Subscribe ] [Contact Us]